In a world full of pain and hardship, it can be hard to keep trusting in God. I've faced this struggle at various times in my life. It's easy for us to think that a good God shouldn't allow bad things to happen to His people, or that if we pray hard enough, God will answer our prayers. How do we respond when our prayers seem to be bouncing off the ceiling? That's the question Jeremy Camp faces in I Still Believe, a heart-tugging movie about faith, hope and love.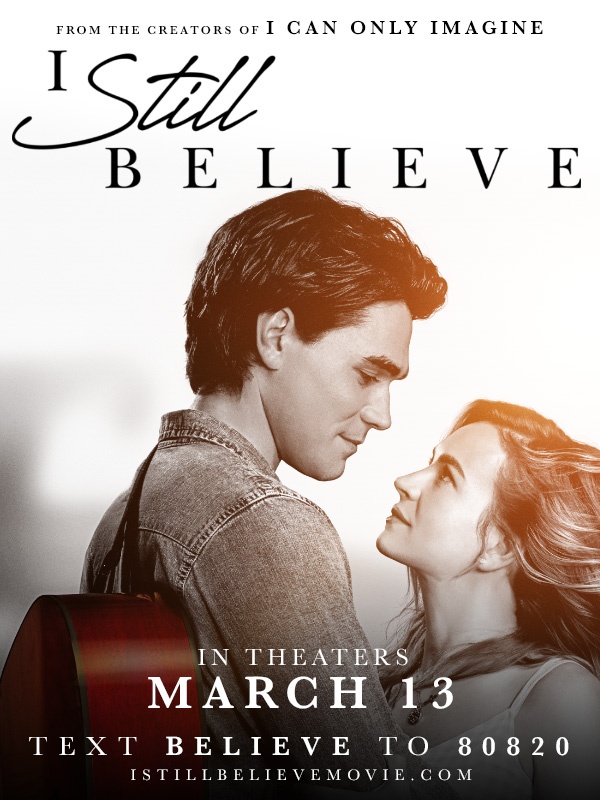 This post is sponsored by Graf-Martin Communications Inc. on behalf of Mongrel Media. All opinions expressed are my own.

I was over-the-moon excited to see I Still Believe. I hadn't heard of Christian music mega star Jeremy Camp before watching the trailer for this movie, but the story drew me in. The trailer made me think of The Fault in Our Stars (another movie about young people with cancer) and I Can Only Imagine (another movie about a Christian music star). I anticipated a good movie, and I wasn't disappointed.
It's really an incredible love story. I love redemption. I love how God can get in the middle of something and turn it for the good. ~ Michael W. Smith
I Still Believe plot summary
As the movie opens, Jeremy Camp (played by KJ Apa) is heading off to college with his guitar and big dreams. Seeing a concert post for the Kry, one of his favourite bands, he sneaks backstage to connect with Jean-Luc, the lead singer. At the concert, he sees Melissa (Britt Robertson) lost in the music, and awkwardly introduces himself afterward. A few days later, when she sees him playing his guitar on campus, she invites him to a beach party.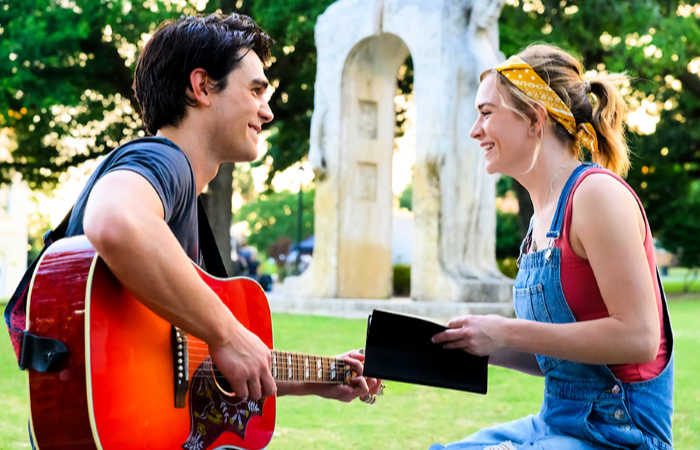 Their friendship blossoms, but it's made complicated by Jean-Luc's unrequited love for Melissa. As Jean-Luc mentors Jeremy's music, Jeremy pursues Melissa's love. Their budding romance is broken when Jean-Luc finds out about it and is hurt that neither of them told him. Jeremy goes home for Christmas, lonely and hurting, only to get a phone call from Jean-Luc about Melissa.
As Melissa battles cancer, Jeremy promises to stand by her side. Despite his parents' concerns, he drops out of school to take care of her. Using his publicity to ask all his fans for prayers, he insists she'll get a miracle. Through her suffering, Melissa's faith shines like a beacon.
My thoughts
We are huge movie buffs here. Friday nights frequently find us making popcorn and picking a movie to watch, either as a family or for an at-home date night after the kids go to bed. Yet it can be hard today to find movies that still have strong family values. I'm always looking up reviews for new movies to decide if I want the girls to see it. (Recently, that was a big "no" for a movie my husband thought the girls would like, because of warnings about the language in the movie.)
I Still Believe is not only a powerful story with a moving plot, great actors, and a good faith message, it's also completely family friendly. Sunshine (age 12) has seen the trailers and wants to see it, and I'd have no problem letting her and Lily (age 9) watch it with me. Lily would probably complain that the few kissing scenes are "mushy," but the kisses are short and appropriate. There are two scary parts around Melissa's cancer, but there's no language, nudity, violence, or other problems.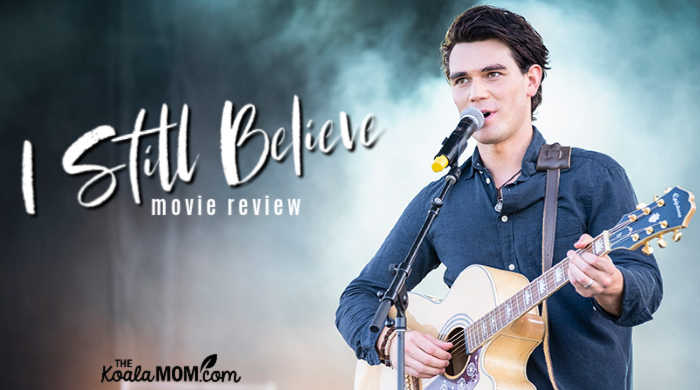 Seventeen magazine has voted I Still Believe the most romantic movie of 2020, and I totally agree. This is an utterly beautiful love story—the story of love story every girl dreams about. Jeremy and Melissa only really start dating after her first cancer diagnosis; most of their relationship happens with her illness hanging over their heads. Jeremy's commitment to her and steady presence beside her through that time is inspiring.
I Still Believe proves there is always hope in the midst of tragedy and that faith tested is the only faith worth sharing.
Faith is woven through this story seamlessly. I've read Christian books and watched Christian movies where the "God moments" feel tacked on just get the Christian rating. That's not the case in I Still Believe. This story doesn't exist without Melissa's powerful faith, without Jeremy's requests for prayers, without their deep hope for healing. Early in the movie, Jeremy and Melissa have a date at a planetarium. Their conversation about the stars and God's handiwork sets the tone for the entire movie and becomes a metaphor that comes up several times later.
I also appreciated the family moments in this movie. While I Still Believe focuses on Jeremy's relationship with Melissa, there are charming moments with his family that add a great deal to the movie. Jeremy's younger brother Joshua has some disabilities, but there's clearly a close relationship between the brothers. Jeremy's parents express understandable doubts about some of Jeremy's choices, but when he faces a faith crisis, he turns to his father for answers.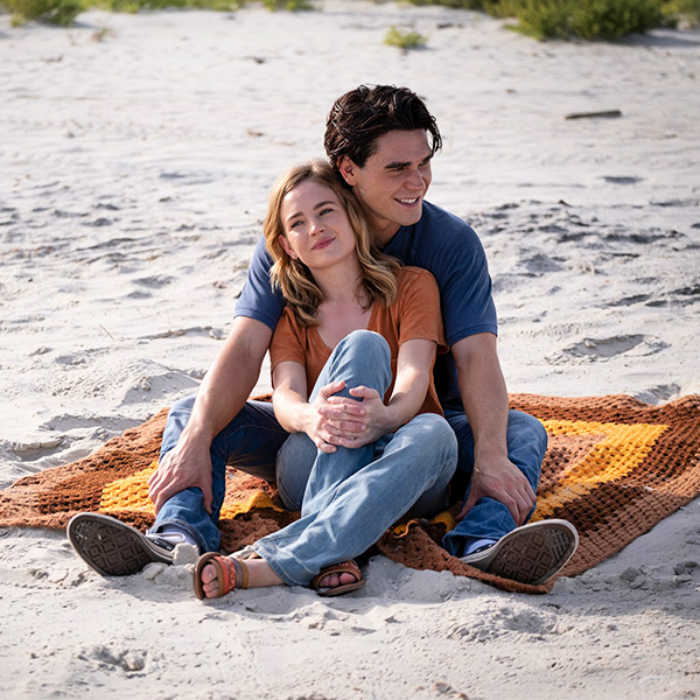 I love I STILL BELIEVE! The love story is captivating. The acting is phenomenal. Britt and KJ, their chemistry is just insane, and you really get caught into the story. It's a romance that will grip your heart and will inspire you like it did me. ~ Rebecca St James
More about I Still Believe
To watch the trailer or learn more about I Still Believe, drop by FaithFilms.ca. There's a sermon guide and small group leader guide there too. You can also follow I Still Believe on Facebook, Instagram and Twitter for teasers!
I Still Believe hits theatres on March 13. As I say with any family-friendly movie that hits the big screen, please go see it in theatres if you can! We need to send Hollywood and the movie theatres the message that we want more films like this—films that uphold faith and family. Make it a date night with your husband or take your teens to start a discussion about faith and love. This is a movie you won't forget.
Giveaway!!!
Enter to win an I Still Believe hoodie (white, size small) and a run of engagement pass for I Still Believe! This pass for two guests is valid for Monday-Thursday (excluding holidays) starting March 16 at any Cineplex where I Still Believe is playing, until the end of the run. Contest is open to residents of Canada age 18+ except where prohibited by law. Just use the Rafflecopter form below to enter. One winner will be randomly chosen on Monday, March 16, 2020.