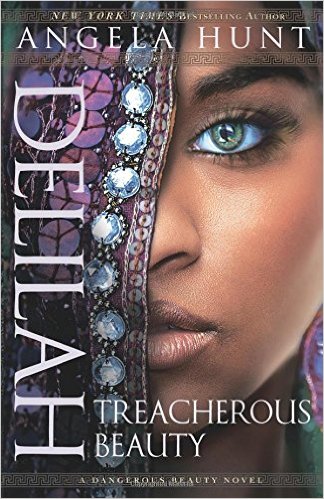 Out of the women in Angela Hunt's Dangerous Beauty trilogy, I was the least interested in Delilah. Her story and Samson's is well-known and, in some parts, strange. Samson is a womanizer who breaks all his vows and seems to deserve the repeated betrayals he receives at Delilah's hands. Yet, just as she did in Esther and Bathsheba, Hunt made me think again about my assumptions about both Delilah and her lover.
As the story opens, Delilah is a teenager in Gaza. She and her mother have recently moved here after her mother's remarriage. Then Delilah's stepfather dies suddenly, leaving his wife and stepdaughter in the hands of his greedy, lustful son. Achish sells his stepmother into slavery and uses his stepsister for his own pleasure until her maid helps her escape.
On her own in Philistia, Delilah must find a way not only to survive, but to buy her mother's freedom—and her revenge on Achish. She is befriended by three Gideonite brothers and witnesses the spectacle of Samson's wedding week. The brothers leave her with a widow, who teaches Delilah to weave. The widow also suggests that Samson—Israel's judge—could help Delilah get justice against Achish. When Delilah finally meets the infamous mighty man, the last thing on her mind is falling in love.
Samson is a likeable, easy-going man who often begrudges his role as Israel's savior. His parents and his servant Rei try to dissuade him from his plans to marry Kesi, but he just wants a normal life with a beautiful wife. When the wedding week ends in disaster, Samson is hurt and angry. Then he meets Delilah—a woman who is beautiful and yet also set apart and different like he is.
What I've liked most about this series is Hunt's ability to take a well-known story and still surprise the reader. I knew how Samson and Delilah's story ended, yet I still found myself reading furiously to find out how they got there. Deliah's choice of revenge rather than love is tragic, yet Hunt still finds a way to bring both faith and hope into the ending.
One of my favourite characters in this novel was Samson's servant Rei. His conversations with Samson give us deeper insight into Samson's character and motivations. Rei is the sober, God-fearing voice to reason to Samson's impulsive, headstrong nature. When Delilah betrays Samson, the character of Rei takes on an even deeper meaning. I don't want to spoil the ending, but I love what Rei symbolizes in the novel.
Beauty does not always benefit the woman who possesses it. On occasion it betrays her, and at other times it endangers her, even to the point of death. These novels—Esther, Bathsheba and Delilah—are the stories of three tob women. ~ Angela Hunt
Angela Hunt is the author of more than one hundred books, both fiction and nonfiction, including Five Miles South of Peculiar, The Offering, and The Fine Art of Insincerity. She has a doctorate in Biblical studies and is currently completing her Th.D. In her spare time, she takes pictures of shelter dogs.
I received this book for review courtesy of the publicist; all opinions expressed are my own.