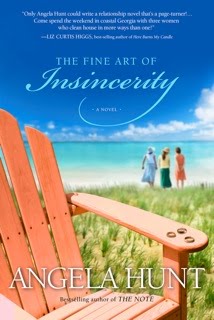 One disadvantage of being a Canadian book reviewer is the time it takes a book to travel from the publisher in the States to my mailbox in Canada.  I'm not quite sure why it takes books so long to cross the border, but several times I've received books for review just before the review is due to be posted.  Angela Hunt's latest novel The Fine Art of Insincerity landed in my mailbox on Monday.  The blog tour is happening today.
At one time, I could have read a book in two days with no problem.  Now, I'm lucky if I finish a book in two weeks.  So I'm almost halfway into Angela's Hunt's book… and reading as fast as I can.  Even without a tight deadline, the book is demanding to be read.  As Liz Curtis Higgs says, "Only Angela Hunt could write a relationship novel that's a page-turner!"
The Fine Art of Insincerity is the story of two sisters who must travel to their grandmother's cottage (a year after her death) to claim what they want and clean the cottage up for its new owner.  Ginger, the eldest, has been happily married to her husband for twenty-seven years and has two college-age sons—but she's about to find out that her marriage isn't what she thinks it is.  Penny has been married to Bob (her fifth husband) for four years and she's bored; he wants a baby and she wants a new husband—and has her eye on the perfect candidate.  Rosemary is married to Harley-riding Wort (her third husband) and has a menagerie full of animals, but grief for the child she lost two years earlier (and perhaps something else?) leads her to plan a suicide once the weekend at her grandma's cottage is done.
I can just tell there's tons of stuff under the surface, waiting to explode.  The three sisters aren't particularly close—in fact, they haven't really spent any time together since Rosemary lost her baby, and even then, they didn't talk about her loss.  They spent summers growing up with their grandmother and there's some family history waiting to be revealed.  So far, faith hasn't come into the picture, but knowing Angela Hunt, I'm waiting to see how God is drawing these sisters back to Himself.
Angela Hunt is one of my favourite authors and the bestselling author of more than 100 books, including Magdalene, The Novelist, The Immortal, the Theyn Chronicles, the Heirs of Cahira O'Connor series, the Keepers of the Ring series, and so many more books that I haven't read yet and want to.  Find out more about her at her website.  I actually met Angela in person at the 2007 ICWF Fall Conference.  Now excuse me… I've got to get back to reading.  🙂
Addendum:  I cried reading the ending of this book.  Even though it was slightly predictable (I knew there'd be happy endings for the sisters), it was still touching and beautiful.  There were some surprises about the grandmother and the sisters' relationships, and some good suspense around Rose's suicide attempt that kept me reading long after Lily had finished nursing.  The Fine Art of Insincerity now sits on my bookshelf beside The Novelist as another favourite Angela Hunt book.
This book was provided for review courtesy of Glass Road Public Relations. This post contains affiliate links; as an Amazon Associate, I earn from qualifying purchases.