I love fiction that delves into motherhood and tackles all the emotions we feel as moms—or the issues we face.  Some of my favourite novels about moms include Come Sunday, which looks at the loss of a child, and The Memory Keeper's Daughter, which tackles the issue of special needs children.  Angela Hunt's latest novel The Offering is a similar story about a mom who faces some tough questions as she tries to do what's best for her family.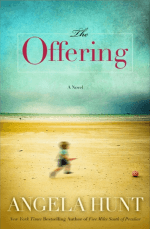 Mandy is a military wife who works part-time at her in-laws' grocery to help pay for her four-year-old daughter's music school tuition.  With only a half-finished college degree, Mandy can't get a better job, and on her husband's salary, she can't go back to school.  Then a chance conversation at the grocery store provides the perfect solution: be a surrogate mother.
Mandy talks her husband into the plan, finds a surrogacy agency, and chooses her intended parents.  She endures the grueling process of getting pregnant with someone else's baby and then breezes through her pregnancy, just as she did with her daughter.  Then the tragedy she's feared for years hits and Mandy's world is rocked.  She pulls into herself, hiding from the pain until a chance letter gives her something to fight for again.  But Mandy must ask herself whether what she wants is worth the fight—and what is best for herself and her children.
I had mixed emotions as I read this novel.  Angela Hunt delivers a powerful story, drawing us into Mandy's life and emotions.  I found it easy to identify with Mandy and her desires for her family.  Even though most of the plot is explained on the back cover of the book, I found the twists and turns of getting there fascinating.  I knew next to nothing about surrogacy before reading The Offering, so it was interesting to learn about it along with Mandy and to go through the process with her.
However, as a Catholic, I have issues with surrogacy.  Intercourse is meant to be unitive as well as procreative, and surrogacy and IVF separate those.  Mandy's journey illustrated some of the side issues associated with surrogacy, including sex-selective abortions.  I can understand the desire to have children—I grew up always wanting kids.  In the novel, Mandy's sister-in-law also faces infertility, but she can't afford IVF and surrogacy and eventually adopts a little boy.  So all three women go through the ups and downs of wanting children, dealing with their emotions and desires in different ways.
Angela Hunt is one of my favourite authors.  If you want a novel that entertains you as well as makes you think, I recommend The Offering.  Angela has written over a hundred books, including The Fine Art of Insincerity and Five Miles South of Peculiar, and is also a popular speaker at writer's conferences.  Her latest passion is photographing dogs waiting for adoption at the SPCA.  You can find out more at her website.
Do you have some favourite fiction about motherhood?