Video was a big topic at all three blog conferences I attended this spring. It's the next big thing in the blogosphere, and it terrifies me (the introverted writer-type). Today, I'm delighted to have video expert Angelique Duffield here to share her best video tips for bloggers. I'm working on finding time to implement these strategies and hope they will help you as well!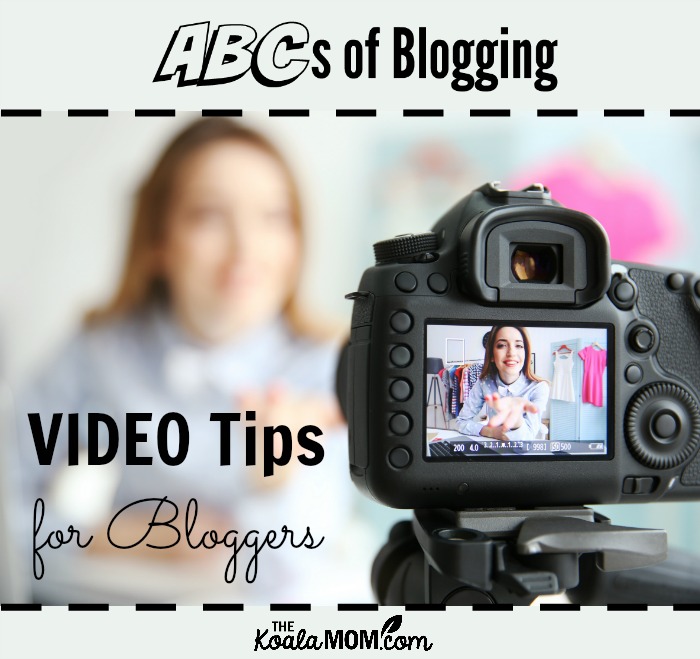 Video is today's must-have in your blogging toolbox. With video creation and consumption increasing at a staggering rate each year, you're getting left behind if you don't adopt some form of video strategy for your blog.
Here are a few interesting statistics, according to YouTube:
72 hours of video are uploaded to YouTube every minute
33% of all online activity is spent watching videos
More video content is uploaded in 30 days than all three major US TV networks combined have created in 30 years
From a blogging perspective:
The average internet user spends 88% more time on a site with video
90% of users say that seeing a video about a product is helpful in the decision process
Enjoyment of video ads increase purchase intent by 97% and brand association by 139%
*stats via Insivia.com
As bloggers, you are probably creating content on a regular basis. Adding a new format will not only give your readers a different dimension and a visual way to connect with you, but it can help your search engine ranking as well.
You might already know that Google is the world's largest search engine. But did you know that YouTube is the second largest search engine? And guess who owns YouTube? You got it. Google. Talk about a powerful combination.
Video Options for Bloggers
While YouTube videos are probably the most widely recognized, Facebook native videos (those that have been uploaded directly to Facebook, not as a link to a YouTube video) have been growing exponentially. In 2015, they surpassed the number of monthly YouTube video uploads. (Check out this example of a Facebook native video with tips on getting more exposure for your blog.)
Periscope (live streaming videos broadcast from your smartphone) exploded on the scene in March 2015. Not long after Facebook Live offered the Twitter-owned Periscope a little competition, harnessing the power of its own popular social network.
Short and sweet video format started with six second Vine videos. Now you can even record video replies on Twitter, and Instagram just upped their video limit from 15 to 30 seconds.
As for longform video, Google Hangouts on Air revolutionized personal broadcasting to an online audience. Now, it is the commonly used base for many webinar systems.
Blab and Snapchat are gaining in popularity for businesses, and there will be countless others popping up as the video marketing trend continues.
Integrating Video into Your Blog
Here are some questions to consider when getting started with video.
1. What video format would you be most comfortable with? Which format best suits your brand image?
This will depend on the equipment that you have or want to invest in, the amount of time you want to spend recording or editing videos, or if you want to do it raw and on-the-fly. If you're an introvert or camera-shy, you can still create videos without being on-camera. Think about product review videos, interviews or screencast videos where your computer screen is recorded (ideal for tutorial videos).
2. Are you tech challenged, or do you geek out over new gear and software?
If tech isn't your thing, try easy options like Facebook Live, where you don't need to worry about editing and the video is automatically uploaded to your Facebook page. Just begin a new status update, choose the Facebook Live icon, record and go. Once you grow a following and people choose to get live notifications, they can interact by posting comments and giving hearts and emoticons, similar to Periscope, giving you instant feedback from your audience.
Recording a video can also be done on your smartphone, DSLR or even your webcam, then uploaded to YouTube.
Most people don't realize that YouTube has a basic video editing tool where you can easily snip out a blooper, add royalty-free music from their collection, and add annotations or cards that link to your website or encourage people to subscribe.
3. Where is your audience already hanging out?
The benefit of Facebook native video and Facebook Live is that most brands and bloggers have already established a following on their Facebook page. Providing content where your fans exist means you're likely to get more engagement and reach more people.
Add in the inexpensive cost of Facebook video ads [often cheaper than traditional photo ads] and it becomes an even more compelling option.
If you have a following on Instagram, recording short video clips of your opinion, product review, or tips might be the best option. For a little fun and added personal connection (plus a little more tech savviness and time to create and edit!), try using a collage app like Pic Play Post to create a split screen video with a closeup of you talking to the camera describing your product or tip on one side, and demonstrating it on the other side (this is perfect for fitness videos or cooking/recipe demos). Check out @MelissaMade on Instagram for an example.
If you have a strong following for your blog, especially if you send out new post notifications to your email subscribers or share your blog post on social networks, it is easy to embed a YouTube video into your blog post.
Remember that Google owns YouTube, so this is a good way to boost your search engine ranking in an organic way, especially if your blog post and your YouTube video uses keyword titles and descriptions effectively.
5 Tips for Creating Better Quality Videos
Once you have decided on your video format, here are a few tips to help you create more professional looking videos.
1. Plan out what you're going to say. Keep it short, and stick to one topic or one question you can answer that might help your audience.
2. Always include a call to action at the end of your video. Encourage people to subscribe to your channel, sign up for your newsletter to get more tips, or ask them to share your video.
3. Record your video in a quiet place, or even better, invest in a microphone. You can get a relatively inexpensive lavalier [lapel] microphone for your smartphone, or external webcams often have a better quality microphone. If you are using your computer's built-in webcam, you could buy good quality USB microphone such as the popular Blue Yeti. This is perfect if you are doing webinars, recording screencast videos, or just talking to the camera in video-blog style.
4. Lighting. After a good sound quality, this is another easy way to make your video look more professional. If you are filming outdoors, try to stand in the shade instead of in bright sunlight where you're squinting or where overhead sun gives you harsh shadows under her eyes. If you are at home or in your office, never sit with the window behind you or you will be in silhouette. Position the window in front of you and your camera/webcam and you will have nice flattering lighting.
5. Practice, practice and more practice. Challenge yourself to stick with one or two video formats for an entire month, recording at least twice per week. (Better yet, record in batches to save time and get into the flow).
Think about when you started blogging. It probably didn't come naturally to you. I promise you that if you keep at it, you will see improvement.
Take up the Video Challenge
Today there are so many video options to complement your brand identity, your audience and your technical skills, yet getting started with video to enhance your blogging experience can seem like a daunting task.
Try to remember that you will improve over time—your speaking skills, the equipment you use, and how confident you feel on-camera. Just keep at it.
Finally, you have to believe that the message you are sharing is bigger than your fear.
So pick your video format, and start recording. It doesn't have to be perfect—perfection is the enemy of done!
If you need more tips, tools and help with video marketing, pop over and grab my free Video Toolkit with my easy peasey video script formula, my fave tools, apps, video software and equipment, and a checklist to make sure your videos are optimized to help your blog get found in a Google search.
Have you ventured into video with your blog? What video tips for bloggers would you share?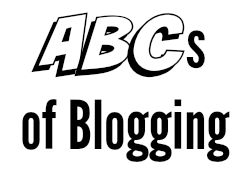 Angelique Duffield is an online strategist & tech demystifier helping time-strapped solopreneurs and business owners beat overwhelm by implementing simple systems, and helping them to create an irresistible online presence using strategic web design, social media, videos and email marketing.
Follow Angelique on Twitter, like her page on Facebook, and subscribe to her YouTube channel for online marketing + social media tips. And be sure to grab your FREE VIDEO TOOLKIT.