I debated even writing this post, because Google+ doesn't come up in most blogging circles. However, when I asked about it in my blog group, the answer came back that it matters simply because it's Google. In the online world, Google remains the giant, particularly for organic search. Google Plus makes a difference for bloggers because even one "plus" can help your post rank better in searches.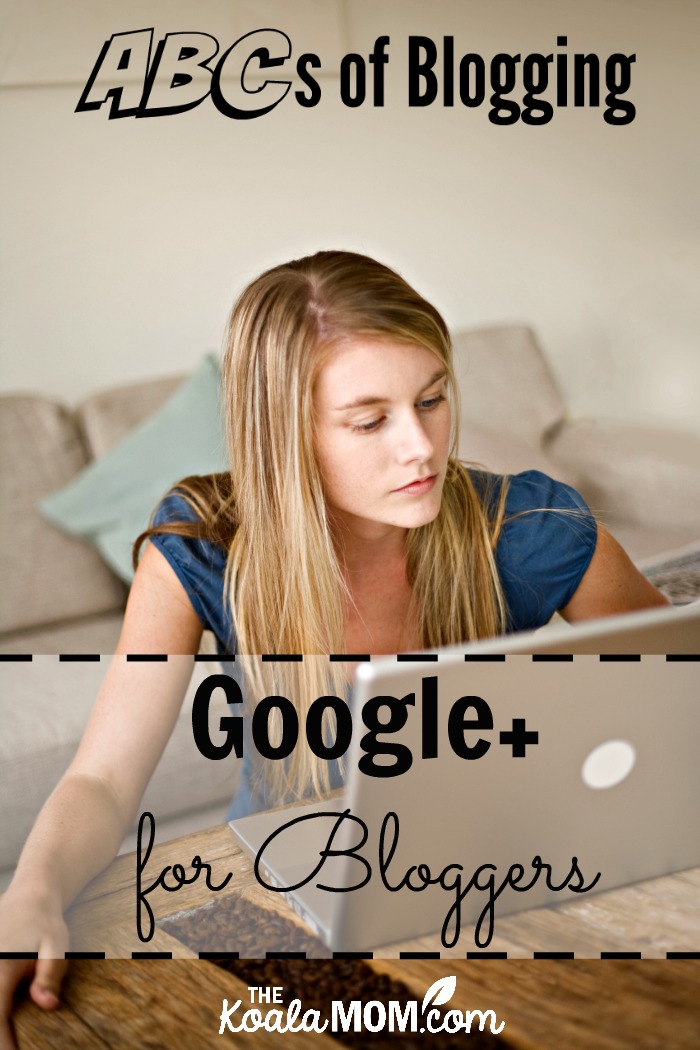 What is Google Plus?
In a way, this is simply Google's version of Facebook. There are many similarities. You can have a personal profile and a business page. You view a news feed of status updates and posts similar to Facebook's, and you can share and comment on posts just as you can on Facebook. On Facebook, you "like" posts; on Google+, you "plus" them. Facebook has groups; Google+ has communities. On Facebook, you can assign your friends to lists; on Google+, you put them in circles.
According to a study by sharing app SumoMe, roughly 7% of users shared posts on Google+ in 2015 and 2016. That might not sound like much, but Google+ comes behind only Facebook, Pinterest, Twitter, and email for sharing. It's ahead of LinkedIn and StumbleUpon. With Facebook's changing algorithm and Twitter's limited lifespan, Google+ doesn't sound so bad.
Best Practices for Google+
Like any other social media channel, Google Plus works best if you engage with it. This can sound intimidating, especially if you are already on multiple other social channels (like me).
Try spending just five minutes a day on it. Simply check in, share a few posts and plus or comment on some, respond to and plus any comments on your posts, and then let it go for the day.
"If you only share your own posts and don't interact with others on Google+, you'll get nothing back. Sort of like how Facebook works, too. And Twitter. And Pinterest. And every other social media platform that exists. Because the essence of social media is to give as well as receive. That's why we spend so much time reading other people's blogs, retweeting, liking things on Facebook and, yes, plussing and sharing on Google+." ~Sharon Greenthal
You'll also want to share every blog post you publish. Add a brief comment to the post and include hashtags just as you would on Twitter or Instagram. You can also tag other people who might be interested in the post.
Plus, you can share it with specific circles, privately, or publicly, depending on the post and which audience would be most interested in it. So Google+ makes it easier to target who you are sharing your post with than Facebook does.
Do make sure you customize your page or profile. Like most other social media channels, you can upload a cover image and a profile image and update your blog profile. Use a professional headshot (and use the same one that you use across all your social media channels). I use my blog logo for my cover page but you can also change it for the season or special promotions.
Fill in all the details you can in your bio to give your readers and potential followers enough information to decide that they do want to follow you.
Expand Your Audience
Google Plus will attract some people who will not hang out on other social media channels. I've heard it joked that it is home to the engineers and computer geeks who built it, but depending on the niche of your blog, it might be worth checking into to expand your audience. For example, my dad is on Google+ but not on any other social channels.
If you're also on YouTube, Google+ can help promote your videos—both are Google products. In your profile, there's a link to your posts, photos and YouTube videos. Your followers can browse your videos there and you can share your YouTube videos in your news feed.
Connect with Google+ Hangouts
Probably one of the best features of Google+ is their hangouts. This allows you to connect with readers, brands or fellow bloggers via video. There are a few ways you can use this feature:
Online Meetings. For example, when I did a mentorship program with 5 Minutes for Mom, we used hangouts as our online meeting platform. We had a group of 7 bloggers spread across North America, so Google+ was a quick and easy way for us to meet and discuss blogging.
Reach Your Audience. I've joined hangouts hosted by other bloggers on a variety of topics. One of my favourits was the Learn to Blog hangouts hosted by Kelli Miller and Crystal van Tassel. These ladies were real, funny and honest online and gave back to their readers by sharing what they'd learned about blogging. Other hangouts I've seen are about homeschooling or mothering; join a few, see how it works, and consider hosting your own (or partnering with another blogger in a similar niche, like Kelli and Crystal, to host one).
Further Reading: