Facebook is the big daddy of the social media sites. It's where most of us go to connect with friends and family, see what's going on in the world, and generally waste time. For many bloggers, it is their number one source of referral traffic. Despite this, most of us bloggers have a love/hate relationship with Facebook. Its constantly changing algorithm makes it hard to rely upon for traffic—but some bloggers have found a way to make the algorithm work for them instead of against them.
Here are some tips for achieving Facebook success as a blogger.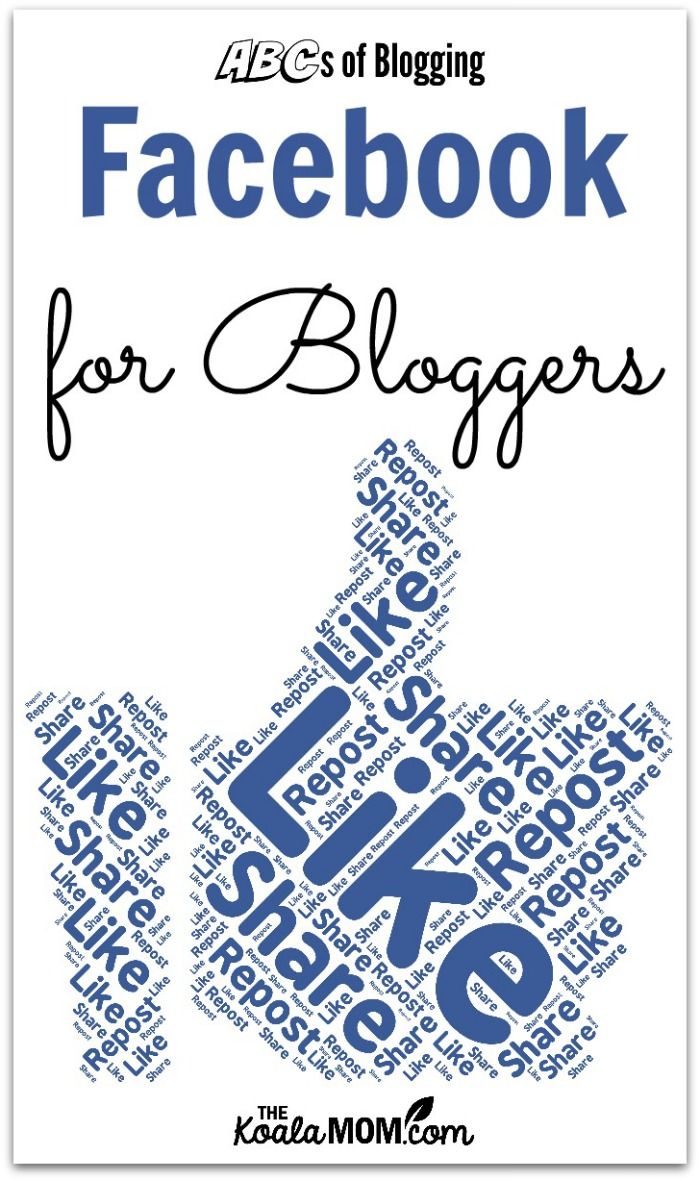 Post Consistently
Facebook encourages consistency. If you post sporadically—sometimes in the morning, sometimes in the afternoon, some days not at all and other days every hour—then your posts likely won't have a great reach. I was a sporadic user for a long time, as I wasn't sure what to post to my page (other than my own posts). As a result, my reach was dismal. When I began posting more consistently, I saw much better reach for all of my posts.
To do this, you may want to use Facebook's scheduling tool. Some bloggers schedule their posts for a week or a month in advance. Do what works for you; maybe you can find five minutes a day to schedule posts for the next day. Avoid using other scheduling tools, as Facebook doesn't play nice with other apps.
Post Frequently
For a while, all I posted to my page was my own blog post, because I didn't want other posts to compete with that. However, as I began posting more, Facebook began showing all of my posts to more of my readers. More posts means more chances for your readers to engage with your content, and more engagement means Facebook will show your posts to more readers.
Vary Your Facebook Content
Vary your content to increase interest and engagement with your followers. Julie Nowell from 3 Chickens and a Boat recommends a 1 to 4 ratio of posts:
your blog content

a photo or meme

a question or status update

a shared article from another site
I've found that this has made a difference on my page as well. My fans seem to like encouraging or funny photo memes; I get lots of "likes" and "shares" there which translates into more views for my other posts. Questions are a good way to learn more about your readers and should be easy for them to answer. Photos about what we're doing, like pictures of my girls on a field trip or us playing a board game as a family, also do well and add a personal touch to my page.
When sharing articles from other sites, look for other blogs that fit your niche and topic. See what posts are trending on their page and getting lots of comments, shares, or other engagement. When you share popular posts, Facebook translates some of that "love" to your page.
Don't Use Tags or Hashtags
It is possible to tag others from your page and to use hashtags in posts, but Facebook seems to penalize posts that do this. If you do want to tag a brand or another blogger, post it without the tag and let it do well, then add the tag later.
Vary Your Post Format
There are multiple ways to share a blog post on your page. You can share a link and let Facebook add the preview, as I did in this post: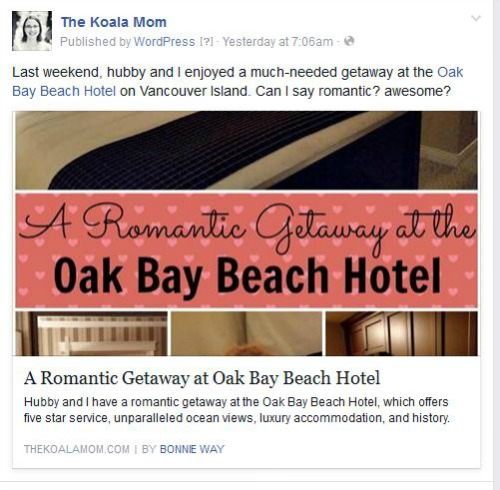 (Note I did tag the hotel on this post—but I added the tag a few days after posting it, when it had done well and was getting good views.)
Stephanie from Spaceships & Laser Beams (who loves Facebook and sees huge results there) says her fans don't like that sort of post. Instead, she uploads an image and adds the link in the text of her post, like this: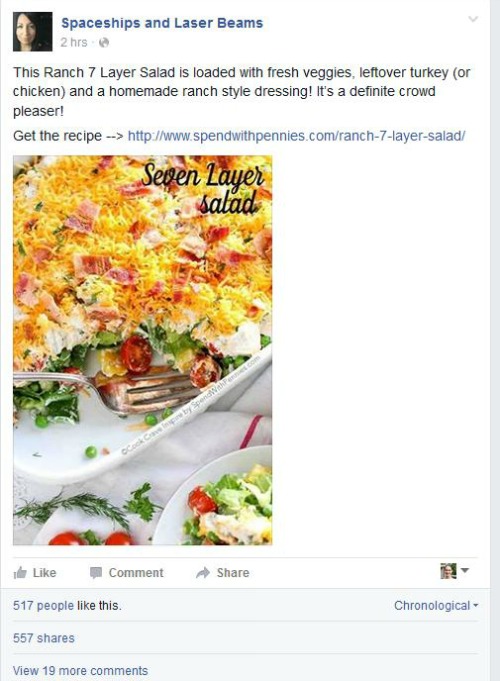 I've had success with both; it seems to depend on Facebook's mood for the week, however. Experiment with different ways of sharing your content and see what works best for your audience.
Post on Facebook at Optimal Times
There are all sorts of charts available showing the optimal times to post to various social media channels. What you want to know is the best time to post for YOUR audience. Use your Facebook analytics to see when your fans are online and what content they are responding best to. Then you can plan your posts accordingly.
Respond to Comments and Messages
Respond to all comments and messages on your page. Some readers will come back to respond to your response, which of course increases the engagement in the post and encourages Facebook to show it to more readers. Facebook has also started measuring how responsive page owners are; there's a little icon in your page's top left sidebar that lets readers know how quickly you respond.
Use Facebook Ads
Another option is to advertise on Facebook. You can choose a particular post to promote or "boost." For example, you may want to drive more traffic back to a post promoting a particular product for which you are an affiliate. You can boost a post in an effort to get more followers on Facebook. You can also try Facebook lead generation, where you use Facebook ads to collect user data such as emails to add to your email list.
Again, advertising on Facebook will require some trial and error to find out what works. You'll want to have a specific goal in mind (such as driving traffic, generating leads, or increasing followers) so you can test whether your advertising is working. It may also be a good idea to make sure that a post is already popular (and likely to see an increase in engagement) before boosting it; you don't want to boost a post that isn't going to get much engagement.
Focus on Engagement, Not Traffic
It's tempting to set goals for large numbers of followers, but it's actually more important on Facebook to work on increasing engagement instead. Stephanie says it's better to have a small, engaged followed than a large, engaged following. Facebook rewards engagement, so the small blogger with fans who comment on everything she posts might actually have more reach than a large blogger whose fans don't like or comment. Work on connecting with your readers and your page will grow on its own.
How's your relationship with Facebook? What works on your page?

Further Viewing