TKM contributor Anna recently tried out the new Playtex Diaper Genie Elite diaper pail. She currently has two children in diapers—a newborn and a toddler. Here's what she has to say about where she throws her boys' dirty diapers.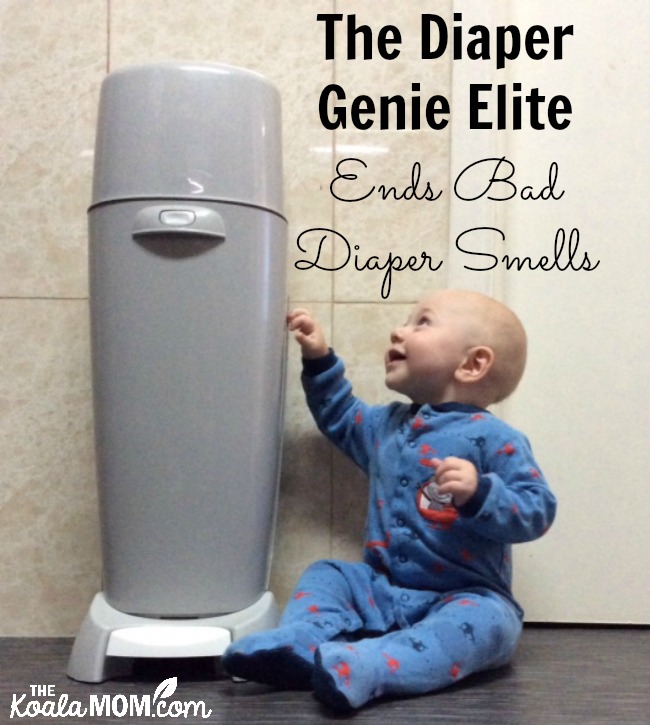 There's nothing worse than cleaning your whole house for guests coming over, only to forget one thing and ruin it all… that is… you clean the bathrooms, do the dishes, tidy the toys, etc… but forget to take out the garbage and when you walk in the door be hit by the nasty smell of several doozy diapers sitting in your open bathroom garbage.
This happened to me a little while ago. I had a friend coming over, a single friend who hadn't yet lost all sense of gross from years of cleaning little bums and noses. We tidied up for her, and when she came in she remarked innocently, "It looks great in here! But are the kids sick? It smells like you've been caring for sick people." Ugh. Not exactly the ambiance we were hoping for!
So you can understand why, after 6 kids, I finally thought I should give the diaper genie a try. My kids were very excited when the big box arrived at the door from Amazon, and immediately wanted to open it.
"You can look at it while I do the dishes, then we can set it up after."
My enterprising 9-year-old had other plans and had it assembled before I returned. So needless to say, the diaper genie is easy to put together!
One quick word of caution though. The diaper genie has a special refillable bag system as it uses special smell-resistant blue plastic. It's a ring full of plastic that pulls down to form a bag. Just pull down and tie a knot in the bottom, and fill with diapers. When it's full, pull it down, cut off that section and tie another knot in the bottom. My daughter didn't realize how it worked, so she just kept pulling until we had a huge dragon's tail of a bag! Whoops! After a few failed attempts to stuff the plastic back in the ring so I could use it all I had to admit defeat and cut off the excess.
So the big question—does it work? Does the diaper genie really trap the smell?
Well, the other day I sat in my comfy nursing chair reading a book for half an hour before I noticed that my kids had pushed the diaper genie down the hall and left it right behind me. It contained some real nasty ones (I have a toddler as well as a baby in diapers) but I hadn't noticed the smell at all.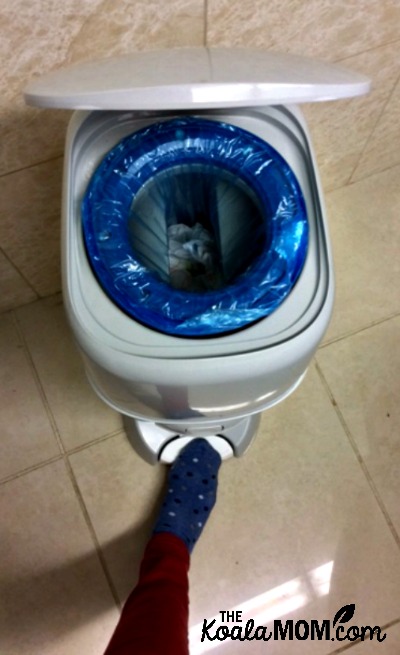 The only time it stinks is for a few seconds when you use the foot pedal to open the usually sealed diaper trap under the lid. So one yucky whiff instead of ongoing stink. Pretty good deal!
The best place for the diaper genie would of course be next to your change table, if you have one, so you will remember to put all the diapers in it. As I have a toddler boy (= always on the run) I end up changing him wherever I can pin him down, and sometimes just put the diaper in the closest garbage, which then makes the area surrounding it smell.
If you want to be smart about it, always use your genie! Or get one for each place you frequently change diapers. The genie is tall and slim, so it fits nicely in little corners without taking up too much space.
Would I recommend the diaper genie?
Yes, it's great to have, and convenient that it opens with a foot pedal so you don't have to touch it with dirty diaper hands. If you still have a tiny newborn, and are convinced that your little darling's diapers smell like flowers, trust me, it'll get worse when they start solids! So be smart and get a genie. Your nose will thank you. And so will your guests!
The Playtex Baby Diaper Genie Elite diaper pail now comes in four colours: pink, grey, white, and blue. It is available at major retailers across Canada, including Amazon
and Toys R Us.
Wanna try it out for yourself? Use the Rafflecopter form below to enter to WIN a Diaper Genie Elite for your nursery!
Contest open to residents of Canada over the age of 18 except where prohibited by law. One winner will be chosen randomly via Rafflecopter and notified via email. Contest ends June 30, 2016. The Koala Mom is not responsible for the prize or shipping. This post contains affiliate links; as an Amazon Associate, I earn from qualifying purchases. Anna received the Diaper Genie Elite diaper pail for the purposes of this review; all opinions expressed are her own.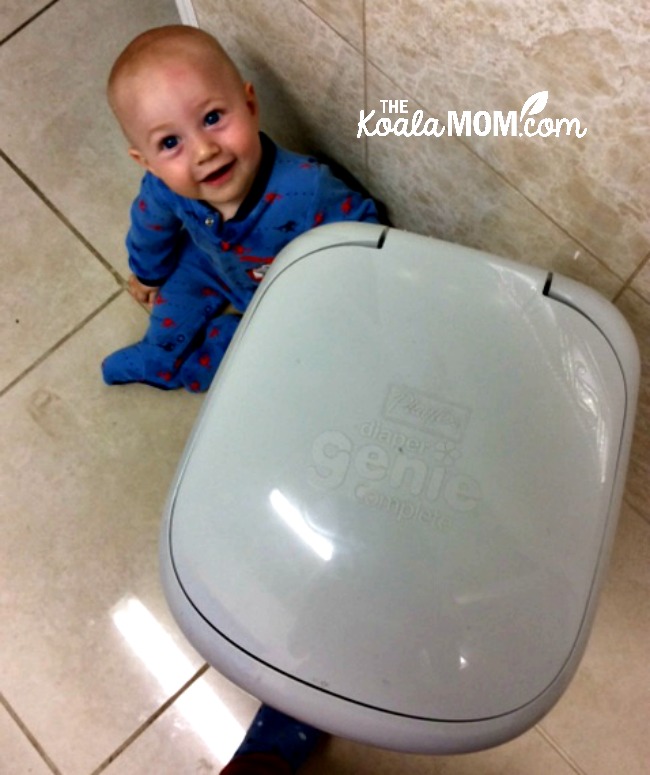 Anna Eastland is the mother of seven children (with one in heaven). She blogs at Just East of Crazy Land about mothering, homeschooling and infant loss. She also wrote the title essay and several poems for the anthology Love Rebel: Reclaiming Motherhood. All photos in this post are courtesy of Anna.