Spending time together as a family is very important to us. Everyone in the family is happier when we're all having fun together. And I strongly believe that good relationships now set the stage for good relationships when our kids are teenagers and adults. We try to eat supper together every night and to keep weekends free to do at least one thing together. Here are a few ways we spend time as a family.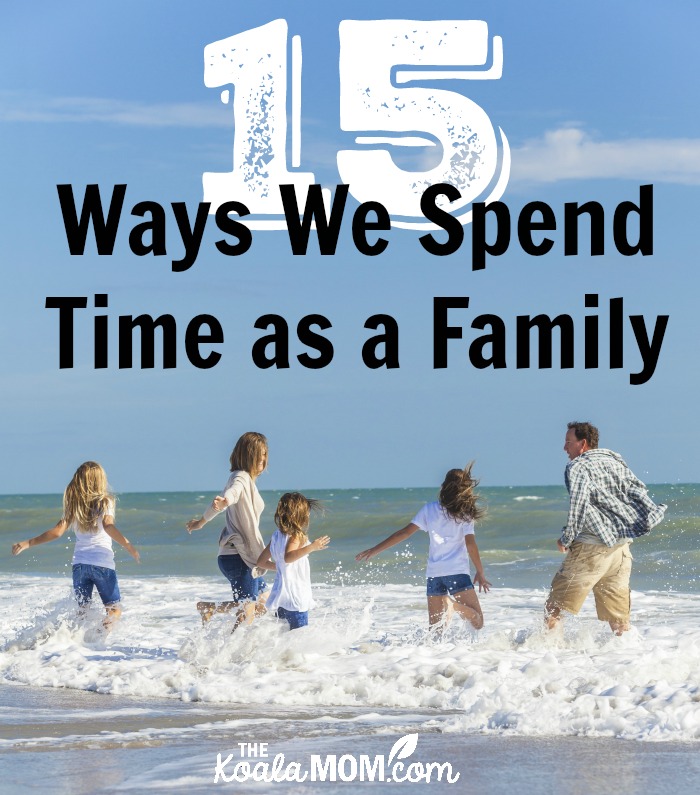 #1: Do a Puzzle
All our girls enjoy doing puzzles. We have a big collection of kids' puzzles, varying in difficulty, and a lot of harder puzzles too. Over Christmas, my husband's family always has a puzzle on the go (his parents also have a spare table for the puzzle).
#2: Go Swimming
We enjoy hitting the pool about once a week. There are several pools in our area that host toonie or loonie swims, which means that we can go swimming as a family for under $10. For the summer, the outdoor pools are starting to open around Vancouver and many are also cheap or free during certain hours.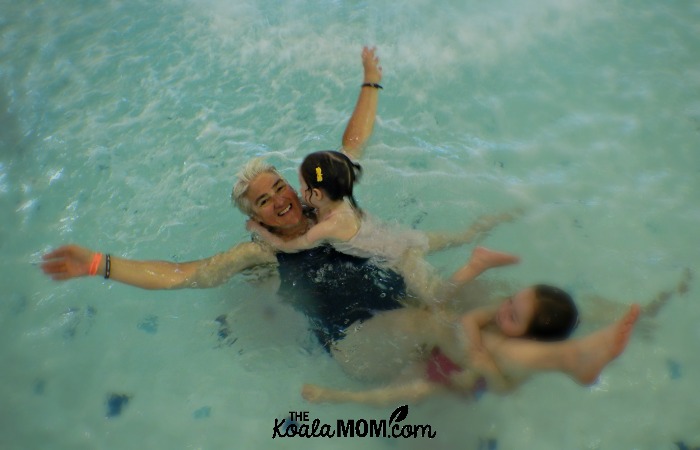 #3: Read Together
When I was in my teens, my mom read Moby Dick and Ivanhoe aloud to us, because she knew my brothers weren't likely to read them by themselves. My dad was off work while we were reading Ivanhoe and it was fun to talk about the book as a family. Now, I'm often the one reading. We also like listening to audio books while we're driving (the CD player doesn't get tired like Mommy does).
#4: Play a Board Game
Since the girls have been able to count and take turns, we've had fun playing board games together. They've started moving on from simple games like Snakes & Ladders to more complicated games like Carcassonne (which even our 3-year-old can play, actually, as it's just like a puzzle to her). The girls work on skills like strategy, reading, math, patience, turn-taking, sharing, and more while we're playing and we always have fun together.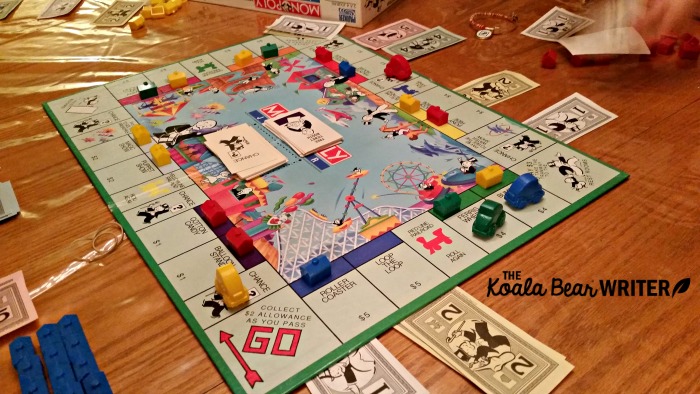 #5: Watch a Movie
One of our favourite Friday night activities is to watch a movie together. We also enjoy heading to the movie theatre on weekends. I'm always amazed at what the girls remember from a movie—they'll talk about it for a week after we've watched. (Meaning we better pick good movies!)
#6: Go for a Hike
If the weather is nice, we like to head out for a walk, whether that's simply in the blocks around our house or on a trail somewhere. If we take snacks and water, and pick an interesting hike, the girls can actually walk for a couple hours. Depending on the trail, I put the baby in either the stroller or baby carrier. Sunshine now likes to take her own camera to take pictures as we go.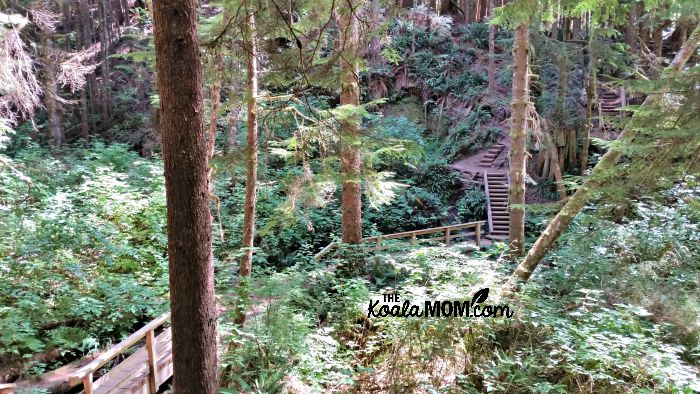 #7: Cook Together
When I was growing up, taco nights and pizza nights were always a family affair. Mom did the tortillas or the pizza crust while my brothers and I did the veggies, cheese, and meat. It was fun to spend time together in the kitchen and we each had preferences for which chore we did. Now, the girls like being able to choose what goes on their pizza (we do mini-pizzas for them). These two meals are also good ways to teach them basic kitchen skills.
#8: Go Shopping
Yes, we go shopping as a family, whether it's for groceries, kids' shoes, or furniture. My husband is actually the shopper in the family; he enjoys browsing and window shopping, while I prefer to go with a list and get in, get what we need, and get out. The girls like shopping at stores that have cool buggies for them to ride in.
#9: Colour Together
My husband just got himself a colouring book for Father's Day. I guess he was feeling left out of the colouring parties the girls and I would have, so now it's a family activity. There are tons of fun colouring books out there nowadays so you're sure to find something for everyone in the family!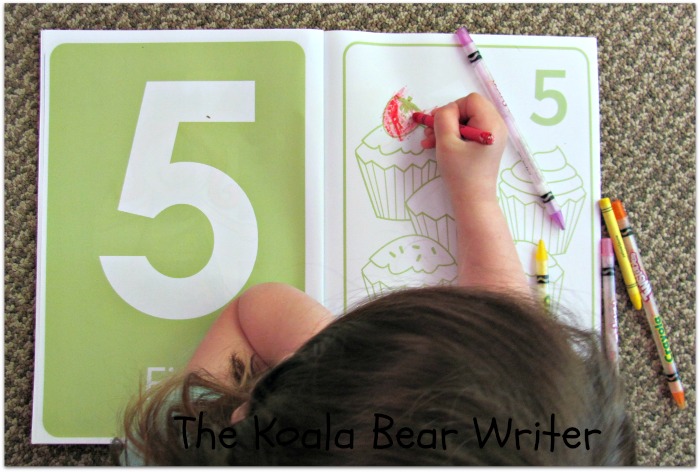 #10: Go for a Bike Ride
Now that the girls are getting a bit older, we're trying to do this more often. It lets us go a bit further and see different things than we would on a hike. Sunshien can ride her own bike, Lily is almost riding her own bike, and we have various ways of biking with the younger two girls. (We have a trail-a-bike, a bike trailer, a baby bike seat, and now also an Xtra-cycle).
#11: Go for a Drive
At Christmas, we like to drive around looking at the Christmas lights. Every city seems to have neighbourhoods renowned for their lights.
#12: Visit a Museum
The girls love running around museums as there's always lots to see. It also gives us a lot to talk about afterwards. Many museums are now targeting their displays for younger kids, and have buttons to push, movies to watch, or hands-on exhibits that help bring history alive.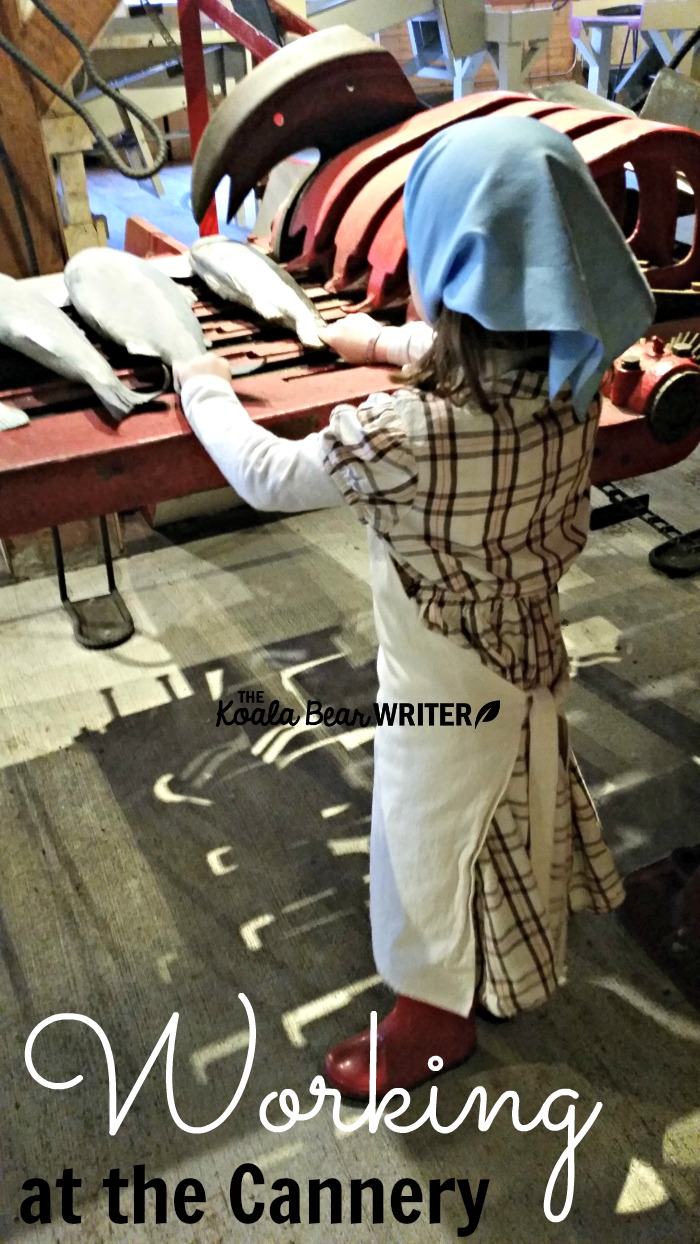 #13: Have a Dance Party
After we finished watching Despicable Me 2 earlier this year, I was laughing at the Minions' version of several classic songs. The girls didn't understand why it was so funny, so we looked up those songs on YouTube for them. That sparked a crazy fun dance party. It was a great way for them to burn off some energy. And the songs brought back some fun memories for my husband and I.
#14: Volunteer Together
This is something I often did with my family, as we were very active in my church, and which I hope to do more as the girls get older. It's sometimes hard to find volunteer activities that they can do, but we have packed personal hygiene kits for the homeless together and helped clean our church. The girls often surprise me by the generosity and what they're willing to do for others.
#15: Go to the Park
On nice weekends, you'll often find us just hanging out at the park. My husband and I enjoy seeing where the girls play. If they don't need us to push them on a swing or catch them on a slide, it's a great chance for us to chat together while keeping an eye on their activities.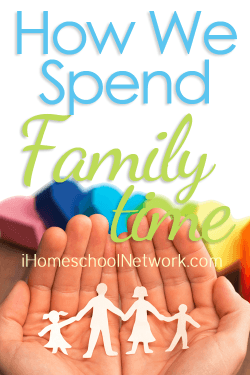 Those are some of the ways we spend time as a family. What does your family enjoy doing?