On Family Day, we headed out to Richmond to visit the Gulf of Georgia Cannery. They had a special kids-get-in-free deal for the day, although ours were all young enough to get in free anyway. The cannery was pretty quiet, leaving us lots of space to wander and browse the exhibits.
I thought it was fascinating that they'd turned a real cannery into a museum—it was much more interesting than the small "cannery" section at the Royal BC Museum in Victoria.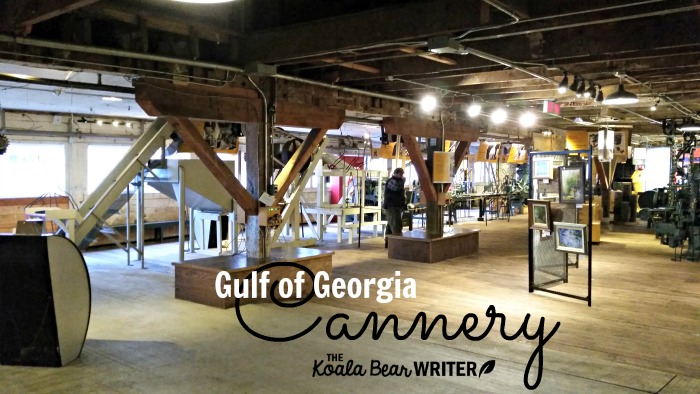 The cannery itself was huge! It's quite clean now (no fishy smell left!) with signs explaining what the equipment was. There was a lot of information about fishing and fisheries, including a touch-screen computer that the girls had fun with.
Then we walked around the corner and discovered the kids section! There was puzzles which Jade sat down to play with and dress-up clothes that Sunshine and Lily promptly donned. Then they pretended to go to work on the line: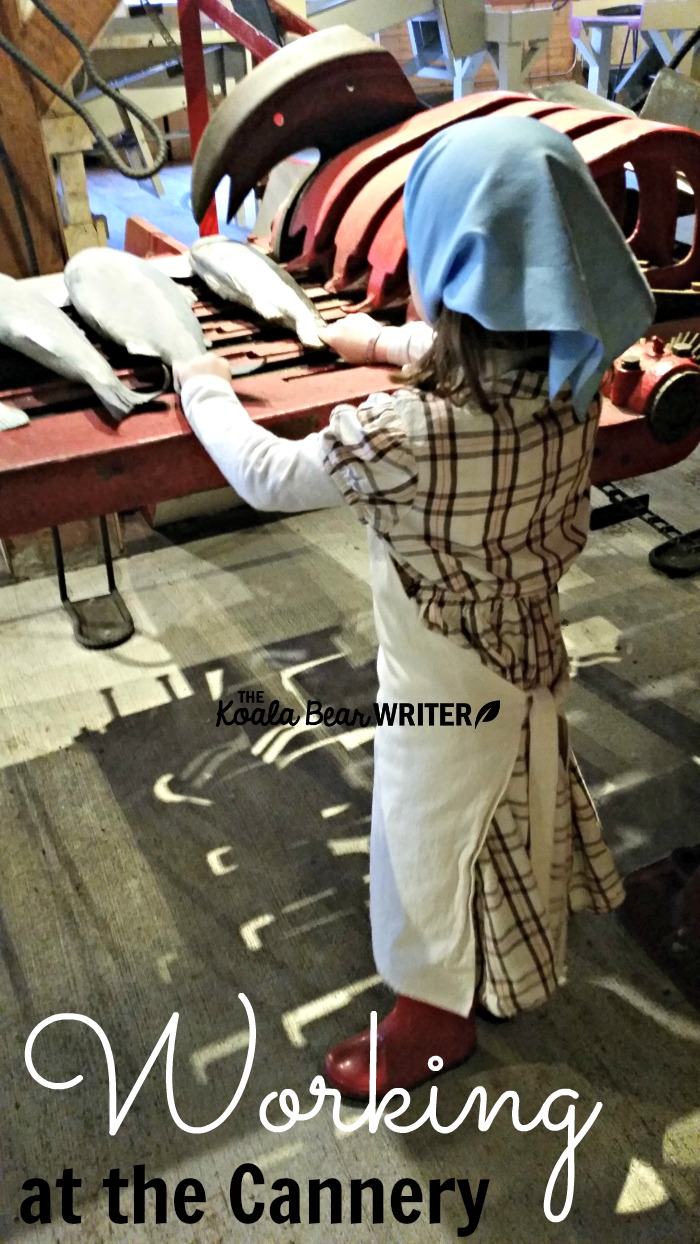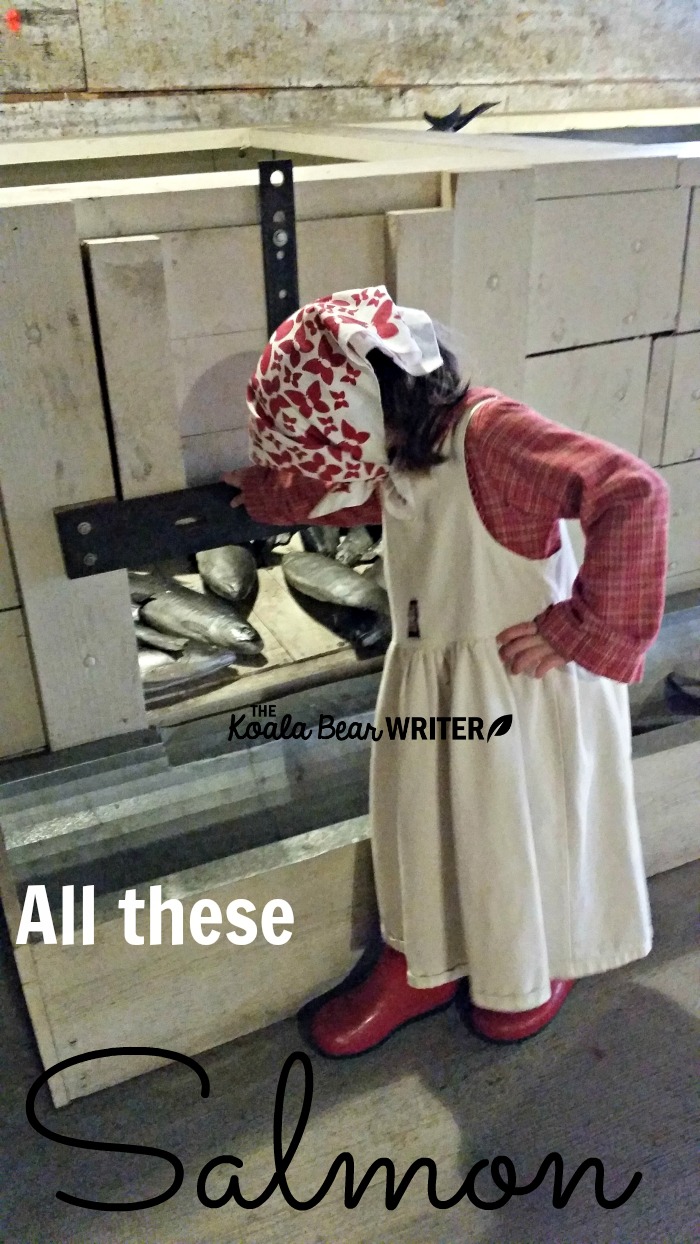 There were lots of interpretive displays all around the cannery, from signs (in French and English) to listening stations and even a few short movies. I thought it was cute that the earpieces at one listening station were made from old tuna cans: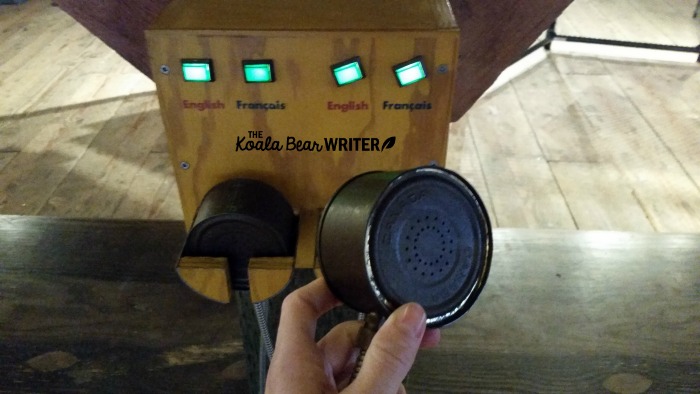 Even Jade got into the listening stations, though by this time in the day she was also getting tired and sitting down on the floor whenever she wanted me to carry her: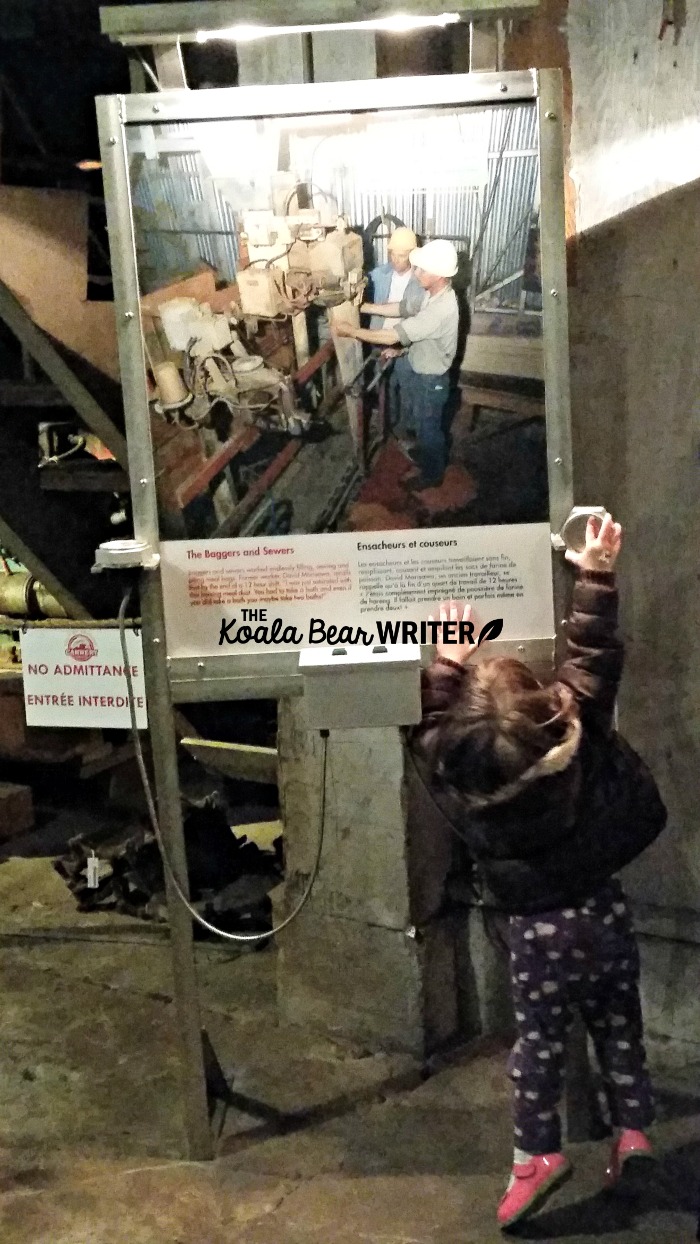 One thing I thought really cool about the cannery was the stories from actual workers. There were signs all over the cannery with little quotes and tidbits of information from people who worked here and had shared their memories, like this one: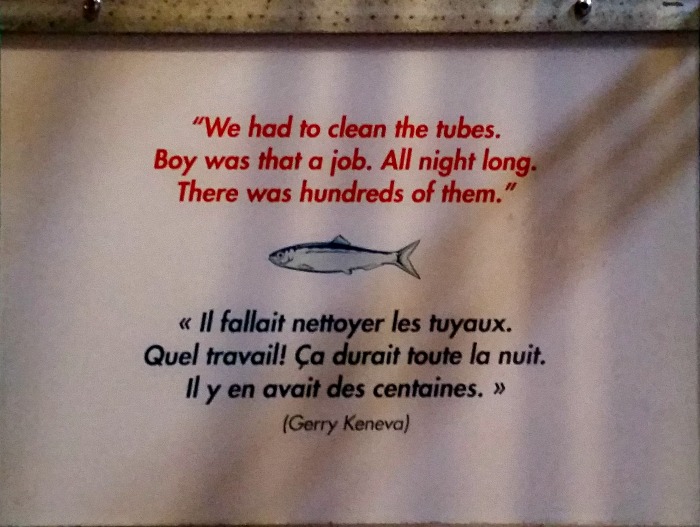 There were other fun tidbits of information around the cannery, like the fact that some equipment came from Norway, or that some machines were similar to the dryers we use for clothes or the separators used on dairy farms. While the cannery was neat and clean and big right now, I don't think I would have wanted to be there when it was full of fish and all the machines were clanking and humming!
Finally, one fun historical detail for the visit was that we were given punch cards when we arrived. We got to punch in when we entered and then punch out again when we left. The girls had fun putting their cards into the big machine and waiting for the THUMP.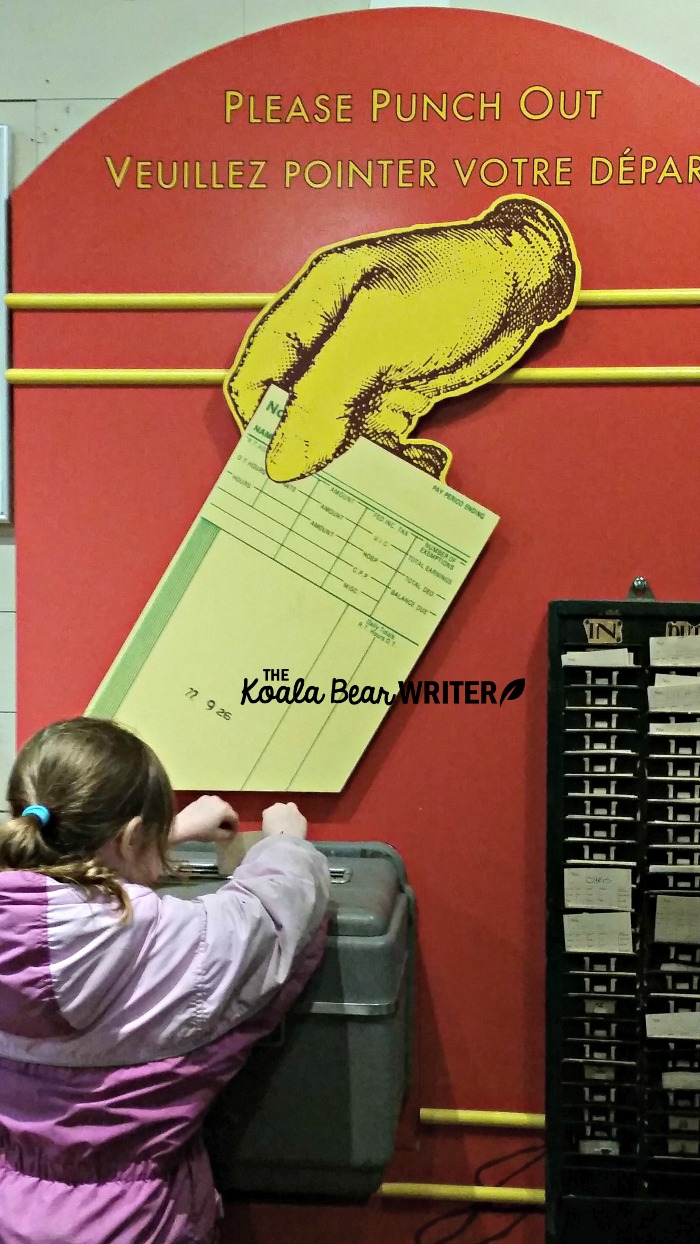 This was an interesting part of BC's history. I like visiting working museums, or places like this that have been preserved as they used to be so we can catch a glimpse of the past. It was also great to learn more about the oceans and sea life around us. I didn't know the difference between cod and halibut, other than the price you see on the menu at a fish and chips restaurant.
Baby-friendly: yes. Most of the cannery was located on one level, with lots of space to navigate a stroller. There was one small section that was up four or five stairs. I'm pretty sure there was a change table in the washrooms.
Kid-friendly: yes. Kids under six get in free and there was the kids' play area as well as several interactive displays (computers, TVs, models of fish, etc) to catch the kids' attention. You can also request a Parks Canada Xplorers booklet for your kids (school-aged) to fill in while visiting the museum. And the cannery hosts birthday parties as well.
Check out the Gulf of Georgia Cannery website for more information, including upcoming events such as their monthly farmer's markets and their annual Easter event. You can also follow the cannery on social media to stay up-to-date.