Nanaimo Bars are hands-down my favourite dessert. They're also super easy to make and I've been making them for years, always trying to perfect my recipe. At last, I think I've achieved the perfect Nanaimo Bar: solid instead of gooey, sweet but not too sweet, and even dairy-free with a hint of coconut. Here's my recipe for Coconut Nanaimo Bars.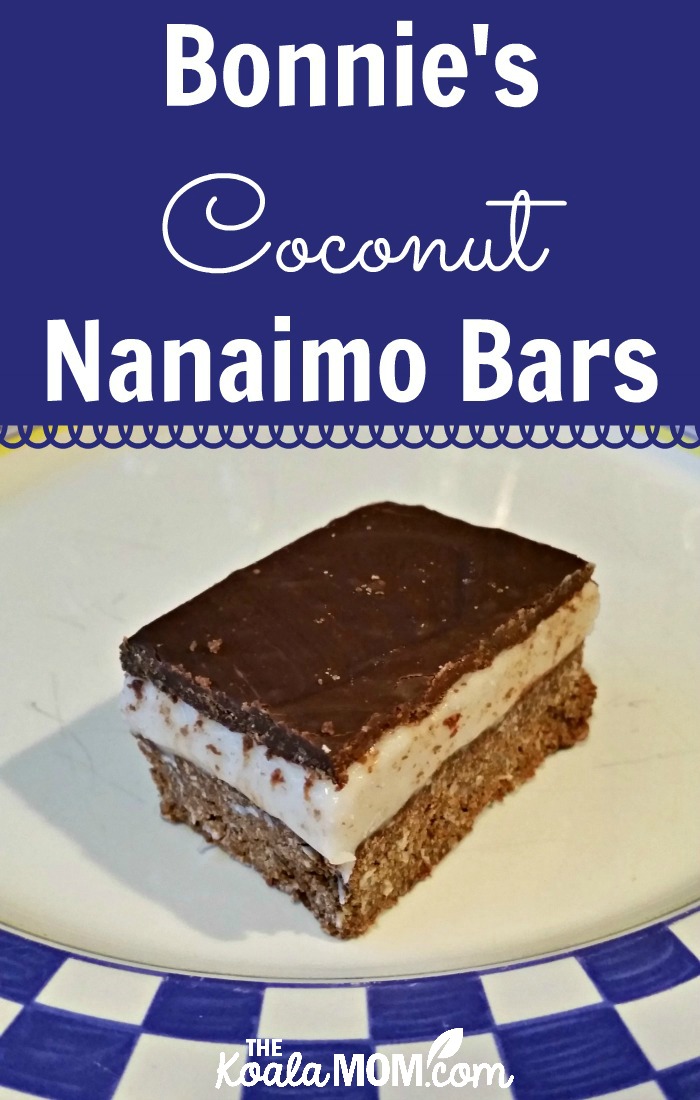 Bonnie's Coconut Nanaimo Bars
Base:
3/4 cup coconut oil
1/3 cup sugar
1/2 cup cocoa
1 1/2 tsp vanilla
2 eggs
1 package (400 grams) graham cracker crumbs
1 1/2 cups coconut
Line a 9 x 13 pan with tinfoil.
Mix oil, sugar, cocoa, vanilla and eggs together. Add crumbs and coconut and mix again. This makes a really stiff crust, so I found it easiest to squish together with clean hands. When it is thoroughly mixed, press base into pan evenly and place in fridge to set while you make the filling.
Filling:
1/2 cup coconut oil
1 kg icing sugar
8 tbsp coconut milk
1 tsp vanilla
Mix half of the icing sugar (2-3 cups) with coconut oil, vanilla, and half the coconut milk until creamy. Add the rest of the icing sugar and the milk until the filling is evenly mixed and stiff. It will seem very stiff and hard to work with, but this is essential if you don't want gooey nanaimo bars. Press the filling into the pan over the base and return to the fridge while you make the topping.
Topping:
6 tbsp coconut milk
2 cups dairy-free chocolate chips
Place milk and chips in a microwaveable bowl and microwave for about two minutes. Stir until smooth and melted (return to microwave if necessary). Spread over the filling and return to fridge until set (several hours or overnight).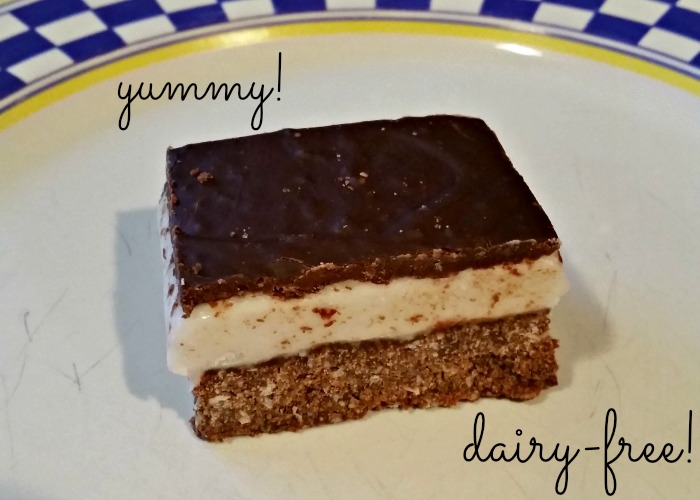 To cut squares, use the tinfoil to lift the nanaimo bars from the pan and place them on a cutting board. Use a large, sharp knife to cut into squares and serve. Enjoy!
Store Nanaimo Bars in the fridge.