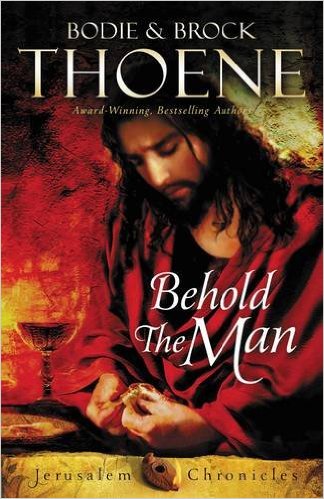 This Lent, I walked through the scenes of Jesus' passion with Pontius Pilate, Claudia, and Centurion Marcus Longinus. The main characters in Brock and Bodie Thoene's novel Behold the Man, they are exiles in Judea, the worst of the Roman Empire's provinces. Pilate's military incompetence has landed him here, with Longinus (his childhood best friend and Roman hero) and Claudia (his wife and Caesar's illegitimate daughter) to assist him.
Pilate, Claudia and Longinus each have differing reactions to Jesus and his followers. Pilate is an arrogant, bitter governor who refuses to learn about the people he has been sent to govern and continually makes mistakes as their rules. Claudia's mother was a Jew and so she engages Josephus, a Jewish rabbi, as her tutor, hoping both to learn about her people and to assist Pilate in governing them. Longinus is a sensible, quick-thinking soldier who offers justice to those around him and wins the respect of the Jews, even as he is demoted continually by Pilate.
Behold the Man is the third book in the Thoene's Jerusalem Chronicles series but each book stands alone. I've read the first book, When Jesus Wept, but not the second. Each book tells the story of Jesus' life and ministry from a different point of view, giving us a unique perspective on the events of the Gospels. Behold the Man provides a Roman perspective, reminding me of the classic novel The Robe or the recent movie Risen.
This novel includes the fascinating historical details that I expect from any Thoene novel. It also has compelling characters and a moving plot. However, for a novel about Jesus' final days, it seemed to take a long time to actually get there. The novel starts in Rome and moves Pilate and his family to Jerusalem just as John the Baptist begins preaching. We then speed through the next three years to Jesus' final days and the novel ends abruptly at the resurrection.
I felt like the Thoenes almost tackled too much in Behold the Man, and added too many characters (like Mary Magdalene, who has a minor role as Longinus' mistress). Claudia's story also didn't seem to have a conclusion; while she now believes in Jesus, she's still stuck with an abusive husband and little hope for a better life. I'm curious to see if she appears in another novel or if this is indeed the end of her story.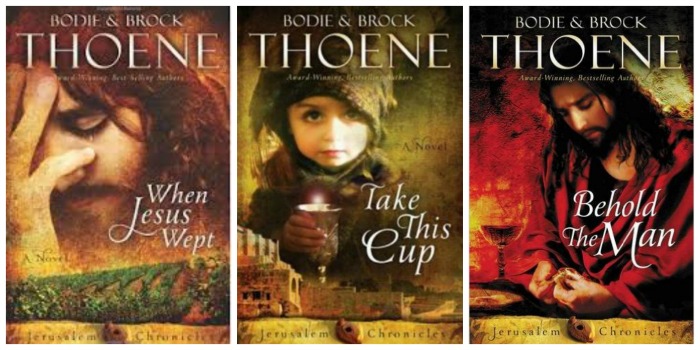 Brock and Bodie Thoene are the authors of more than 65 novels. Bodie began her writing career as a teen journalist for her local paper and went on to write for more prestigious papers such as U.S. News and The Saturday Evening Post. She has degrees in journalism and communications. Brock has degrees in history and education and serves as Bodie's researcher and story-line consultant. They have four grown sons, two of whom are carrying on their parents' literary traditions. To find out more about the Thoenes or their books, visit their website.
This book was provided for review courtesy of the publisher; all opinions expressed are my own. This post contains affiliate links; as an Amazon Associate, I earn from qualifying purchases.