Jade loves grabbing a book off the shelf and either "reading" it herself or asking Sunshine (now 8) to read it to her. I think out of my three older girls, she's shown the most interest in books at this age because her sisters are reading lots. While she likes to hold the book and turn the pages, she still has a shorter attention span than her sisters, so books that require her to do something help hold her attention longer. Here's a list of some of her favourite interactive board books for toddlers.
Finger Puppet Books
Jade absolutely adores her finger puppet books. We've had Little Kitten for years and it used to make her just roll with laughter. Any wiggle from the kitten puppet on my finger set her off into bursts of laughter. It was so much fun to read it to her.
Recently, Raincoast books sent us Baby Bear and Baby Tiger, which Jade was super excited to look at. Both books are not only really cute, they also teach her a little bit about each animal, such as what bears eat and how tigers groom themselves. The books are sturdy, thick cardboard (our Little Kitten book has been through a lot!) and just the right size for small hands.

If you think finger puppet books would tickle your child's sense of humour and encourage their interest in books, check out the wide selection at Raincoast Books. They have a finger puppet book for nearly every animal, so you're sure to find your child's favourite!
Busy Baby Board Books for Toddlers
Busy Baby: Friends and Busy Baby: Trucks feature a circle that spins to show either a happy face or a sad face. As we're reading the story, Jade can decide whether the baby should be happy or sad about what's happening, and spin the face accordingly. It's a fun way to discuss emotions with little kids, and I'm amazed at what Jade does understand from the story—even when she's being silly and deliberately making the baby look happy while saying "uh oh!"
The books also talk about helping, sharing, and other values we want to encourage in our children. Friends introduces basic ideas like smiling at a new friend, helping clean up, and being a good friend as Baby plays at a daycare or playgroup. Trucks features various trucks that help other people, from the garbage truck to the ice cream truck, and includes lots of encouraging words.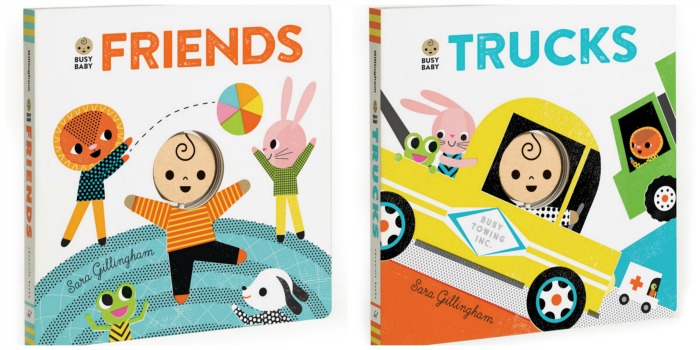 Busy Baby creator Sara Gillingham is an award-winning art director, designer and author-artist who has helped develop many bestselling books for children. She lives with her family near Vancouver, BC.
Lift the Flap Books
At the age when kids are learning to play peek-a-boo and hide-and-seek, I've noticed that they also love lift-the-flat books, which add their favourite games to reading. While many of our lift-the-flap books are board books, the flaps themselves aren't, and some have suffered from over-enthusiastic toddlers. Some of the girls' favourite lift-the-flap books include:
Bobby Bear and the Honeybees, a cute story about a bear waking after winter and looking for some honey. Featuring beautiful artwork and a soft furry patch on the cover, this book also teaches toddlers about various wild animals and where they hide.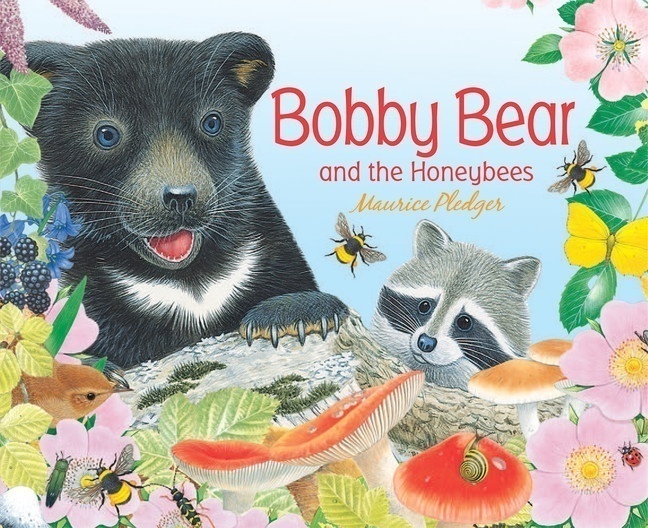 Karen Katz's adorable stories have entertained all of our girls. My sister-in-law got Sunshine a boxed set of books when she was quite young and each of the girls have loved them at various stages. Right now, the box sits on Jade's bed and I often find her looking at pictures and lifting the flaps herself. Sunshine and Lily still like lifting flaps too!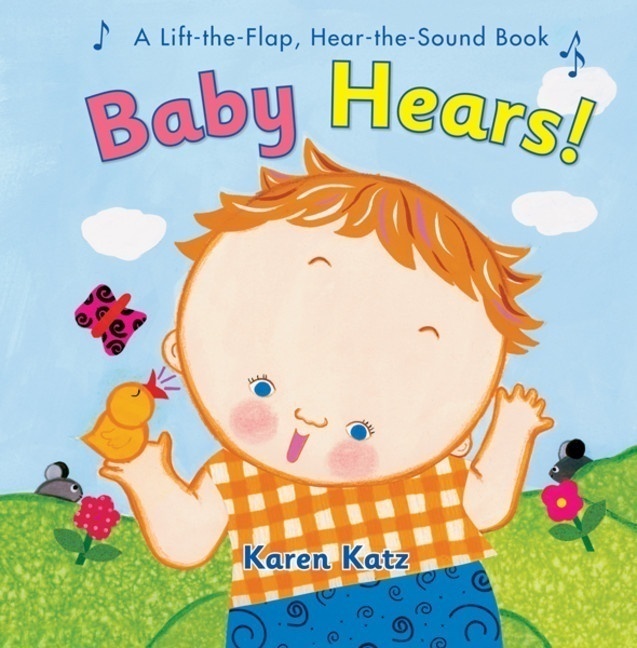 All of these books are also a great way for Jade to spent some quiet time in her room. With two older sisters, she often gets bossed around (or does the bossing around!) and I find they all need some space once in a while. These books keep Jade's attention, even when she's reading by herself, for a bit longer than other books do. And they're sturdier, so I'm less worried about her ripping pages while looking at them (or falling asleep on them).
What are your favourite board books for toddlers? Do your children enjoy interactive books like these?
I was provided with the Busy Baby books, Baby Tiger, Baby Bear, and Bobby Bear and the Honeybees for review by Raincoast Books. All opinions expressed are my own.