My dad is an engineer by profession, a carpenter by hobby. When I was a baby, he drafted plans for the home he would build in my toddler years and continue working on into my teens. (There are pictures in my baby book of me hanging out with my bottle on Daddy's knee at his drafting table.)
When he drew the plans for the kitchen, he asked my mom where she wanted to put everything so he could build the kitchen cabinets for them. She said, "Just build the kitchen and I'll put everything away." He said no, he'd build the cabinets specifically for what they would hold. So Mom sat down and figured it out and Dad built it for her (and she never rearranged the kitchen!).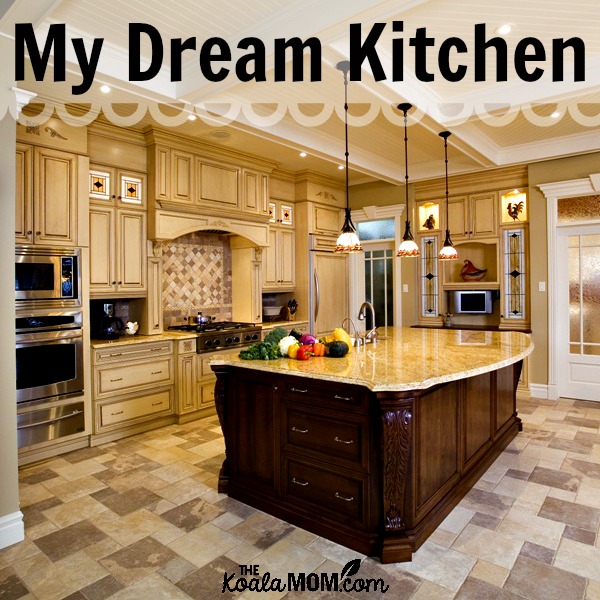 I grew up, then, in a custom-built, dream kitchen. There was the baking counter, which was lower than the other counters for Mom to knead bread on, and had cupboards above for spices and cookbooks and big drawers below for flour bins and mixers.
The island had a tile counter top so that hot items could be pulled out of the oven and set down without need to find a hot pad.
The kitchen sink sat in a counter that was higher than usual, so you didn't have to bend down doing dishes.
The lower cabinets all had drawers rather than cupboards (a pet peeve of mine), so that you could easily access the entire space without having to crawl into a cupboard or unload it to get at the pans or appliances in the back.
When my husband and I have looked at houses, either for rent or to buy, the kitchen is always the make-or-break space for me. I'm sure my husband has, on occasion, been disappointed when I said a flat "no" to a place he liked, because the kitchen didn't meet my standards.
And it's hard to find good kitchens. We've looked at quite a few houses for sale this past year, and I can only think of a couple that had really nice kitchens—a couple where I thought, "I could live here." In every other house, I've thought, "Okay, we could make this work, but we'd have to do some kitchen remodeling sooner or later…"
Size is not the biggest thing I look for in a kitchen. While I do like lots of counter space (for rolling out cinnamon buns and cookies), some of my favourite kitchens have been small kitchens that made great use of space.
These kitchen cabinets show purpose in their design, like the cabinets my dad built for my mom. There was the can cupboard, which fit in the tall, narrow space beside the sink but also made it easy to store and grab canned goods. There was the big lazy susan, which filled the corner of the kitchen (and in which we played hide-and-seek for many years before we outgrew it!).
Until we buy our own home, where I can fix the kitchen up to my standards, I collect ideas so we can start our own kitchen design process someday. I like browsing Pinterest or kitchen renovation websites for ideas on how to make the kitchen both a lovely and useful space.