Last week, we finally made it out to the beach!!! I didn't realize how often we took the beach for granted in Victoria. For most of our time there, we lived one kilometer away from a lovely beach with a big playground, so we often walked down there. There were several other beaches around the city where we'd meet friends for playdates. Even when we moved out towards Sooke, there were several nice beaches nearyby—and the ocean itself was often in view.
Here in Vancouver, we've toured the local splash parks and pools, but not the beaches. A friend of mine expressed surprise just a few days ago that I'd never been to Kitsilano Beach. Apparently that's a Vancouver staple. Since this is our last free week before September (and school) starts, I decided we needed to find a beach. So I looked up Vancouver Mom's list of beaches, googled directions, and packed up our beach gear to spend the day at Barnet Marine Park.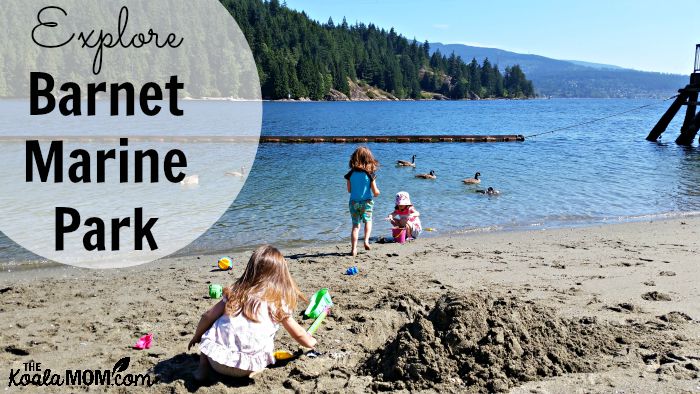 Barnet Marine Park is located between Burnaby and Port Moody on Burrard Inlet. It's easy to get to because it's just of Highway 7A, with big signs to help you find it from either direction. There was plenty of parking available, though it's a short walk from the parking lot down to the beach and picnic area (if you have a jogging stroller, that would be handy for bringing kids and snacks and toys down). There is a rough path (rocks and roots) beside the road, over the railroad tracks, to the park.
Down at the beach, Jade was ready to kick off her shoes while Lily complained that there wasn't any sand. I suggested we do some exploring before settling into our beach day, and convinced them to hike further down the beach. We soon found the sand. Barnet Marine Park offers lots of beach options; to the left of the pier (facing the water) is the sandy beach with a swimming area, and to the right of the pier is a rockier beach.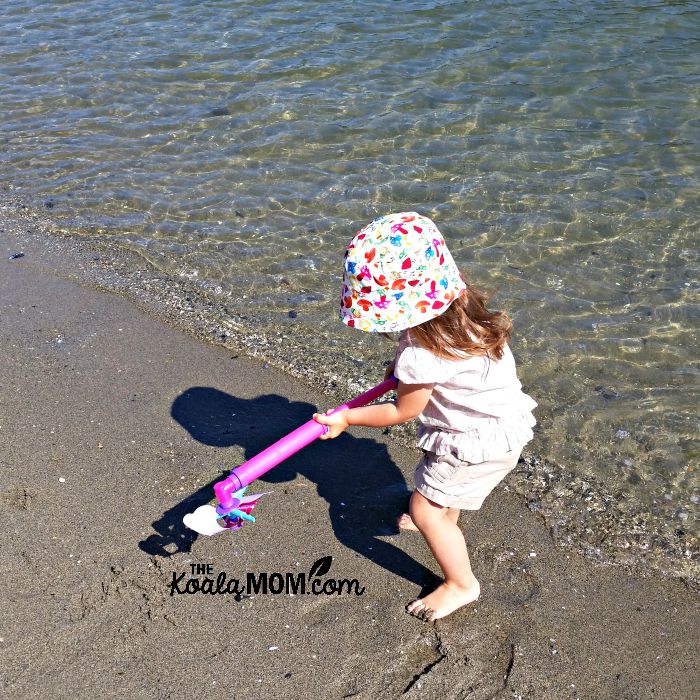 I deposited our bags in the sand while Jade tried to get her new water pinwheel working and Sunshine and Lily set about digging a hole. It was midmorning so the sun was warm, the breeze was nice, and we had most of the beach to ourselves. Down to our left, a big container ship floated on the ocean. Across the inlet from us was a little lighthouse and a couple houses. To the right, someone was throwing a crab trap off the pier.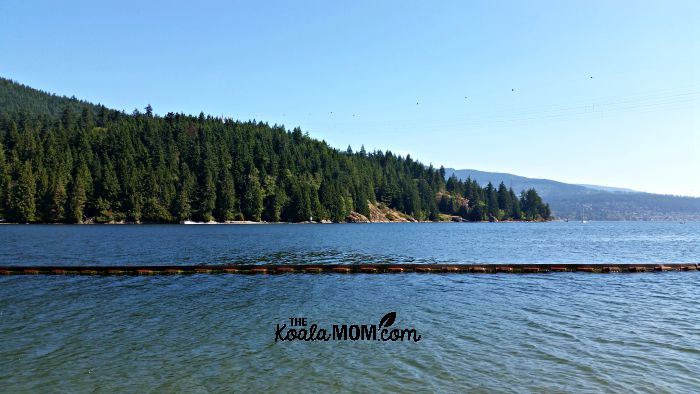 I love the way that sand and water can entertain kids for so long. Sunshine spent quite a while trying to fill her hole with water. Lily wandered up and down the beach, collecting treasures: bits of shells and barnacles and cool rocks. The beach toys got scattered all over the beach, though the girls didn't really use them very much. I took pictures, "helped" out here and there, and just watched them have fun.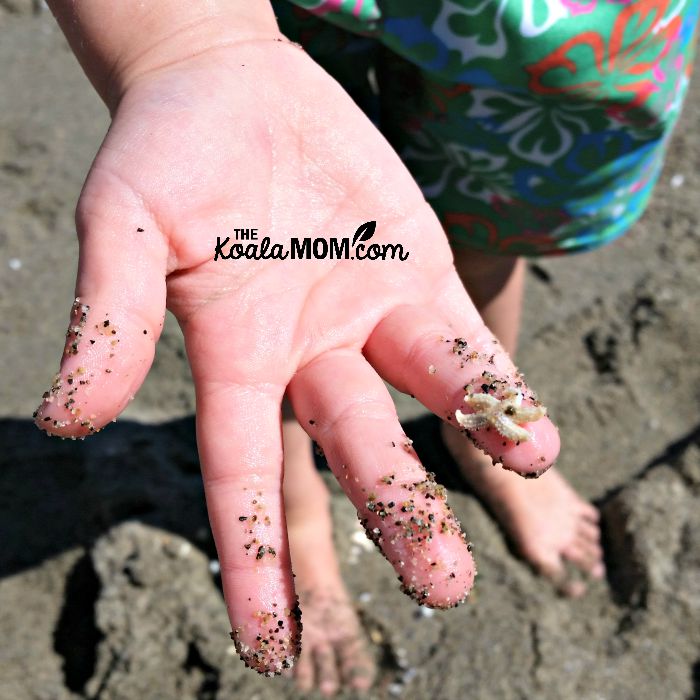 I also thought about the difference between beaches on the ocean and the beaches I grew up visiting in central Alberta. My mom doesn't like the heat, so whenever the thermometer crept over 30* C, it was pretty easy to talk her into taking us to the lake. In Alberta, however, most beaches are man-made, so the sand doesn't extend very far into the lake—if you can find a sandy beach. We spent as much time playing off wooden docks as on sand when at the lake. Beach activities consisted of building sandcastles, because there were no shells or ocean critters to hunt for.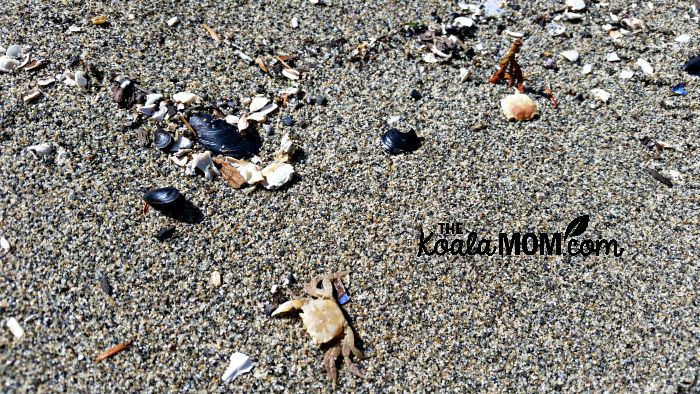 When Lily didn't want to share her beach treasures with Jade, I took Jade hunting for her own collection of treasures. We spent some time peering at the line of beach detritus a few feet up from the edge of the water. Most of it was slightly bigger rocks that the waves had pushed up on the sand, but there were also bits of shells and barnacles and a few tiny crabs. To me, all of that stuff tells stories.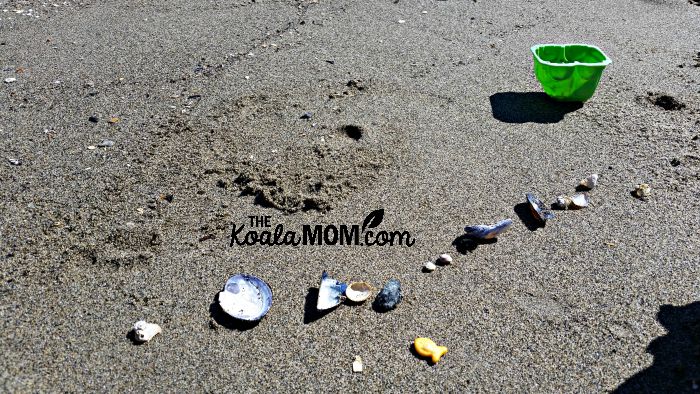 Barnet Marine Park offers a picnic area with grass and several picnic tables. There are washrooms nearby with a snack house (though we didn't stop to see if it was open or what it offered). There is also handicap parking close to the beach and several benches at various places along the beach. The water was clear and sparkling and several people did go swimming while we were there.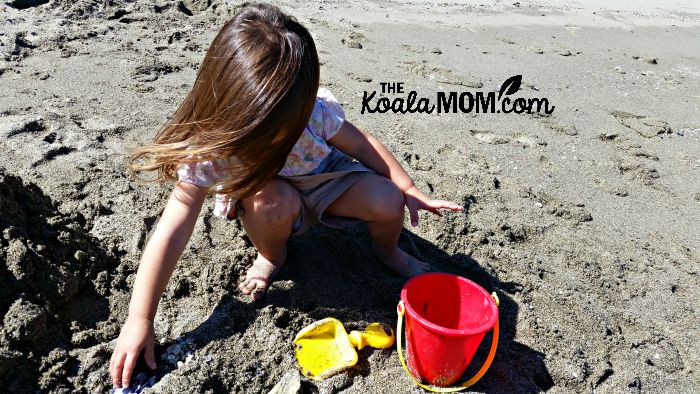 We had our snacks and watched a flock of Canadian geese playing in the water. The girls dug a hole in the dry sand further up the beach, then ran back and forth between the water and the sand, "sun tanning" by coating themselves in sand. They made sand angels. Finally, I decided we'd had enough sun and sand for the day (and that more people were showing up at the beach), so we cleaned up and gathered our stuff and headed back to the van.