Christmas is a hard concept to explain to an almost-three-year-old. Sunshine can't remember last year or the year before, and the name means little to her. To help her understand, I've been reading Christmas stories to her, like Little Star by Anthony DeSefano and illustrated by Mark Elliot. This adorable story is about why we have stars on top of our Christmas trees.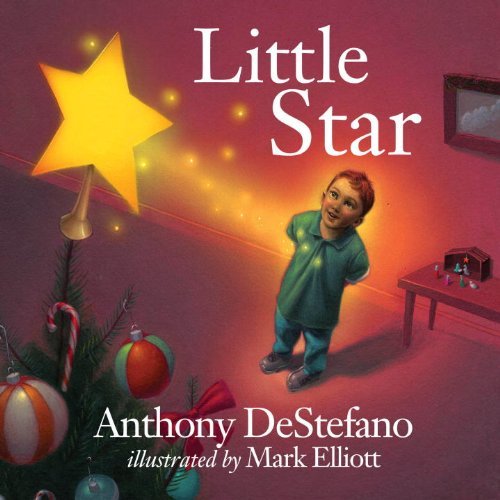 This book was provided for review courtesy of the author. This post contains affiliate links; as an Amazon Associate, I earn from qualifying purchases.
Little Star overview
Little Star is a very small, insignificant star in the sky. While all the other stars are excited about the arrival of the king, and getting shined by comets to be ready to shine brightly for the king, Little Star wonders what he can do. When he finally sees the king's birth, he realizes that the king is little like he is. The other stars turn away, disappointed by the seemingly unimportant baby, while Little Star shines brighter and brighter, doing all he can to warm this tiny baby.
The story is book-ended by the story of a boy and his dad.  The little boy asks his dad about the Christmas star and the dad then tells the story of Little Star. At the end of the book, the boy thinks about the story and connects this to the decoration on top of his Christmas tree. This gives parents a chance to talk to their children about the story too.
My thoughts on Little Start
DeStefano actually wrote this book while in high school, studying under author Frank McCourt. He says, "My goal was to try to encapsulate the whole gospel message in a simple Christmas story." McCourt encouraged his students to seek publication for their stories, but it seemed that nobody wanted Little Star. Despite so many rejections, DeStefano says, "I honestly think this is the best thing I've ever done."
I found myself a bit disappointed by the story, because there are so many Christmas stories that it's hard to find a new way to tell the old story. I had also expected this story to be rhymed, like DeStefano's earlier children's book, This Little Prayer of Mine. It seems that children's books are the only place one can find poetry with rhyme and rhythm anymore, and both Sunshine and I enjoy such poetry.
Sunshine enjoys seeing the constellations at night and singing "Twinkle Twinkle Little Star," so she also enjoyed this story. It was a great way to talk about Mary and Joseph and Baby Jesus again. I hope that the message will also stick with her as she grows up, that she will remember little stars and little people can do great things too.
If you have little people at home, you can preview Little Star with them by watching Pat Boone read the story to his grandchildren.
More about Anthony DeStefano
Anthony DeStefano is the best-selling author of twenty Christian books for adults and children, including The Seed Who Was Afraid to Be Planted, This Little Prayer of Mine, and I Just Can't Take it Anymore!. He hosts a TV series, A Travel Guide to Life, on the Eternal Word Television Network (EWTN). He is also a pilot, businessman, and long-time pro-life advocate. To find out more about him or his books, drop by his website.
The Seed Who Was Afraid to Be Planted is another beautiful rhyming story by DeStefano that brings alive Jesus' parables about seeds.