It's an old joke that the way to a man's heart is through his stomach. But as Brenda Leyland shares today, paying attention to what our husbands like to eat—and cooking it for them—can mean a lot to them.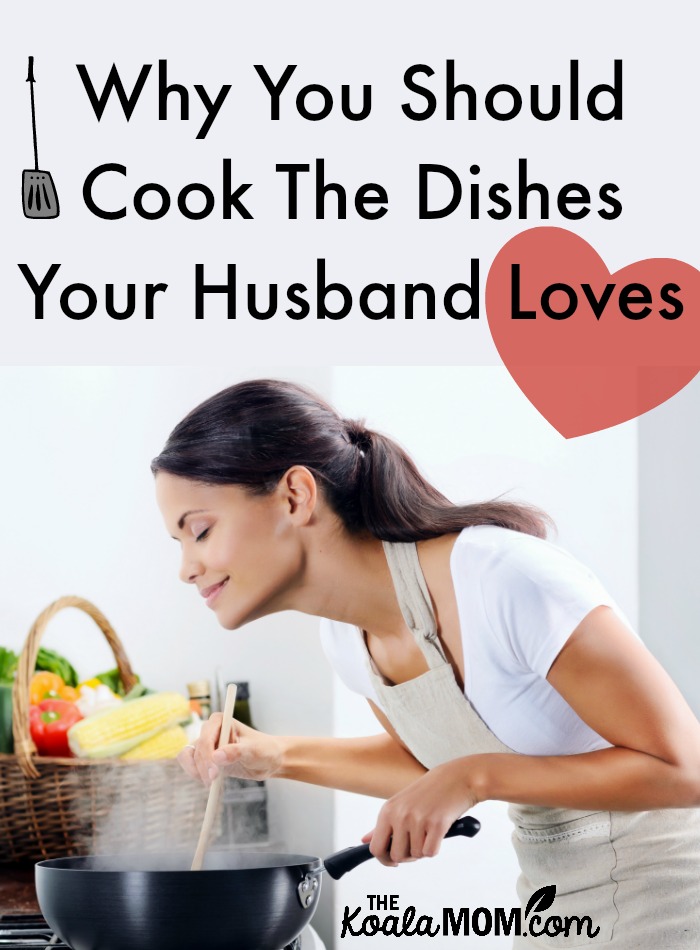 In one word I can tell you what makes my husband happy: P-A-S-T-A!
He could eat pasta in the morning, pasta at lunch, pasta in the evening. Spaghetti, rotini, fettuccini. Vegetable lasagna, garlic chicken with orzo, or stroganoff with noodles. Pasta with red sauce, pasta with roasted tomatoes, not to mention pasta as leftovers.
Yep, this is what makes him happy! Just say "let's have pasta for supper" and his eyes light up!
So why have I not really paid attention before? And why I have been stressing about meals all these years when I could just have put a pot to boiling, sautéed up some tomatoes and garlic with ground Italian sausage or vegetables, and before long, be sitting down with my hubby to a simple, but yummy meal?
I guess my farm upbringing, with the nightly fare of meat and potatoes, which is what my hard-working dad saw as a real meal, had something to do with it. In our house, pasta was more of a standby meal when the larder was getting low or a quick meal was needed. So I had no idea that pasta would be a feature meal to anyone, at least not on a regular basis.
Sure, have it sometimes, but several times a week?
How astonished, then, I was to learn that if pressed to choose one's most favourite meal, a top-notch pasta dinner would trump even a Thanksgiving roast turkey dinner.
But now that I finally get it, I'm stocking up the pasta cupboard. And, I'm looking for new recipes for sauces and ways to cook with pasta.
That makes me think of our recent abundant cherry tomato harvest…… so many had ripened all at once that I decided to roast them on cookie sheets in the oven with garlic, basil, and olive oil to use for pasta sauce later. You can well imagine the smell that wafted throughout the house. I had just pulled the pans from the oven when hubby ambled into the kitchen, no doubt drawn by the seductive fragrance of all that garlic. He bent his face over the pan. Y-U-U-U-M-Y! And I knew he was imagining supper that evening.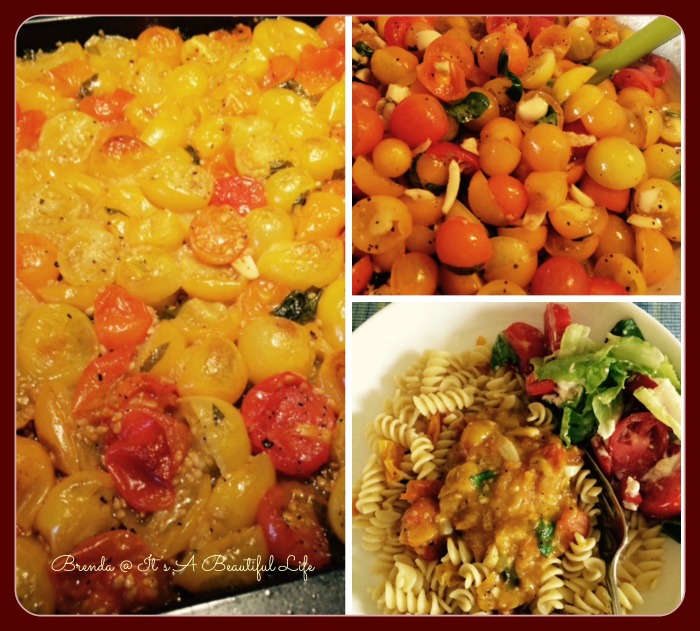 In working on this post, I've chatted about it with Hubby. He was quite interested … and maybe even a little thrilled. He assured me pasta was still number one. He also mentioned that he'd thought up a book title I could write one day—Pasta Paradise: 31 Days to A Happy Husband. 
Which, you might be interested to know, has now sparked a joint cooking venture where the two of us will cook… and eat our way … through 31 pasta dishes in as many days, using our tried and true recipes as well as exciting new ones. You can be certain, I'll be blogging about our experiences over at It's A Beautiful Life. When asked when we should begin, hubby quipped "there's no time like the present." Guess we'll start soon, maybe tomorrow. Methinks the result will also produce a recipe book to become a certain someone's Christmas present this year.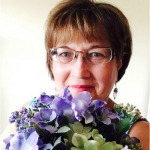 I'm excited to see that as life just got simpler in our kitchen, the big bonus is going to be a happier, more contented husband … and a more relaxed wife. It's win-win!
Brenda C Leyland is happily married to her husband of 16 years. When she's not preparing his favourite pasta dishes, you might find Brenda sharing heart conversations with girlfriends over coffee or gazing out at the birds in the backyard as she muses what to write next. She blogs at It's A Beautiful Life and is currently working on her first non-fiction work, a memoir.