Yesterday, I took the girls for a walk down the road to our new mailbox, gave them a bath for the first time in their new tub, and washed the dishes in my new sink. We started moving into our "new" townhouse a week ago, and still have a lot of work yet to do, but this place is already feeling like a place we could settle for a long time. I'm enjoying country living again.
About the middle of June, when I returned from a visit to Alberta, we started looking for a new house to rent in Victoria. Now that my husband and I are finished our degrees (wahoooooo!), our time in university family housing is over. We thought it might take a little while to find the right place, so we'd get started.
And at first, it looked like it would take a while. One house was lovely, but too small. One basement suite had lots of space, but no yard. An upstairs suite had a new kitchen, but one bedroom located in the basement. One landlord desperately wanted a family instead of students to rent his place, but the layout was awful. For various reasons, most places were quickly scratched off the list. And then a very cheap rent price got us to drive out to the country…
to our new home. As my husband says, where else would we find a townhouse in the country with a bus route back into town for his commute? We can sit outside on our deck and listen to the bird singing, smell the trees, watch the stars at night. The bushes up and down the road are bursting with blackberries about to ripen. We have two upstairs neighbours, but they both have four-year-olds eager to play with our daughters. Country living is pretty sweet. This is the view out our patio window: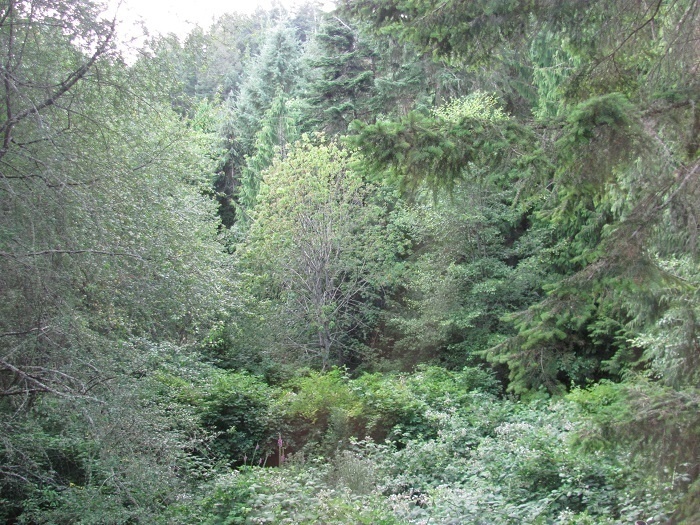 Our three-bedroom "rancher" suite is newly renovated, with hardwood floors throughout. While the ceilings are a bit short (at least, for some of my tall furniture), the layout is spacious and centralized. Our university townhouse had very segregated living, dining, and kitchen areas. I've been saying I wanted something open concept. This had it, to the extent that we had a lot of fun shuffling and reshuffling our table, futon, and other furniture around the big, main room.
And so my last week (and the coming one too, likely) has been spent packing up boxes at one house and hauling them to the new house. We've had some generous friends help us, either with vehicles or with actual packing and furniture hauling. Moving is still a lot of work, and a great deal of it is cleaning—cleaning the dust of the renos here, and cleaning to the satisfaction of the university there. While it's good to have an excuse to clean some things that I'd neglected while being a student for four years, I'm looking forward to having it all done and being settled in.
This is my outdoor office. As Flynn Rider says, "Yep, I could get used to a view like this":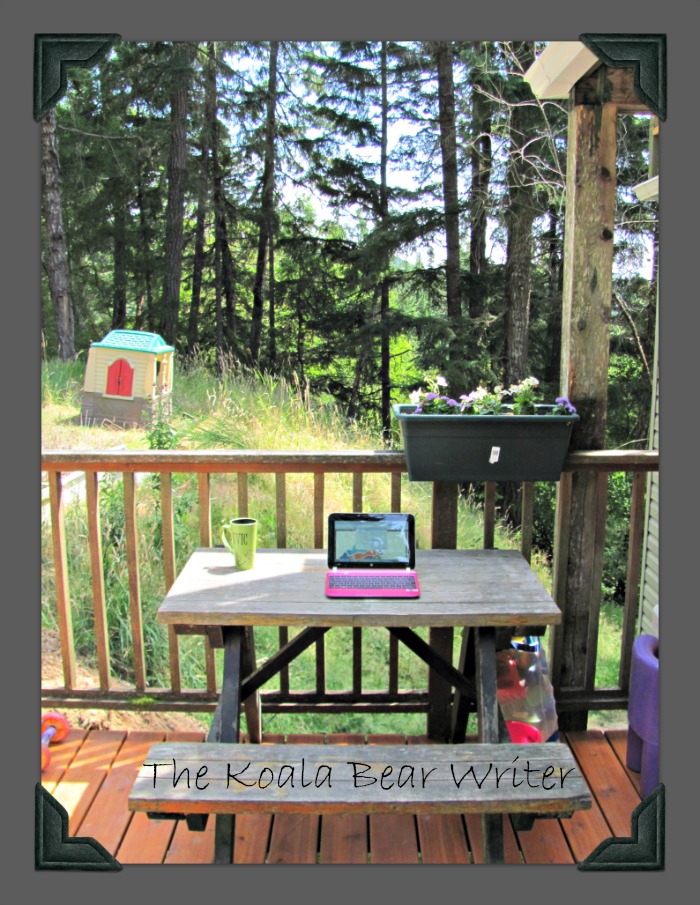 And, if you hadn't noticed, our home isn't the only new thing around here! For the last month, I've been working on a new blog design and my hardworking designer launched it yesterday. A friend of mine came up with the koala logo and my designer patiently put up with all my various ideas and emails about changing this and that, and finally, for the very first time, the Koala Bear Writer has a look all its own!