"I'm thirty years old and I still believe in ghosts."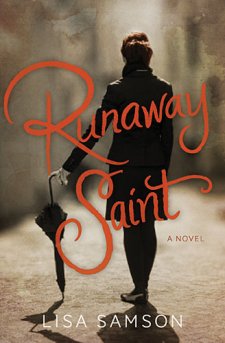 Author Lisa Samson hooked me with the first sentence of her new novel, Runaway Saint. Sara Drexel is celebrating her thirtieth birthday (just as I did earlier this year), but lunch with her mom isn't exactly… happy. Particularly when her mother has strange news: Sara's Aunt Bel has returned from her missions work in Kazakhstan and needs a place to stay. Sara says sure, little knowing how her eccentric aunt will affect her family, her friends, and her very outlook on life.
As Sara begins to uncover her aunt's story, she also grapples with her own insecurities and questions about God. She soon discovers Aunt Bel is hiding something… not just about her time in Kazakhstan, but about what happened before she left. What tore Sara's family apart.
I received this book in exchange for my honest review. This post contains affiliate links; as an Amazon Associate, I earn from qualifying purchases.
Runaway Saint encourages us to step back and watch and let God use circumstances and people as guideposts. Of course, we have to be willing to live with our eyes wide open and sometimes that's painful. Especially at first. Especially if we're so tired of life "as is," we're willing to do what it takes to live our lives hand in hand with who we find ourselves to be. God is always near, always willing to love us and guide us. We simply have to be open enough to go with the flow, and be honest enough, when we're not willing, to know that's the choice we're making. ~ Lisa Samson, Family Fiction Q&A
My Thoughts on Runaway Saint
There were so many things I loved about this novel. Sara and her husband Finn and their friends and family felt so real. Lisa is a master at creating unique, fun characters who you'd love to meet in real life. They discuss Flannery O'Connor and Fyodor Dostoevsky. Sara and Finn own a graphic design and printing business, and I had fun reading about the different types of paper and presses and their creations.
I couldn't read this book fast enough. I knew it would be good, because another Lisa Samson book, The Passion of Mary-Margaret, is one of my all-time favourite books. This is one of those rare books that made me want to re-read it as soon as I'd finished it, to appreciate the story and Sara's journey all over again. If you're looking for a fun yet thought-provoking novel, I highly recommend Runaway Saint.
Through the beautifully flawed character of Aunt Bel, Samson dispels the missionary myth with the truth: A missionary is called to a life of service, cauterized by a life of suffering, and characterized by a life of sacrifice. The central theme threaded throughout the novel and interwoven among the lives of the characters is, surprisingly, happiness. ~ Jennifer, Goodreads review
More about Lisa Samson
Lisa Samson has been hailed by Publishers Weekly as one of the most powerful voices in Christian fiction. She and her husband have three children and live in Kentucky. She is a frequent speaker at writer's conferences. She loves to paint and read and watch good movies. She's the author of more than a dozen novels, including Runaway Saint, The Passion of Mary-Margaret, and A Thing of Beauty. You can follow her on Goodreads and Amazon.