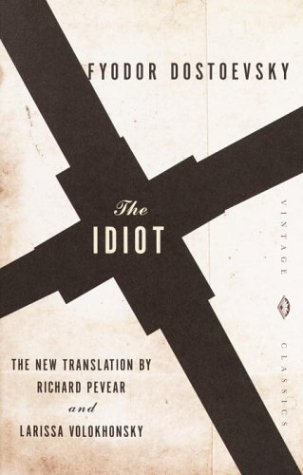 "My intention is to portray a truly beautiful soul," says Fyodor Dostoevsky of his novel, The Idiot. And Prince Myshkin is such a beautiful soul that he is often taken for an idiot. While he suffers from mental illness, he is only "simple" in the sense that he cannot grasp evil. He thinks good of everyone he meets and expects that everyone else does too; this simple acceptance of people, and his simple way of living, leads those around him to befriend him and yet to feel themselves smarter and better than him.
Despite its length and reputation, The Idiot is a fairly easy read. Dostoevsky grabs the reader in the first few lines, as Myshkin journeys back to Russia from a school/hospital in Switzerland, where he has been treated for his disease. In Petersburg, he meets the Epanchin family and their acquaintances, and becomes involved in the story of the lovely Nastasya Fillipovna.
Taken advantage of by her guardian, Nastasya now considers herself a fallen woman, but must choose between several offers of marriage. Only Myshkin grasps her suffering and believes she is not "spoiled." From pity, he too offers her his hand in marriage, and for a moment, Nastasya sees her salvation; then, refusing to drag him down with her, she rejects him and runs off with Rogozhin.
The middle of the novel becomes a bit complicated by a large cast of characters. Dostoevsky follows Myshkin's acquaintance with Rogozhin, the drunken Lebedyev, and the consumptive Ippolit. Anne Hruska, in her introduction to the novel, calls The Idiot a novel of ideas, rather than plot, and much of the middle portion is spent in investigating these ideas. Nastasya's story takes a back seat, as visitors come and go from Myshkin's porch debating various theories and opinions.
Finally, as Myshkin falls in love with the beautiful yet unpredictable Aglaia Epanchin, Nastasya re-enters the story, and Myshkin must decide which of these women he will love and marry.
Like many writers, Dostoevsky based some events in the story on his own life. One scene in The Idiot came from Dostoevsky's own near-execution experience, which Juliette Riitters says "was devastating to an overly sensitive mind such as his, and the psychological scar never quite healed." The experience thus makes it way into his writing, as does his epilepsy, which afflicts Myshkin.
Dostoevsky's novel thus challenges the reader to consider what is good and how society reacts to it.