I picked up Come Sunday because the Hawaiian/South African setting intrigued me. It was also a story about a mom like me—at least, she's a mom like me until her daughter is killed. It's a mother's worst nightmare and I guess I was curious how a woman would deal with something like that.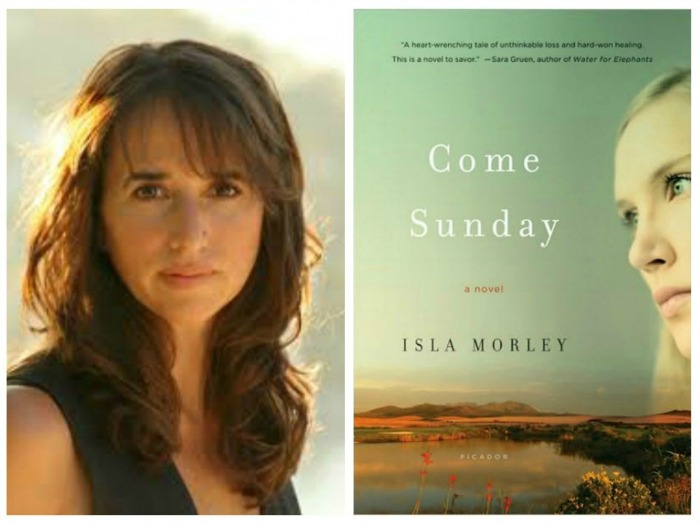 Abbe is a pastor's wife, magazine editor, and Cleo's mom—not necessarily in that order. In the opening chapters of the book, it's life as usual: dealing with a gregarious three-year-old who is alternately adorable and annoying, wishing for more help from a husband who is busy with work, and trying to get to work. Then, when Abbe schedules some rare date-time with her husband in an attempt to reconnect with him, the accident happens.
As parishioners come by with more food and flowers than Abbe knows what to do with, she draws into a black hole of grief. She clings to the remnants of Cleo—her stuffed bunny, her blanket, her clothes—and tries to assign blame for Cleo's death. As Greg tries to move on after his daughter's death, Abbe's anger turns on him. Their crumbling marriage disintegrates altogether and Abbe is left alone with only her memories.
Interspersed through Abbe's telling of her loss and grief are her memories of growing up in South Africa. The memories of her childhood are triggered by something in her present-day story, pulling both stories together until, at the end of the novel, they become one story. Abbe's father was a verbally and physically abusive man who completely controlled and dominated his wife and daughter. Yet when Abbe returns to South Africa, she learns that even things she saw in her childhood were not what she thought they were.
In a final, climactic moment, Abbe's memories of her mother confront the woman she has become in her grief and she makes one hasty, violent decision to live again. In the aftermath of that decision, she must rethink her grief and the way she has treated her friends. The novel ends on a note of hope, as Abbe finds true healing and a new direction for her life.
Come Sunday is Isla Morley's debut novel and, like so many other great debut novels, makes me almost despair of writing. Her talent shines through every page of the story. I loved her descriptions, her sly wisdom, her unique insights into life in both Hawaii (it's not just sandy beaches and five-star hotels) and South Africa (a place where blacks and whites still aren't equal). I liked the way each chapter usually ended on a similar note as it began, completing a circle.
This novel was absolutely beautiful, poignant, hard to put down. I'm not surprised that it has been awarded the Janet Heidinger Kafka Prize and was a finalist for the Commonwealth Prize and longlisted for South Africa's premier literary award, the Sunday Times Literary Award.
I'm thrilled that Picador is offering my readers a chance to WIN a copy of Come Sunday (because I'm keeping my copy!). Just leave a comment to be entered in the draw. And be sure to come back on Wednesday, when I interview Isla Morley, and leave a comment there as well for a second chance to win.
This novel was provided for review courtesy of Picador. This post contains affiliate links; as an Amazon Associate, I earn from qualifying purchases.