Beaches are a magic combination of sand and water that offer children endless fun in digging and pouring, running and splashing.  Since she was very little, Sunshine has loved beaches.  Now that we live about a kilometer away from a beach, she asks to go there at least once a week (even in the winter, when it's rainy and cold at the beach and we get there only to look at the grey waves and then turn around and go home again).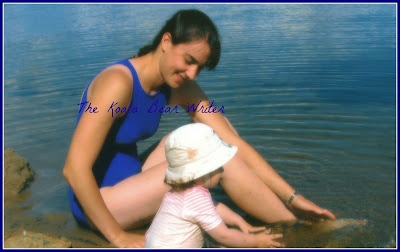 When Sunshine's preschool newsletter said there'd be a beach day in May, I smiled.  I pictured sand castles and preschoolers with shovels, and parents sitting back in the sand watching serenely.  I wasn't familiar with the beach mentioned, but I should have known that a preschool field trip would involve much more activity and hands-on learning than my idea of a beach day.
I arrived early at the beach with Sunshine and Lily.  Smuggler's Cove really is a small cove, with a long expanse of rocky shoreline, blanketed with kelp, as the tide slowly retreated.  We gawked at the mansions on either side of the beach, watched the sailboats cruising effortlessly past the opening of the cove, and clambered over the barnacle-encrusted rocks.
Then the teachers arrived, pointing out the blue wading pool they'd filled with water and sea life.  I was surprised to find out that we were encouraged to catch whatever we could find—the pool was bustling with crabs, blenny fish, a fat purple starfish, several nearly transparent jelly fish, shrimp, snails, an anemone and its rock, and other beach life I couldn't identify.

Sunshine got right into it, wading out into the water (luckily I'd insisted upon rubber boots for this trip) and filling her bucket to contribute to the wading pool.  I began turning over rocks, but when a blenny fish flopped around underneath our third or fourth rock, Lily shouted at me, "Close it! Close it!"  I watched Sunshine's teacher grab a flopping blenny fish and deposit it in her bucket, but I had no desire to touch the slimy fish.
We spent two hours combing the beach, looking in tide pools and under rocks and watching the crabs scuttle sideways around the wading pool.  I turned over one rock and discovered two palm-sized red-backed crabs hiding in the sand underneath; with a stick, I convinced it to show more of itself so that I could take a picture.  At the end of the day, we gently released all the creatures back into the ocean.  It was the most fun I've ever had at a beach.