The other day I watched Lily running around the park—a smile on her face, her fine brown hair flying in the wind, and the pink pompoms on her fuzzy coat bouncing with her run.
"Again, again," she said when I cheered for her as she ran past me.  Races around our park are a common event, as the three-year-olds (now becoming four-year-olds) lead the way with, "On your mark, get set, GO!"
I smiled as I thought of what those races had been like last year.  Lily wanted to run with the older kids, but she was still learning to walk.  I spent hours hunched over with her, wishing I was shorter.  Or that she'd learn to walk faster.  Or that Sunshine was a bit older so she could walk with her sister.  I counted down the days to fourteen months, which was the age that Sunshine learned to walk—and about the time Lily started walking on her own too.  Now, looking back, it seems like she went straight from crawling to walking to running.
The Juppy Baby Walker made me think of those days bent over with Lily.  This was exactly what I wanted back then: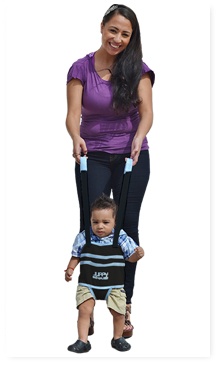 Obviously, Lily is long past using a baby walker, but two of my friends have babies who are just hitting that milestone now.  The older baby will turn one in a few weeks, and is almost at the thirty pound maximum weight of the Juppy.  His mom said he wasn't very interested in the Juppy; he can get wherever he wants to by crawling and can stand up on his own.
The little girl reminded me of Lily.  One night when we were in the park, her dad was doubled over helping her walk.  So we tried out the Juppy.  At first, the little girl was hesitant, as she knew her daddy wasn't holding her fingers.  With a bit of coaxing, we had her taking some steps, trying out her legs.  I could see that as she got used to the Juppy, it would definitely encourage more confidence in her than a child who is used to always holding Mom's or Dad's fingers.
The Juppy is safe, easy on your back, and convenient (it folds up into a small carry case and would easily fit into a purse or a diaper bag).  You can have it personalized with your baby's name.  It is currently available for order from the website.
You can find more information about the Juppy on their website or follow the Juppy on Facebook and Twitter and the blog.
What helped your child learn to walk?  How old were they when they hit that milestone?