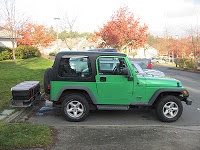 "Hey, how are you?  Did you go away for Christmas?"
"Yeah, we drove back to Alberta again to see our families."
"You drove?  Wow, you're brave!"
I smile.  We're either brave or crazy or too cheap to get airplane tickets, but we did that long drive to Alberta and back again this year for Christmas.  On my husband's last day of work, I picked him up at the office and we caught the 5 pm ferry off the Island.  We made it up the Coquihalla to Merritt before Lily declared she'd had enough of the Jeep and we stopped at a cheap hotel for the night.  The next day, we headed north from Kamloops through Jasper to my mom's place.
At one point, somewhere on Highway 5, I was driving and the girls had gotten bored.  My husband began singing silly songs with them.  We went through most of the songs in our repertoire before he got them into singing rounds.  He'd sing "Praise ye the Lord" while they sang "Alleluia" back to him.  He got bored of that before they did and started reading books to them.
When they finally fell asleep, I kept driving, nibbling on candy canes and Christmas chocolates to stay awake and trying to ignore the protests coming from my right leg.  Drive, we've learned, while the girls are happy; stop when they need it.
On Christmas Eve, we visited some friends in the city (who got married the weekend before we did and had their first daughter two weeks after we had Sunshine) before driving two hours to my brother's place for dinner.  We planned the drive for Lily's nap and sure enough, she crashed a few minutes after we got into the Jeep.  Sunshine, however, was less than happy with that.  We spent most of the drive telling her "leave your sister alone" and trying to encourage her to listen to her music, read her book, or play with her Leapster.  At the same time, it was cute to see how much she wanted Lily around to play with.
One day after Christmas, my husband and I were making plans to run some errands and visit my grandparents.  Sunshine said, "Can I stay here?"  I had to laugh while understanding that we spent so much time in the Jeep that of course it would be more fun to stay at Grandma and Grandpa's to play.  So we ran errands and visited friends by ourselves while our daughters had some much-appreciated grandparent time.
For our drive home, we got up at 5 am, loaded sleeping girls into the Jeep, said goodbye to my husband's parents, and hit the road.  My husband drove to Lake Louise; I drove to Golden, where we had breakfast with his cousins; he drove to Salmon Arm, where we played at the McDonald's and ate lunch; I drove to Hope, where we stopped for gas; he drove to the ferry.  Just before and after Kamloops, Lily woke up screaming, fed up with the drive.  The first time, she fell asleep again; the second time, I pulled over to nurse her and then we kept going.
As we drove through Vancouver, we kept our eyes on the clock, praying that we'd catch the 7 pm ferry.  Like last year, we were cutting it tight, but we'd chosen to drive home on New Year's Day because the weather forecast was good and BC Ferries hadn't added extra ferries, making us expect light traffic.  Then we saw the sign over the road just before the terminal: 7 pm full, 9 pm 10% full.  My heart plummeted.  I didn't want to sit around the terminal for 2 hours, trying to keep the girls busy while we waited.  I prayed.  Begged God to get us onto that ferry.
At the ticket window, the lady said there was a "possible" wait for the 7 pm ferry.  We clung to that hope, watched the cars drive off the ferry, prayed again, watched the cars drive on, prayed more… and breathed a sigh of relief and a huge prayer of thanks when the man waved us onto the ferry.  Home again for another year.
For more tips on driving with toddlers for long trips, see my article on Untrained Housewife.