About two weeks ago, Joanna emailed me to ask what I wanted to do while we were in Seattle, Washington, for the Women of Faith conference.  I had been so busy trying to make sure I had my homework done before the weekend that I hadn't even thought about our Seattle getaway.
"Um, maybe visit Pike Place Market and definitely go to the first Starbucks," I emailed back.
We exchanged ideas and links over the next few days and in the end realized we were both trying to travel cheap, which ruled out quite a few "touristy" options.
The Seattle Space Needle provided a handy landmark for the entire weekend.  Women of Faith happened in the Key Arena right underneath the Needle, so we just had to walk until we got to the Space Needle and then look for the Arena.  I find it hard to adjust my sense of direction to a new city, but the Space Needle helped as we just had to look up to know where we were.  Seeing the city from the top would have been neat, but it didn't fit into our budget for this trip.
The Olympic Sculpture Park was located just down the street from the Key Arena, so when the conference ended on Saturday night and we wanted a bit of a walk, we headed there.  The park is built on a sort of overpass above a freeway and the railway tracks—beautiful manner of disguising the ways we get about a city.
We followed the trail that zigzagged back and forth until we'd crossed from downtown to the beach, and then we continued down the Elliot Bay Trail for a little ways, talking and admiring the changing sunset over the water.
At one point, when we'd pulled out a little tourist map to decide if we wanted to keep walking or turn back, a jogger stopped to ask us if we were lost.  That was a common reaction we got when we were looking at maps; Seattlites are quite friendly to tourists!  She assured us there wasn't much more to see along the trail, so we turned around, as we still had to walk up Capitol Hill to our B&B (drop by Joanna's blog for pictures and descriptions of this beautiful place).
On Sunday morning, we walked to Pike Place Market.  Like any market on a Sunday, it was packed with people.  A grocery store had its fruits and vegetables neatly arranged in colour-coded rows.
We braved the lineup in the original Starbucks, which had the friendliest baristas I've ever encountered.  In the market, Joanna and I tried on hats and wished for more money, then browsed a bookstore in the basement, where I found Goodnight Seattle as a way to show the girls where I'd been and, if we ever make it back, to talk to them about where we'll go.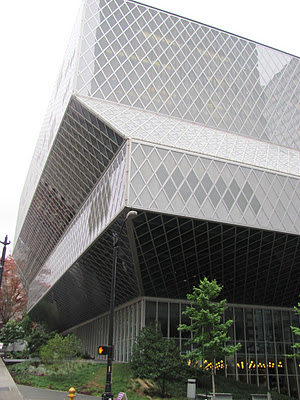 From there, we went to see the Seattle Public Library, which my cousin had told me had some cool architecture.  I was expecting neat old stone building, in keeping with some of the other historical buildings we'd seen around the city.  Instead, as we hiked up the hill, we saw a modern glass-and-steel building whose shapes defy definition.  Inside, we took the elevator to the tenth floor to look out over the city and admire the library itself (which had a "writer's room" on the ninth floor).
Back in the elevator, I looked at my plane tickets and realized that I'd better get myself on a bus… so we hiked the few blocks to the bus stop and said hasty goodbyes.
I had some quick last glimpses of the city from bus and seaplane before leaving Seattle behind… with a promise that I'll be back, because there's so much more of this friendly city I want to see.
Have you done a Seattle getaway or had a weekend away with a friend?