One of the best things about being a book reviewer is discovering new favourite authors and reading books I probably otherwise wouldn't pick up. Genni Gunn's new novel Solitaria came to me from the same publicist who promoted Come Sunday; because I had really enjoyed Come Sunday, I agreed to read and review Solitaria.
Solitaria plot summary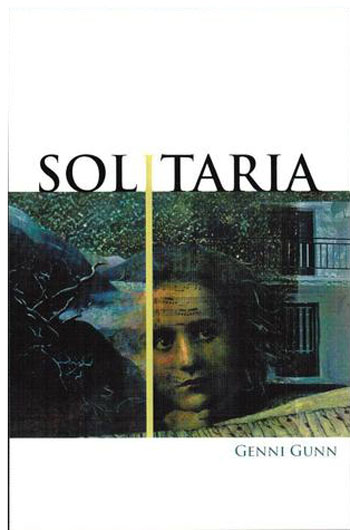 Solitaria begins with a newscaster covering the story of a renovation crew discovering a buried body in an old Italian villa. We then meet two sisters-in-law, Piera and Teresa, who are going about their day-to-day lives when the news catches their attention… and they realize that Vito—Teresa's husband and Piera's older brother—has not spent the last twenty years in Argentia, as they thought, but has rather been lying several feet underground.
Piera locks herself in her room, refusing to speak to anyone except her nephew, David, who lives in Canada. Slowly, the family assembles in Italy, trying to comprehend the murder and the mystery.
When David arrives with his mother Clarissa, Piera begins showing him her scrapbook. She has compiled the family memories, though her siblings dispute with "her" version of the events. Piera recounts what life was like growing up in Italy before, during, and after World War II.
Finally, for the last chapter, the woman who has been solitaria in her room for years ventures out with David to revisit the place of the murder.
My thoughts on Solitaria
Solitaria is a complicated, spell-binding tale. Most of the siblings remain minor characters, brought alive only in Piera's words, but they each have something to say about the other. Piera herself is a complex character, as we are challenged to ask ourselves whether her memories are "the truth" or not. Her siblings present a view of Piera's character that clashes with what Piera herself gives us, yet only Aldo, one of the brothers, presents any alternative stories from their childhood.
More about Genni Gunn
Genni Gunn is a Canadian writer (born in Italy) who lives in Vancouver, BC. Like her, David also lives in Vancouver (though he spent summers in Italy with Piera during his elementary years), teaches at a university and does Italian translations. I liked having a Canadian main character in a novel—so many other Canadian writers set their novels in the US for their American readership. Gunn displays a deep knowledge of Italy and its culture, with fragments of Italian in the characters' speeches and detailed descriptions of the homes and villages in which Solitaria takes place.
To find out more about Genni and her books, drop by her website.
I would put Genni's book into that elusive class known as "literary fiction," but don't let that scare you away. "Literary fiction" isn't hard to read or to understand. It is fiction that prompts the reader to think on deeper things, fiction that (like Dickens) will stay around for a long time because of its timeless value. I read books like Bound By Guilt and The Fine Art of Insincerity to have fun; I read books like Solitaria to be inspired as a writer and to challenge myself to think about the issues that the author has so creatively brought to my attention.
It is one of the best books I've read this year; already, I want to read it again. I wasn't surprised to learn that it has been longlisted for the Giller Prize.