The DVD cover jumped off the shelf at me: a smiling, blue-eyed Renee Zellweger casts a coy look over her shoulder while a dark-haired man watches her above a large red caption reading Miss Potter. I picked it up and scanned the back quickly. Immediately I was intrigued. Sunshine has the complete Peter Rabbit collection, but I knew little or nothing about the Beatrix Potter. I headed for the checkout.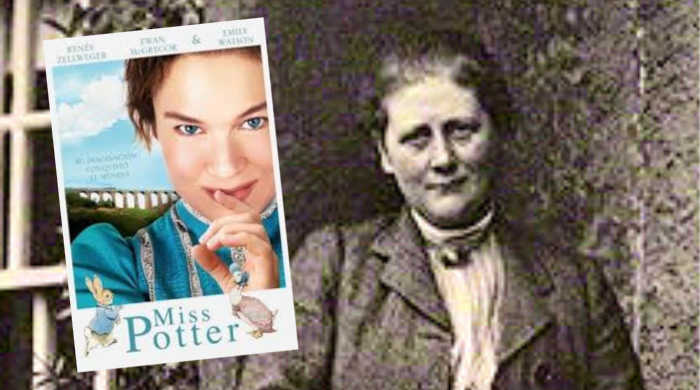 This post contains affiliate links; as an Amazon associate, I earn from qualifying purchases.
Miss Potter plot synopsis
Miss Potter begins with Beatrix seeking a publisher for Peter Rabbit, which she has already successfully self-published. However, most publishers take Beatrix's mother's opinion that it's a "silly" story. According to the movie, the Warne brothers only agree to publish it because they think it will flop—and take their younger brother, an aspiring publisher, with it. Norman Warne quickly falls in love with both Peter and his creator, and Miss Potter's books sell better than eggnog at Christmas.
My Thoughts on Miss Potter
One thing my husband found weird about Miss Potter was the way Beatrix talks to her characters. He asked me, "Do you do that?" When I said "no," he was greatly relieved. At the same time, I could completely understand Beatrix. A writer should know her characters so well that they take on their own personalities—and maybe even talk back.
Beatrix Potter's story is, overall, the writer's dream story. A writer who is passionate and persistent about her work finally finds a publisher equally passionate and in less than three years becomes a bestselling, wealthy author. Those of us facing rejections like to say, "Well, even Beatrix Potter got numerous rejections before her success."
More about Beatrix Potter
While Beatrix's books are well-known, I found the other projects of her life equally fascinating. She was a talented artist who sketched the plants, animals, and even mushrooms she saw on her trips to the Lake District with her family. However, her contributions to science were largely rejected because she was a woman.
Later, Beatrix used the income from her books to purchase farms in the Lake District that would have been taken over by condo developers. She was adamant about conserving the land and left nearly 4,000 acres to a land trust after her death.
Beatrix never attended school. She was an intelligent young girl who was homeschooled by an art teacher and numerous governesses. Along with her younger brother Bertram, she enjoyed sketching her pets, including rabbits, mice, snakes, and frogs. Her first rabbit, Benjamin, even went on summer holidays with Beatrix's family. Her next rabbit, Peter, accompanied her everywhere.
Recently, Sunshine's favourite bedtime story books have been Beatrix Potter's books. She really liked The Tale of Timmy Tiptoes and even made most of the way through The Tale of Pigling Bland
(it had enough pictures to keep her interested, unlike The Tale of Little Pig Robinson). While some of the books are quite cute, others are a bit dark—a bad bunny gets shot by a hunter; a squirrel taunts an owl and gets eaten by it—yet the books always have a moral.
The very adorable Peter Rabbit website has more information about Beatrix Potter and her books and even includes some children's games.