Being a mother is a difficult job. Although working and caring for a child at the same time may seem difficult, both activities are possible for individuals with appropriate motivation and determination. But many moms who stay at home do not earn a living, which is sometimes frustrating. The main reason why a lot of them decide to start a new career as an influencer is that there's a possibility of earning money while remaining home with their kids.
Apart from that, you can also build a community of other stay-at-home moms who would value the experience and content you share. So, if you want to start your influencer career on a high note, creating an Instagram profile should be step number one. The second step is to gain followers, as they are the foundation of your success as an influencer.
This can be easy to achieve due to the popularity of Instagram—approximately 2.35 billion monthly active users. This is the main reason why moms choose this platform as the starting point for their influencer careers. However, becoming a mom influencer is more than just achieving a high number of followers. It's also about engaging them in meaningful interactions.
Mom influencers share educational content about how to care for your children, select the best cleaning products for their room, or share healthy lunch ideas. So, if you think that this is the appropriate path for you, continue reading to discover four tips for becoming the best mom influencer on Instagram.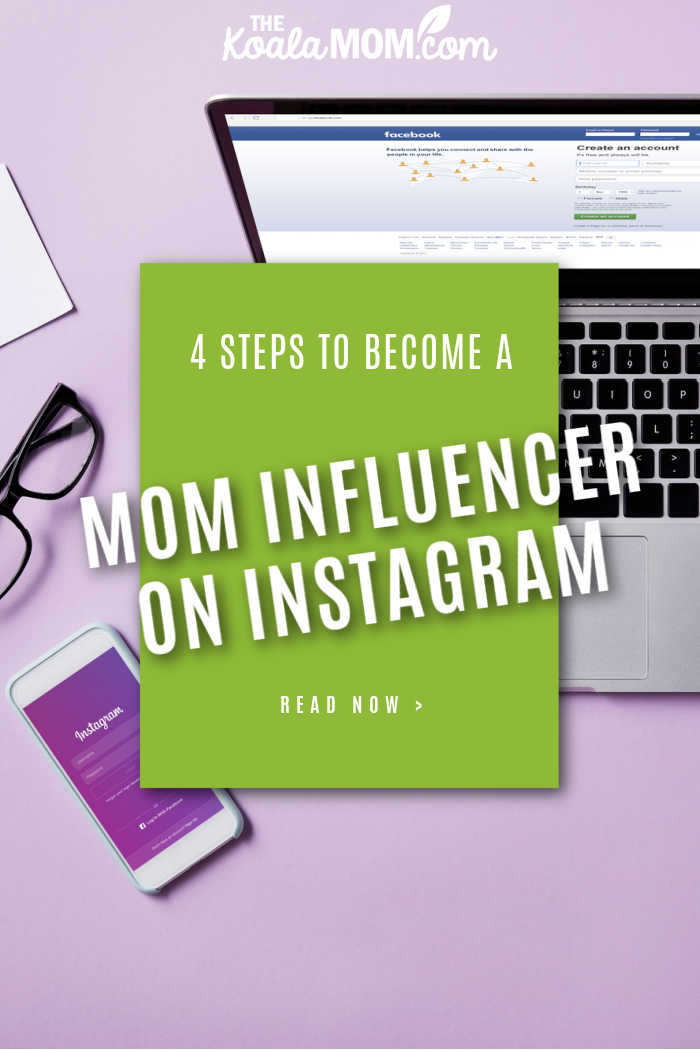 Moms have built full-time careers on sharing personal essays, photos, and advice on how they survive the many struggles of parenting. And many of these influencers don't just talk about their kids, they also get candid about issues like infertility, anxiety, and postpartum depression. There are also other topics that go along with motherhood, such as how it affects a marriage, the many changes one's body goes through, and figuring out how to navigate the many different stages. Many of our favorite influencers also know how to make us laugh. ~ Cafe Mom
Implement the proper tools
Instagram is constantly developing and implementing tools which will help you improve your profile and posts, making it a lot more creative and engaging. For example, there are photo editing tools to help you crop and resize your photos, scheduling apps to help you plan your content, and more. Remember to read all of the tool's instructions and terms of use.
Using these tools can help you attract the correct audience and make the most of your spare time to build your audience and brand. Some Instagram tools come with a subscription fee. You can, however, find additional free tools to help you generate hashtags and creative fonts for Instagram, which you can use to write your posts, analyze profiles, and calculate interaction rates.
For example, if you want to boost your Instagram profile by giving your bio, captions, and comments a unique visual appeal and demonstrating your genuineness, you can utilize an Instagram font-generating tool. Simply enter your text, and the generator will return various font style suggestions in seconds.
Be unique
Being empathic, real, and relatable on social media is better than striving to appear perfect. The period of perfection on social media is over; now, moms want to see fellow moms who have messy kitchens, grumpy kids, and no time to do their own make-up. It's the first step toward authenticity, and it will pique people's interest in your profile.
Work to cultivate your own voice and your own story as you share your posts. No two influencers on Instagram are the same. Think about the posts you see on Instagram and how you often know who posted that image without seeing their name attached to it, just by the sort of photo they posted. How can you create your own unique look and take on life to build a following?
For example:
canadianadventuremama shares posts about exploring BC and beyond with children; she has great outdoor photos and tips for taking kids hiking, skiing, and outdoor adventuring.
hardofhearingmommy share what it's like to be a mom of three kids with hearing loss, and raises awareness about how people can build a society that's more inclusive of those with hearing loss.
my_homegrown_symphony shares posts about music and kids, and how we can develop a love of classical music in our children; she shares a lot of reels with music and kids
All of these moms have taken their unique talents, interests and passions and created something to share with other moms. What is your "why?" and what is your "superpower?"
Connect with other mom influencers
Connecting with other mom influencers is another fantastic strategy to expand your knowledge and following. You can do this by leaving comments on their photos and videos or sending them messages directly (but be polite and real, not spammy). Find and follow other Instagram mom influencer accounts that inspire you (but never copy content).
Nowadays, there are a lot of mom influencers, so finding and getting in contact with them will be easy. Check recommended accounts' profiles, posts, and reels, and draw some inspiration from them that you can use later. If you have things in common, you may develop online friendships or find opportunities to collaborate together to create content.
Talk with your followers
Leading quality communication with your followers is a must if you want them to keep following your profile. Participate in the conversation by liking and commenting on their photographs, responding to their questions, and organizing live sessions with them.
When communicating with them, keep a positive attitude, be courteous, and share informative content. Discuss topics like postpartum depression, healthy food choices, bath products you use for your children, or the routine you have each day. Also let them share their experience on these topics and exchange valuable advice.

If you want to expand your Instagram following and become a popular mom influencer, make intriguing posts. Keep your followers interested by sharing personal stories, being unique, and providing a diversity of information. Also, talk with your followers often and let them use your platform to share their own stories with the rest of the moms. Following these tips can assist you in establishing your credibility as a parenting influencer.
Looking for more tips and inspiration? Check out these posts: