Content promotion is a big part of being either a blogger or a writer, and social media makes this easy to do (with the investment of a little time). However, promoting only your content over and over again on any social media platform can turn your readers off by making you seem selfish and pushy. A great strategy for any social media platform is to curate content.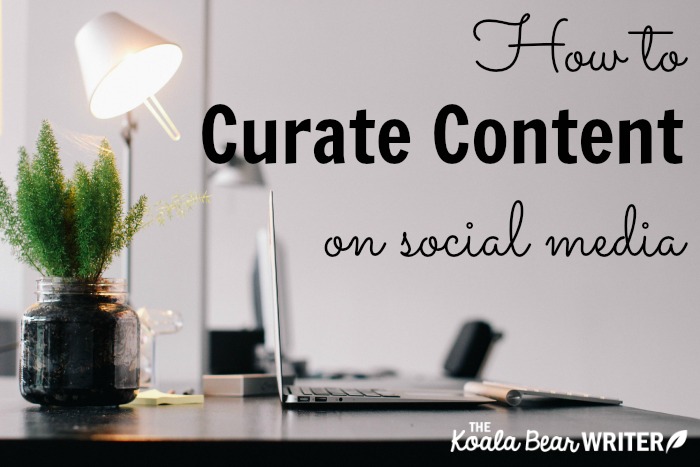 You can curate content on social media by finding content from other bloggers and writers to share on your social media pages. I recommend finding content that complements or adds to your content; for example, I blog about motherhood, marriage, and homeschooling, so I regularly look for and share other posts related to those topics on my social media platforms.
Here are more tips for curating content on my top five social media platforms.
1. Curate Content on Facebook
On my Facebook page, I follow several bloggers whom I admire and whose content complements my own. Once or twice a day, I browse through my news feed, looking for content from their feeds that I can share with my own readers. You can also schedule posts on Facebook to spread them out through the day.
Because of Facebook's algorithm, their posts often do better on my Facebook page than my own posts (the more a post is shared or engaged with, the more people Facebook will show it to, so by sharing it, I've indicated to Facebook that this post is worth being seen by more people).
I'm also part of several Facebook groups for bloggers where we share our posts with each other. Some of these groups have Facebook interaction threads, where I can find great content to share on my Facebook feed. One group has a Facebook interest list, which is a list I can scan and "like" posts to support my fellow group members and also find content that I want to share with my own Facebook followers.
2. Curate Content on Twitter
Content moves much faster on Twitter than on Facebook, so it's easier to reshare content here. If I'm retweeting a lot on Twitter, then I will start using Buffer to spread out the content through the day. This also lets me Buffer my own content so that tweets are going out in an organic manner throughout the day, but my Twitter feed isn't clogged merely with self-promotion.
I find content to share on Twitter by scanning my own newsfeed in the morning, creating or following lists of bloggers, or by reading blog posts. You can also follow or search hashtags (like #blogging, #writing, #creativenonfiction, #motherhood, etc) to find content to share.
3. Curate Content on Pinterest
This is probably the easiest social media platform on which to curate content. In fact, I would say that more than three-quarters of the content I share on Pinterest is from other bloggers. Pinterest moves fast like Twitter, but also lets you save content to view later—and your readers can subscribe to your entire feed or just to the boards that interest them.
Pinterest is also a search engine, so you can simply use search terms to find content for your boards. Or you can browse boards created by other pinners and repin pins from their boards to your boards. You can also add a Pin It button to your Internet browser so that you can pin any post you are reading, whether the blogger / writer has Pin It buttons added to their site.
4. Curate Content on Google+
Because the status of Google+ is still a bit up in the air, I've put less attention into this social media platform lately than others. Google+ is very similar to Facebook in that the newsfeed moves quickly and you can "like" (plus), comment, and share content. Like Twitter, you can search hashtags on Google+ to find content to share. Like Facebook, you can join groups or communities in which to share your content and find other content to share on your own page. Unlike Facebook, I don't think it matters if you share content quickly so I'll often share five or six posts that I've found and then move on.
5. Curate Content on StumbleUpon
Unlike the other social media platforms, which allow you to share links and only post summaries or excerpts, StumbleUpon allows you to bookmark or share entire blog posts. You can browse or "stumble" posts quickly, adding them to reading lists to peruse later, and share posts with other stumblers. To find content to share, you can go to other stumblers whom you follow and stumble their likes.
StumbleUpon is one platform where you are generally discouraged from sharing your own content (though I don't remember the exact reason for that). Again, if you are part of a blogging or writing group on Facebook or Google+, you can share your posts there to be stumbled (shared / promoted) by other stumblers. If you have the StumbleUpon button in your browser (like the Pin It button), you can stumble blog posts directly as you find them (not every blogger has a stumble button at the bottom of their posts).
Do you have a strategy for your social media platforms? How do you curate content for your social media followers?
I'm joining up with Ruth Snyder's social media blog hop for this post. Drop by her blog to find more tips about the content of your social media posts.