A few weeks ago, I watched Mary Poppins with my daughters.  They thoroughly enjoyed the singing and dancing and I once again enjoyed Dick van Dyke's British accent and soot-coated smile. One scene that caught my attention was when Mary helps the kids clean up their room. It made me think of my own efforts at cleaning house with children.
My daughters are a bit younger than the Banks children, but equally reluctant to put away toys. I've wished many times I could just snap my fingers like Mary Poppins does and have all the clothes and toys spring into place, but that doesn't happen. Instead, I've found these ways to turn cleaning house with children into a more enjoyable activity.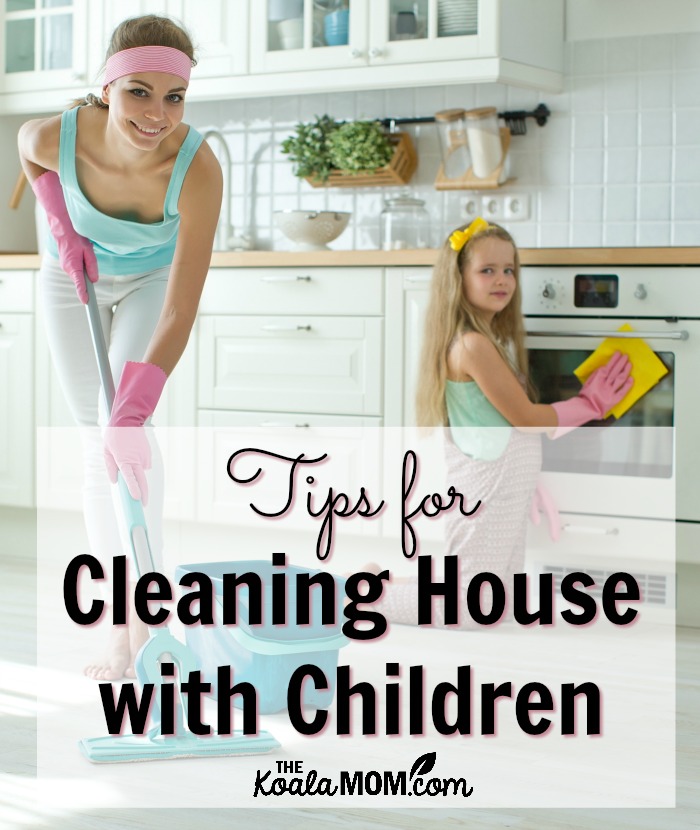 This post contains affiliate links; if you use my link to make a purchase, I may earn a commission.
1. Make Cleaning House with Children a Game

I often try to make cleaning up sound more exciting. Tone of voice helps a lot here.
Other times I suggest games, such as "Who can clean up the most?" or "Who can clean up the fastest?"
Make finding all the toys into a scavenger hunt. If you're cleaning up toys that can be thrown safely into a bin, cheer each time someone gets a toy into the bin.
Sometimes I turn on a timer and see how much we can get cleaned up before it goes off.
Lots of enthusiasm helps with this and the girls aren't as unevenly matched as you'd think. Lily often gets into these "games" more quickly than Sunshine and does a bigger share of the work even though she's smaller.
2. Find Kid-sized Cleaning Tools

When I'm vacuuming or sweeping, the girls want to help out. This frustrated me when Sunshine was small, until I went searching for a broom for her. Now when she wants to sweep with me, she can get out her own broom and sweep her own section of the floor (usually a part I'd already swept, which wouldn't interfere with my own sweeping). She can also sweep her own room.
I also have a stick vacuum that the girls can use. It's light enough that they can push it around their room, under furniture, or up and down the stairs. They can also take it off the stick to vacuum smaller spaces or help me clean the truck.
Norwex has some great kids cleaning products that aren't just toys—they actually clean! Check out the Norwex kids' dusting mitt, kids' window cloth, and kids' EnviroCloth. Your children will love having the same cleaning tools as you do.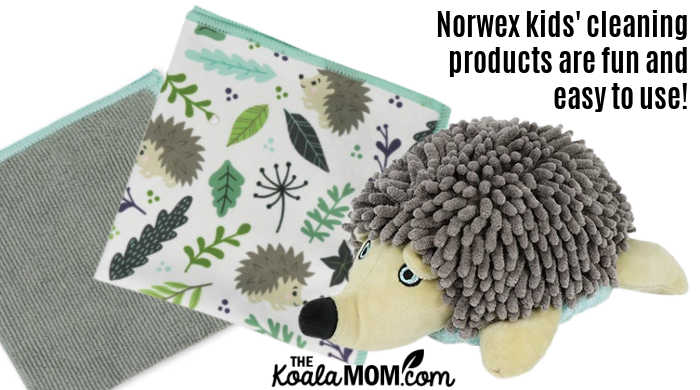 3.  Assign Appropriate Jobs

Whether I'm cleaning the bathroom or the oven, the girls are usually trying to "help" Mommy do it. Instead of trying to keep them out or away, I give them jobs to do. Each gets a small, damp EnvoiroCloth and then I send them off to wash walls or cupboards.
Now if only I could sing like Mary Poppins…
In every job that must be done
there is an element of fun
You find the fun, and snap!
the job's a game!
and every task you undertake
becomes a piece a cake
a lark, a spree
it's very clear to see
that a spoonful of sugar…
At the end of the day, what matters most is your relationship with your kids. Don't stress over the housecleaning to the point that your children are afraid of doing anything and making you angry. If housecleaning is a huge stress or you are at a stage in life when you need more help, there's nothing wrong with hiring a professional cleaning service.
How do you manage cleaning house with children?