TKM contributor C.H. is here with a review of the TekyGo! Learning and Gaming Console to help your kids bounce for joy no matter what the weather is like outside!
Are the long days indoors dragging everybody down? Where we live in Canada, we have lots of snow all winter long. Certainly there is fun to be had outside, but the younger the child the less time they will spend outside, which leads to cooped up, stir crazy kids and frustrated parents.
Then we sign them up for activities and do our best to bring them here and bring them there. It works… unless we are busy or tired and cannot take them. This is where TekyGo! saves the day! What a joy it has been to have this children's learning and gaming console in our home.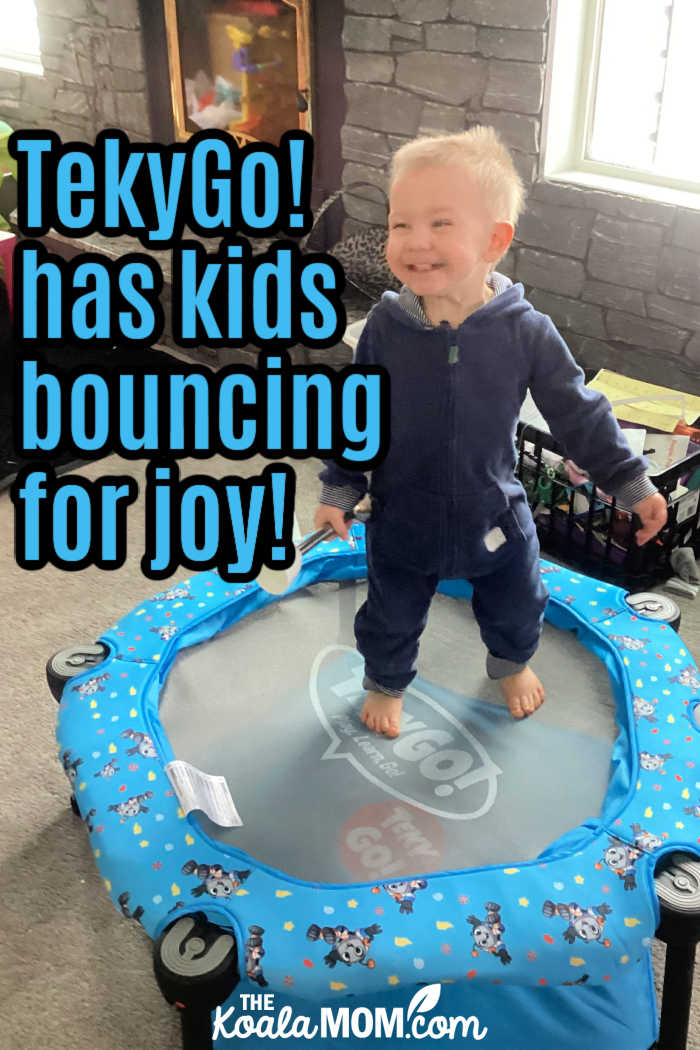 My kids love their TekyGo! Bouncer
We received a complimentary TekyGo! Junior Bouncer Bundle for this review, and what a pleasure it has been to have in the house. Not a day has gone by since we received this learning and gaming console that it hasn't been used by several kids! Midway through the day, I look over and even during those small breaks in the day the kids are jumping on the trampoline.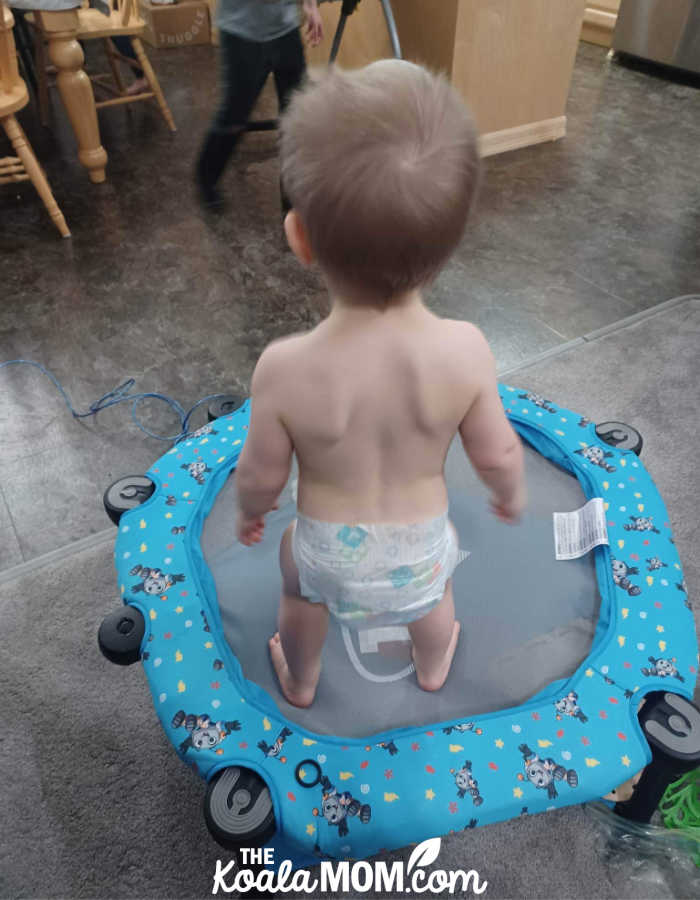 It is a very responsive trampoline with a softer platform than most for your feet. As a bonus, there are no springs for little fingers to catch in! Also, if you decide you want to put the trampoline away, it folds up and could be stored in a closet or under a bed very easily.
The other components are a sensor to go under the trampoline with a long cord that connects to the main TekyGo! console, and a HDMI cable to connect the TekyGo! learning and gaming console to your TV, as well as a sleek remote control. The box is well packed for shipping and everything arrived in good shape.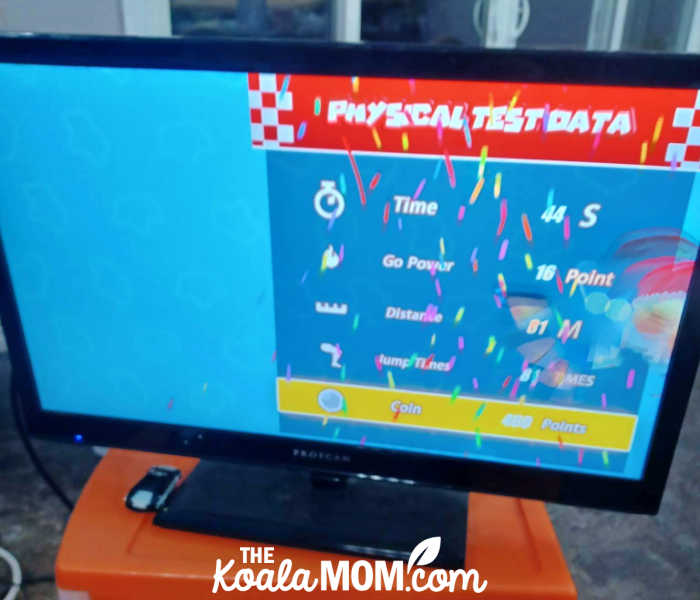 The kids loved the trampoline all by itself, but then we connected the sensor to the main console and the TV and wow! A whole other level of fun! Suddenly the staying power of the toy was multiplied. Rather than a few minutes jumping, this became a whole afternoon of entertainment.
Fun Active Learning for Children
Little do the kids realize the learning that is happening while they are having such fun. TekyGo! prides itself on being the first exergaming console. This console gives your child access to endless adventures from the comfort of your own home, all while you are able to get tasks you need done: like finally writing Christmas cards or having a little down time. A cup of coffee you can drink while it is still hot, in one sitting, while your little one jumps, plays and learns.
You can control the learning and gaming console with the remote or they can by jumping. It is not totally hands off for Mom or Dad, but definitely keeps their attention well enough for you to be able to multitask a lot easier than usual.
TekyGo! offers a variety of packages from the full package with everything you need to get started in the TekyGo! Junior Bouncer Bundle to individual items to be able to use your own trampoline if you already have one and want to put it to good use exergaming while promoting developmental learning. The coordination your child will develop as well as the lifelong association of an active lifestyle, and learning for that matter with fun is totally priceless!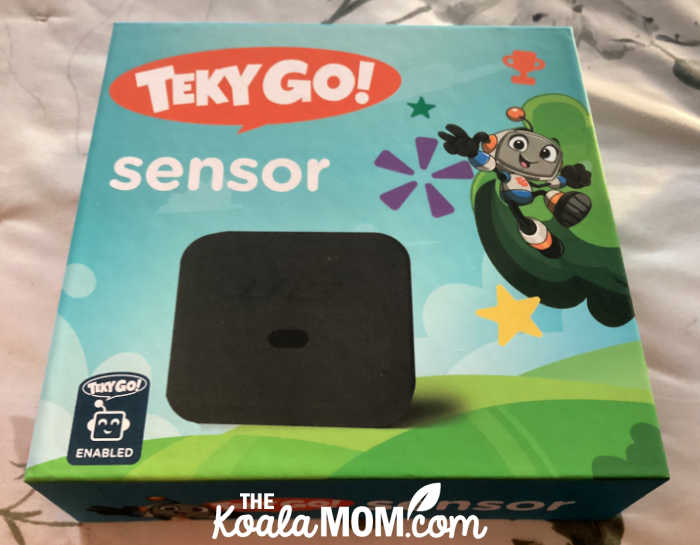 What age is TekyGo! suitable for?
Our just about two-year-old has figured this learning and gaming console out and learned a new skill pretty quickly with so much enjoyment. In order to keep up with his siblings, he has been using it without the bar, bouncing little bounces not far off the trampoline, but the Bouncer comes with a bar to hold onto so little ones can jump high with confidence.
TekyGo! says this toy will grow with him and teach him more new fine motor skills and counting and colour association and more as he ages.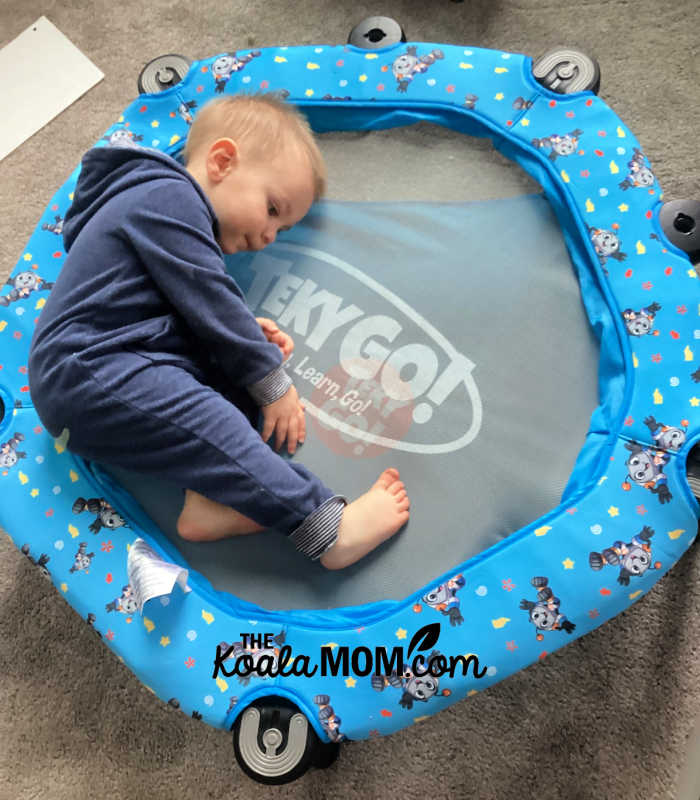 Our 6-year-old is in her element. A video game she can succeed at and so much better for her than sitting on a couch with a PlayStation or tablet.
In our house, we have toddlers just learning to jump as well as teenagers, and honestly even though the toy is designed for children 6 and under, it has a motivating effect for the older kids to want to get active as well, and timing their jumps to the game.
My 14-year-old was pushing on the trampoline with her hands trying to get the high score, so a trampoline she could jump on would be a dream for her. If you have larger children who want to join in with younger ones, then your own trampoline might be a good call so you can get one with a higher weight capacity, or perhaps one of each as the learning and gaming console can accommodate two sensors for 2 players to jump at once. Bear in mind the games are designed for children 6 and under and the trampoline can accommodate them well.
Our 10-year-old is about 10 lbs under the weight capacity of the TekyGo! Junior Bouncer, which is set at 78lbs. Even though he still loves the concept and wants to get in on the action, the cords keep breaking when he uses it. I think there may be an aggressiveness in the jump among the older children that is too much for this bouncer, even when they are under the weight limit.
If you have exclusively toddlers through 6-year-olds at home (which is what the product is designed for), you can buy the bouncer with confidence. The TekyGo! warranty is excellent with 12 months of coverage. They include 3 extra cords for the bouncer and will send you replacements free of charge for the duration of the 12 months. I asked a representative of the company and they said after the 12 months they usually will still give the cords free of charge but after the twelve month warrantee period the customer would then be responsible for the shipping costs.
We had a fantastic experience with customer service, and they do stand by their product very well and with pride.
Exergaming for the Whole Family
We have created a world that encourages the imagination of children to run wild. A world that encourages physical activity and cognitive development in a fun and interactive way. A world that builds the confidence of young children to be whoever and whatever they want to be. We built that world and we called it TekyGo!
This learning and gaming console will continue to see a lot of use in our home. In fact, we just got an adult exercise trampoline so the older kids can jump along with the younger ones. It is so cool that the console can accept two sensors.
Now instead of dreading the stuck inside days, I am looking forward to the rainy and snowy afternoons passed indoors with our TekyGo! Junior Bouncer Bundle.
Drop by the TekyGo! website to check out all their learning and gaming consoles for yourself. You can also follow them on Facebook, YouTube and Instagram.
Do your kids enjoy exergaming? Would they have fun with this learning and gaming console?