I first discovered live theatre in university, when attending a play was a requirement for my drama class. Since then, I've enjoyed live theatre in many cities and love introducing my children to the magic of the stage. Vancouver is home to several family-friendly theatre companies. If you are looking for a fun family outing, here's a list of live theatre the whole family will love in Vancouver!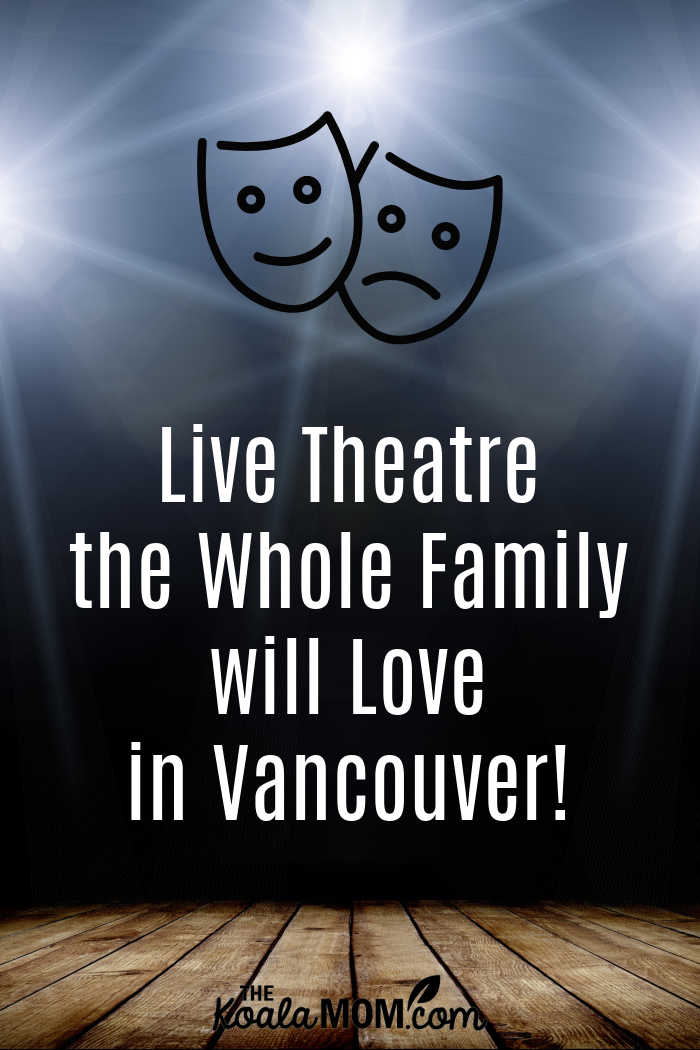 Carousel Theatre for Young People
CTYP has been creating theatre for young people since 1976. This theatre company seeks to empower children and families through playful, imaginative and accessible theatre experiences that develop emotional literacy. Located on Granville Island in the heart of Vancouver, it is a gathering place for young people, families and artists to embark on a journey where boundless imagination, a dash of magic and an abundance of play are the recipe for a magical theatrical adventure that has lasting impact.
CTYP's current play is Stiles and Drewe's The 3 Little Pigs. This play is running until December 30 and is suitable for all ages. In this retelling of the classic fable, three little superstar Piglets, their devoted single-parent Mom, and a misunderstood Big Bad Wolf create the perfect "Great Big Little Broadway Show." With the award-winning tuneful wit of Stiles and Drew, this very curly musical tail will huff, puff and blow you away!

If you are attending this play with your homeschool or school group, CTYP provides an educator's guide to get the most out of the experience. With a running time of 45 minutes, this show is the perfect way to introduce younger kids to the magic of live theatre in a kid-friendly environment. Plan to spend the day on Granville Island and explore the shops and other attractions there too.
Upcoming plays include Clementine (February), Oz (March), and Alphonse (May). Follow them on Instagram, Facebook, Twitter or YouTube for updates or drop by the website to grab your tickets today. (Psst—theatre tickets make a great experience gift for Christmas!)
Gallery 7 Theatre
Gallery 7 seeks to to present professional-quality theatre that explores the spiritual, relational and social aspects of the human experience with a vision towards hope, reconciliation and redemption. We had the chance to attend their production of The Magician's Nephew in November and were blown away by the entire show. It was my almost 5-year-old's first live theatre event and I was worried whether he'd be able to sit for it. He was glued to the stage for the entire show, even though he was fighting hard to stay awake during the second half.
Their current show is a one-man adaptation of A Christmas Carol (only running until December 17). In March, they will be presenting The Secret Garden. You can save on tickets with a season subscription (another great Christmas gift idea!). Follow them on Facebook, Twitter, YouTube, or Instagram for sneak peaks and other updates.
Theatre Under the Stars
A highlight of summers in Vancouver is Theatre Under the Stars in Stanley Park. TUTS interweaves a kaleidoscope of elements—setting, scenery, concessions, and quality art—into a fun, encompassing experience much greater than the sum of its parts. As the show is outdoors, families have the option to sit in the seats or spread a blanket on the hillside nearby. There is usually one family-oriented show each year, although last year I was disappointed by TUTS' "family" rating for We Will Rock You so I would recommend previewing (or asking friends) about future shows before taking younger kids.
Coming up in 2023, TUTS will be presenting block-buster musical hits Matilda and The Prom. You can follow them on Twitter, Facebook and Instagram for updates or drop by the website to subscribe to their mailing list.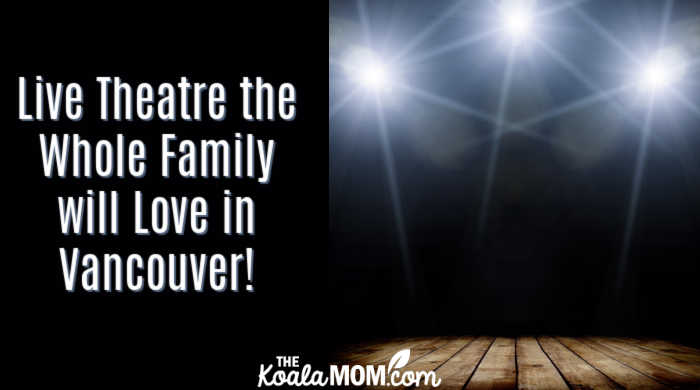 Align Entertainment
Align Entertainment has been producing family-friendly musicals in Vancouver since 2014. Align prides itself by creating an environment that provides unsurpassed levels of value-packed entertainment and fosters family connections. The cast, crew, orchestra and volunteers all inherently know they are part of the Align family who together provide a safe and supportive environment for growing talented artists.
Their past shows have included Joseph and the Amazing Technicolour Dreamcoat, A Christmas Story: The Musical, and Shrek the Musical. Their upcoming show is Seussical the Musical, which will be at the Michael J. Fox Theatre in Burnaby in January/February 2023. Follow them on Facebook, Twitter, Instagram and YouTube for show updates and more.
Where are your favourite places in Vancouver to catch live theatre as a family?
Photo credits: Depositphotos.