After a two-year hiatus for the pandemic, Theatre Under the Stars Vancouver is back with a toe-stomping, sing-along season that will delight audiences. Sunshine and I were at the opening night for We Will Rock You, one of  two shows you can choose to attend this summer. It was fantastic to be back in Stanley Park enjoying live theatre once again. If you're looking for a fun outing, I totally recommend heading down to TUTS Vancouver before the end of August!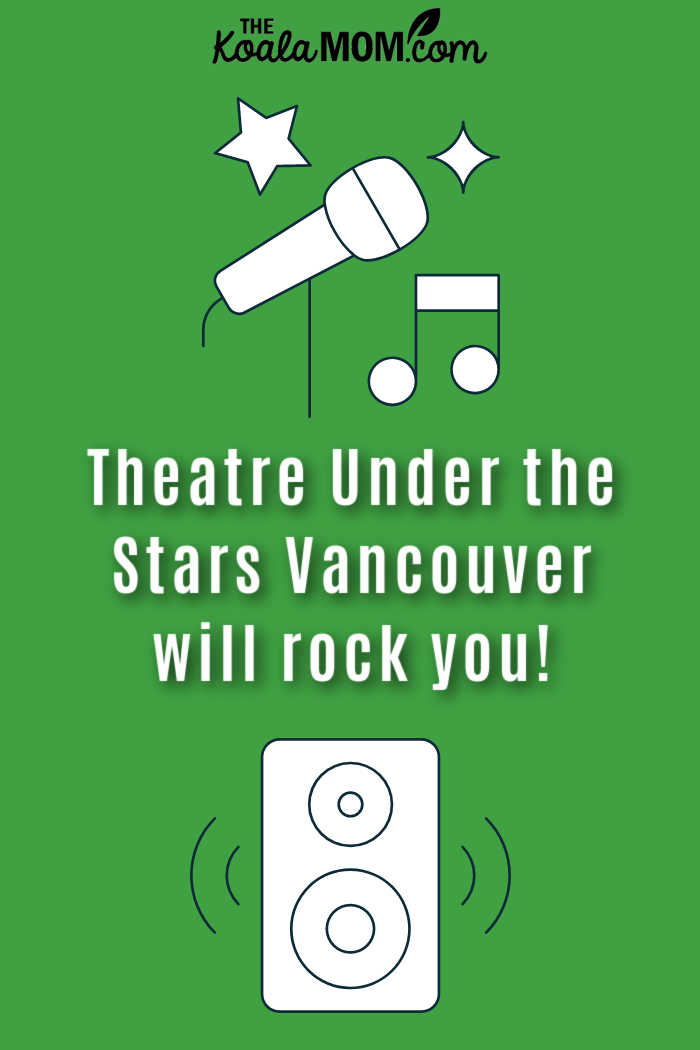 I received two complimentary tickets to the opening night of one show courtesy of TUTS Vancouver; all opinions expressed are my own.
We Will Rock You
We Will Rock You is to Queen what Mamma Mia is to Abba. The story and script by Ben Elton string together Queen songs in a crowd-pleasing, hardrocking phenomenon. When I told Sunshine, my 14-year-old, what we were going to see, she immediately began stamping and clapping. Yes, that song is in the musical (after the intermission, just to keep you waiting). Growing up on Christian and country music, that was the only Queen song I recognized during the entire night, but it was still a fun show.
Three hundred years in the future, earth is now known as iPlanet and is ruled by Killer Queen. Everything happens online; no one has names anymore but rather an online IDs. Rock music has been forbidden, as has any other form of individuality. Killer Queen and her Globalsoft corporation control what everyone thinks and does, and those who do not conform are hunted down by the police and "reprogrammed."
Two dreamers dare to be different. When they are both captured by the police for daring to have their own style and their own ideas, they escape together. Galileo has strange dreams about phrases and sounds and a place where "rock hangs in the air." Together, he and Scaramouche reach the Heartbreak Hotel, where they meet other likeminded individuals who worship rock and roll (and have named themselves for various famous musicians).
When the police invade the Heartbreak Hotel, Galileo and Scaramouche once again escape to continue their quest. As clues lead them closer to the answer, the Killer Queen remains on their trail, trying to stomp out the last vestiges of rock music and independence.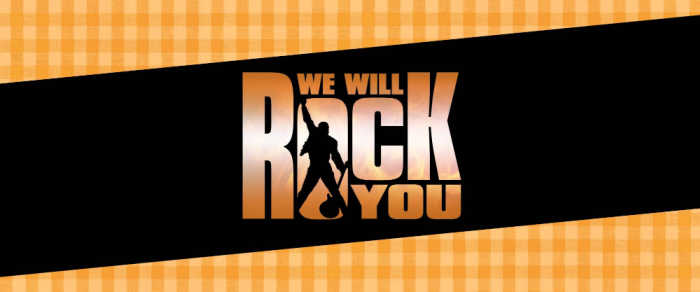 My thoughts on the show
TUTS Vancouver delivers a high-quality, fantastic show to theatre lovers in Vancouver. From the costumes to the singing to the set, this show wows. Sunshine loved the Killer Queen's outfits, which were sparkly and showy as one would expect for a queen. The dancing was high-energy and the singing was worthy of well-loved, well-known songs. We demanded an encore at the end and got it, and singing along was encouraged for several favourite tunes.
There were a lot of rock music references that even I caught (despite my sheltered childhood in rural Alberta) and many laugh-out-loud moments. Celebrities like Brittney Spears, Ozzie Osbourne, Shakira, Buddy Holly, Elvis and many others got shout-outs. The running joke through the show was "WE DON'T KNOW!" because only snippets of music and names and legends have survived, so it was hilarious to see these futuristic people try to imagine what rock music may have been in its height.
Besides the fun, We Will Rock You provides some food for thought. There is, of course, the question of what our current generation and culture may look like to a futuristic generation. What will survive three hundred years into the future and what won't? It's definitely interesting to consider. I also found it the themes of government control, individuality, and freedom fighting in this musical interesting after two years of people actually being punished and silenced for thinking for themselves.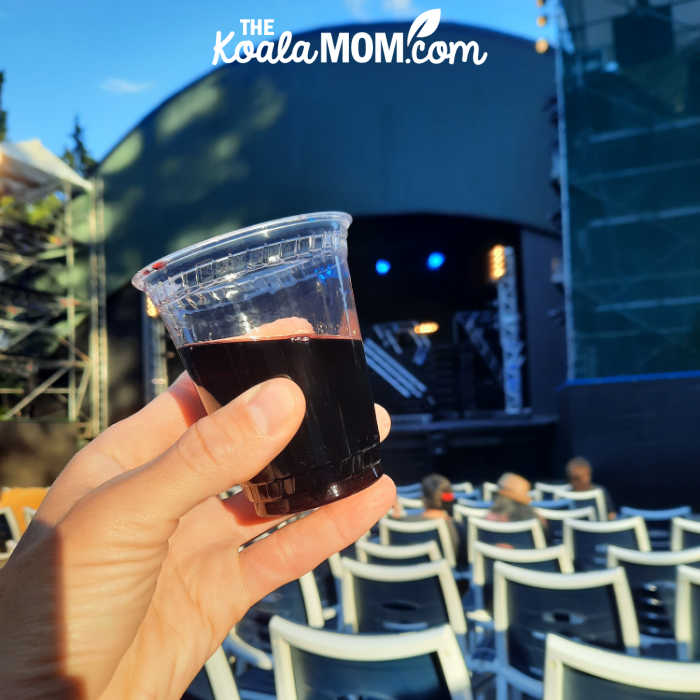 We arrived about forty minutes early for the show, which gave us time to find parking, use the washrooms, grab a drink, view the history of TUTS Vancouver and try to guess which show they've done the most often, and find our seats. Despite somewhat uncertain weather all week, we had a mostly clear, sunny evening for the play. I was glad I'd brought along a sweater as well as my coat and a blanket for the intermission.
We were welcomed to the opening night of the 2022 TUTS theatre season by four local First Nations, who performed three welcoming songs for us. They also shared some of the history of Stanley Park and what it meant for their peoples with us. Their regalia, drumming and singing were a beautiful way to kick off the evening.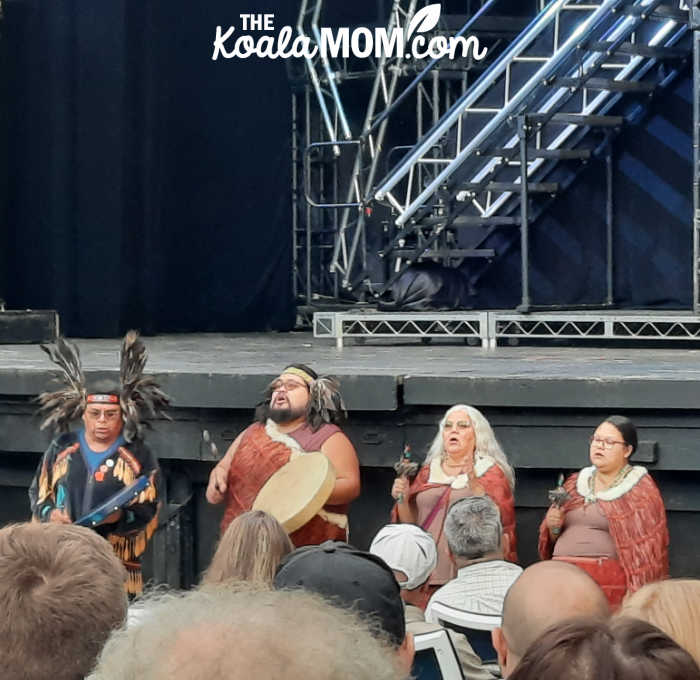 We Will Rock You runs about three hours, including the intermission. It is billed as a family-friendly show; the notes on the website only state that it has scenes with strobe lighting and non-toxic fog, whereas Something Rotten "contains suggestive content and may not be appropriate for audiences eight years and younger." As I haven't seen Something Rotton, I'm not sure what the warning refers to, but I think the same warning should have been issued for We Will Rock You.
I had debated whether to attend with Sunshine or a friend of mine. As Sunshine loves musicals, I decided to take her. I was happy that I didn't take any of the younger kids, as there were several actors on the stage wearing drag and one song (immediately after intermission) about "fat-bottomed girls" where there were a lot of those. Sunshine's comment was that they needed skirts.  There was also quite a bit of innuendo, but very little bad language.
Tips for Attending TUTS Vancouver
Buy your tickets online and download them onto your phone so you can skip the lineups going in.
Get there early! It is busy down there and it may take time to find parking and get to the theatre. There's also plenty to do in Stanley Park, so you could plan to spend the day there before heading to TUTS in the evening.
Wear layers and plan for the weather, as the seating is outdoors. Even on a nice day, the park can get cooler after dark.
Bring cash for the concession, as it helps move the lineups faster. You are also allowed to bring your own food and drink into the park (hurrah for one live theatre that lets you have snacks during the show!).
Mosquitos are around, so you may want bug spray. We didn't wear any and didn't have any issues, but I was also wearing pants and a sweater all evening. The friendly Stanley Park dragonflies were doing their best to help out with the mosquitoes, frequently dive-bombing us during the show.
For more information about TUTS Vancouver or either show, drop by the website or follow TUTS on Instagram.
Have you been to TUTS Vancouver yet? What's your favourite show (past or present)?