DIY haircuts can seem intimidating and complicated; there's so much to consider when it comes to achieving a professional-looking cut from the comfort of your own home. From choosing the right tools and techniques to ensuring you don't make any unfortunate mistakes, navigating an amateur hair-cutting session can be a daunting task.
However, with the rising cost of living, avoiding expensive haircuts is one excellent way for moms to save money. I've been trying to learn how to cut my kids' hair so we can save money on trips to the salon. If you'd also like to try cutting your family's hair, check out these tips and tricks for salon-worthy results after their at-home haircut.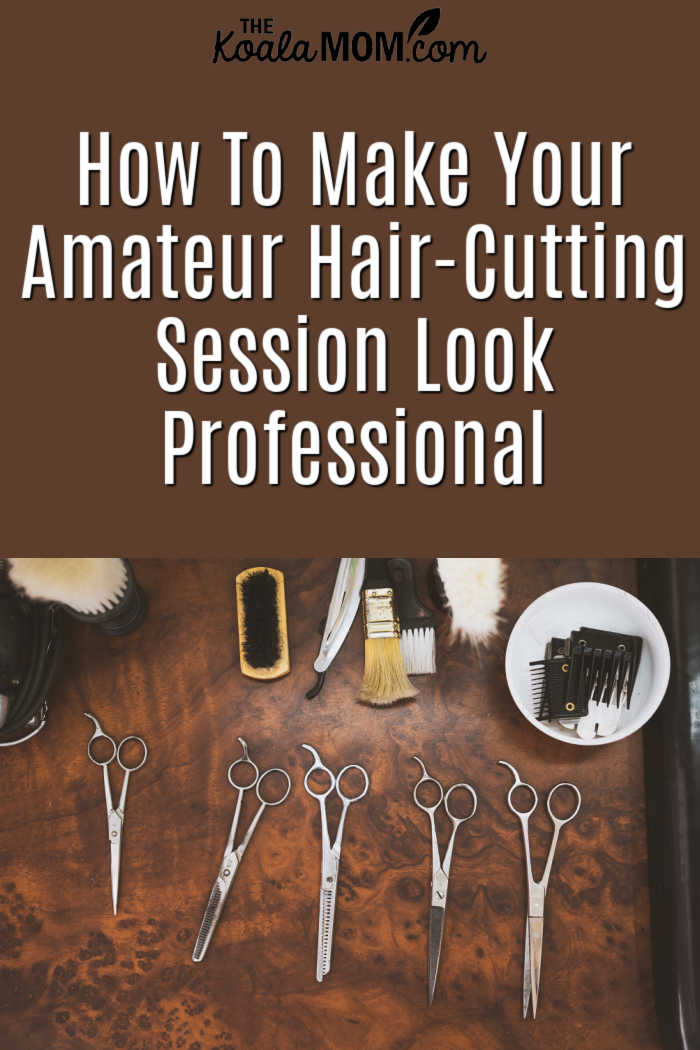 1. Get a scissor pouch
One of the best ways to ensure successful and professional-looking results at home is by investing in a quality scissor pouch. Not only does this allow for easy organization and storage of all your supplies, but it also ensures that you can create a safe environment with everything kept in one place.
A good scissor pouch should contain all the necessary tools including scissors, combs, clips, and other accessories like towels, capes, or smocks. You can go now to order your specially-designed scissor pouch that fits your individual needs. Having the right tools for the job will make your home haircuts look professional every time.
2. Choose the right scissors
Once you have your scissor pouch, it is important to choose the right pair of scissors. Professional hairdressers typically use shears that are longer in size and have curved blades for precise cutting. If you're just starting, it can be helpful to get a good-quality pair of smaller scissors that are easy to maneuver and comfortable to hold.
As you get more confident with your hair cuts, you may want to invest in different sizes or types of scissors for different types of hair cuts. (Think of the different tools your hair dresser uses when cutting your hair.)
Make sure you buy a sharp pair of scissors; blunt blades will not give the same results as sharper ones and could result in hair damage. If the scissors you are using aren't giving the best results, it may be time to either get those scissors sharpened or to get higher-quality scissors.
3. Practice with clip-in extensions
If you're nervous about cutting your hair, try experimenting with some clip-in extensions first! This way, you'll be able to practice different techniques without having any serious consequences. Clip-in extensions also allow you to test out different styles, lengths, and even colors before committing to something else.
This can be incredibly helpful in achieving a professional-looking cut at home. Also, it's a great way to gain confidence and become comfortable with using the various tools needed for cutting hair.
4. Prep the hair before cutting
Before beginning your haircut, make sure you prep the hair properly; this will create an ideal foundation for styling. Start by shampooing and conditioning the hair, then gently towel dry it while brushing with a wide-toothed comb or brush.
If you intend to blow dry the hair after cutting, now is also a good time to do so as it will help give some additional volume and texture which can be used when styling afterward.
5. Cut using small sections
When it comes to making the cuts, always remember to divide the hair into small sections (as any stylist in a salon does). This will make it easier for you to focus on each strand individually and prevent any unfortunate mistakes from happening.
To get the most out of your cut, start at the nape of the neck and work your way up until you reach the top layers. It's also important to remember to always cut with the hair, not against it. Cutting against can result in a choppy, uneven-looking finish.
6. Finish off with a professional blowout
Once all your cutting is done, it's time to finish off with a professional-looking blowout! Start by separating the hair into smaller sections again before applying a heat-protectant product or oil to each section. Use a round brush while drying each one to create additional volume and texture as well as give more definition. Finish off with some hairspray or serum to help hold the style all day long.
Can anyone become a hairstylist at home?
Yes, anyone can become a hairstylist at home with the right tools and some practice. With enough guidance and patience, you can create professional-looking results from the comfort of your own home.
You may not feel confident enough to start cutting hair in a professional salon, and that's okay. Home haircuts can be a great way to get some practice before going out and taking on bigger projects. It also helps you save money as you don't have to pay for expensive services at the salon.
If you're unsure how to do a certain hair cut or trim certain types of hair, try watching YouTube videos. On the occasions when I do take a child to the salon for a hair cut, I also try to watch the stylist and see what she does when cutting their hair. With a few tutorials and practice, you'll soon to saving lots of money while keeping your entire family looking good!
Is it expensive to open your salon?
Opening a professional hair salon is typically expensive and can cost anywhere from thousands of dollars to over a hundred thousand. This amount depends on the size, location, and services offered at the salon.
Before opening a salon, there are other costs to consider such as renting or buying the necessary equipment, getting a business license, marketing efforts,, and more. It's important to do your research beforehand so that you have an idea of what it will take financially to open your salon.
Another idea is to open a traveling hair salon. That is, you take your hair cutting tools and expertise to someone's home to cut their hair there. I know a few moms who do this, as there are many reasons a person may want a hair cut at home (for example, a senior who is unable to go out). Even as a busy mom with five kids, I've considered hiring someone to come to my home and give all the kids cuts at once, as that would be easier than keeping all the kids busy at the stylist or trying to get a babysitter so I can go to the salon.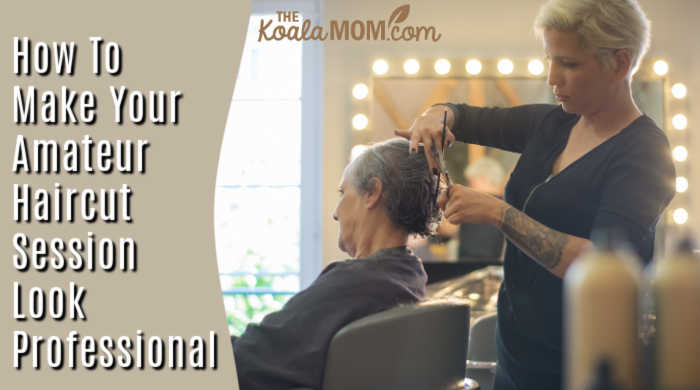 Following these tips and tricks, even beginners can have salon-worthy results after their at-home hair-cutting session. With the right tools and knowledge, you'll be able to make any amateur haircut look professional. Don't forget to practice often and take your time when styling; that way, you can ensure a great result every single time. Good luck!