Are you bored with your living room's current look (as I was recently)? Are you looking for some new ideas to give it a modern edge? If so, you're in luck! In this blog post, I will discuss some simple tips that will help you give your living room a fresh and stylish makeover (like I just did!). I've been browsing Pinterest and consulting with friends, so here's a few ideas I've discovered.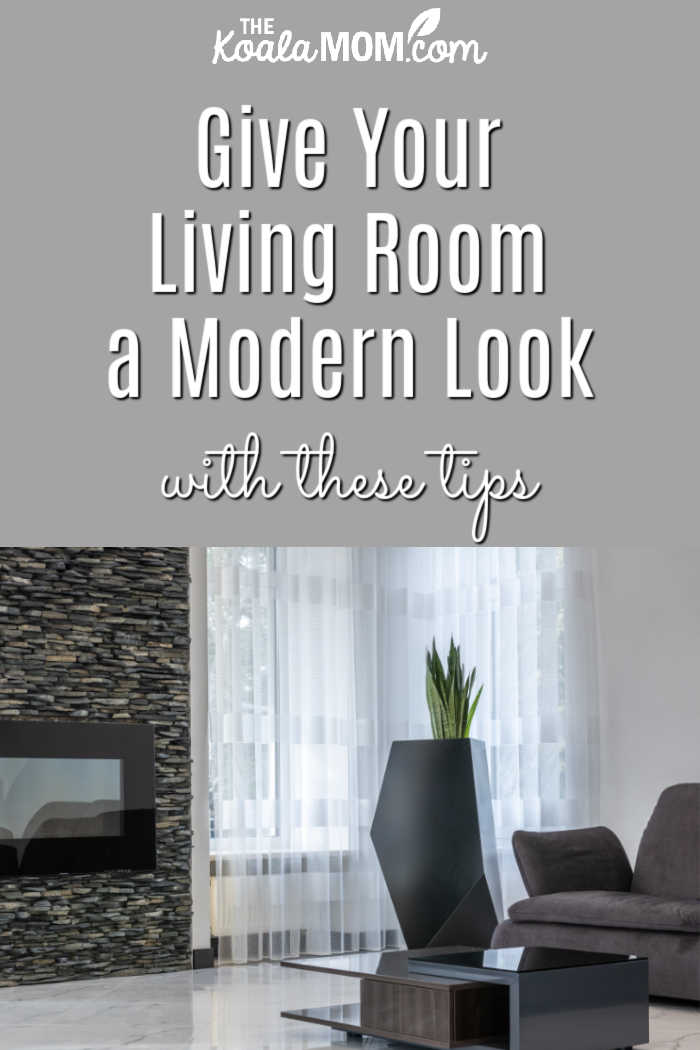 1. An electric fireplace
If you want to give your living room a modern look, consider adding an electric fireplace. Not only will it provide a warm and inviting focal point for the room, but it will also allow you to create a cozy and intimate setting. My mom has an electric fireplace and when we visit, we love turning it on in the evening while we're all curled up reading our books together.
Electric fireplaces come in a variety of styles and sizes, so you should be able to find one that fits your specific needs and preferences. Also, electric fireplaces for the modern home usually have a sleek and stylish design that will complement your other décor. It's important to note that electric fireplaces do require some assembly and installation, so you may want to hire a professional if you're not comfortable doing it yourself.
If you currently have a wood fireplace that you never use, consider upgrading it to a gas fireplace. We've had wood fireplaces in three of our homes and I've never lit a fire in any of them—I've always worried about whether the chimney is clean, whether smoke will get in the house, and how much work it will be to haul the wood in. A gas fireplace lets you have the ambience and warmth of a fire at the flick of a button!
2. A comfortable sofa
If you want your living room to have a modern look, it is important to choose the right kind of furniture. And when it comes to sofas, you should opt for something comfortable and stylish at the same time. A good option would be a leather sofa as it looks both sophisticated and luxurious. Our last several sofas have been leather and I love how easy they are to clean.
Make sure to choose a sofa that is the right size for your living room. A too-small or too-big sofa can make the space look cluttered and uninviting. Finding the right sofa is probably the hardest part of decorating your living room, as this is the biggest piece of furniture you'll get and living rooms often have odd sizes or corners that make it hard to find just the right sofa. You may be able to find a modular sofa that works or get one built-to-order for your space.
3. A coffee table
Another essential piece of furniture for your living room is a coffee table. Not only does it provide a place to put your drinks or snacks, but it is also a great way to add some style to the space. When choosing a coffee table, make sure to select one that is the right size for your room and that complements your other furniture.
Keep in mind that there are many different kinds of coffee tables available on the market, so take your time to browse and find one that you love. Two things that I look for in coffee tables are rounded corners (for toddlers and babies!) and storage space (for books, blankets, and anything else you want to keep out of sight yet conveniently close in the living room).
4. Accent chairs
If you want to add a touch of elegance to your living room, consider adding some accent chairs. Accent chairs are not only great for decoration purposes, but they can also be extremely comfortable. You can get an accent chair that matches your sofa (such as a sofa and love seat set, or a sofa and armchair set). Or you may want to choose a comfy chair that contrasts with your sofa.
Again, you'll want to measure the space carefully to ensure that your desired chair fits. Consider adding some pillows to tie the entire living room together—if the sofa and couch aren't the same upholstery, a few matching throw pillows can really help make it all look pretty and planned.
5. A rug
Rugs are a great way to add comfort and style to your living room. When choosing a rug, make sure to select one that is the right size for your room and that compliments your other décor. For example, the rug can be your chance to add a pop of colour to otherwise white walls and plain flooring. Or the area rug can provide a noise-dampening, floor-softening surface for your living space.
Keep in mind that there are many different kinds of rugs available on the market, so take your time to browse and find one that you love. There's no need to break the bank when shopping for a rug, as there are many affordable options available. Of course, don't forget to check how washable the rug is before you buy it!
6. Artwork
Another great way to add some style to your living room is by adding some artwork. Artwork can help to personalize a space and make it feel like your own. When selecting artwork, make sure to choose pieces that you love and that fit the overall style of your room. One interior designer recommended that I chose a piece of artwork around which to style the rest of my home. The artwork can set the tone for style, colour, texture and more for your entire living room.
Keep in mind that you don't have to spend a fortune on the artwork, as there are many affordable options available. For example, many high-quality prints are available online which you can then get framed. You can also print your own pictures on canvas or posters to hang on your walls. It is important to note that you should avoid hanging artwork that is too small or too large for the space, as it can look out of place and make the room feel cluttered.
Why is your living room an important space?
Your living room is an important space because it's where you spend time relaxing and entertaining guests. It's also a reflection of your style, so it's important to make sure that it looks and feels inviting. By following the tips above, you can easily give your living room a modern look that you and your guests will love.
Remember that you don't need to spend a lot of money to achieve this look. There are many affordable furniture and décor options available that can help you create the perfect space. So start shopping and get creative!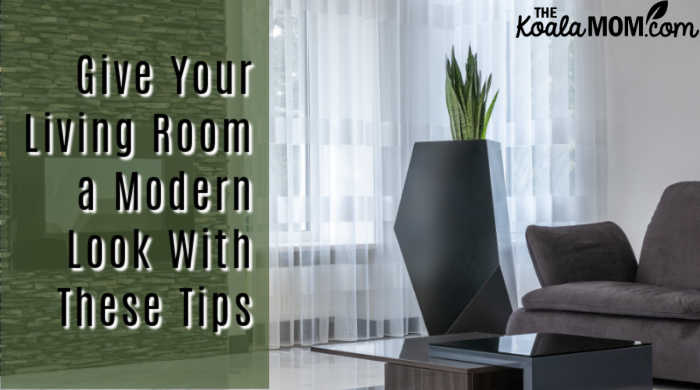 As we saw, there are many different ways that you can give your living room a modern look. By following the tips above, you can create a warm and inviting space that is both stylish and comfortable. So don't wait any longer, start working on your living room today! Good luck!