In today's age of digital technology and social media, one thing commonly happens after you travel – you end up with hundreds of photos from your holiday. Make the most out of these pictures by selecting the best and displaying your vacation photos at home. They will make interesting decorative pieces, which can also be a great conversation starter.
Here's my tips for creatively showing off sharing your last vacation.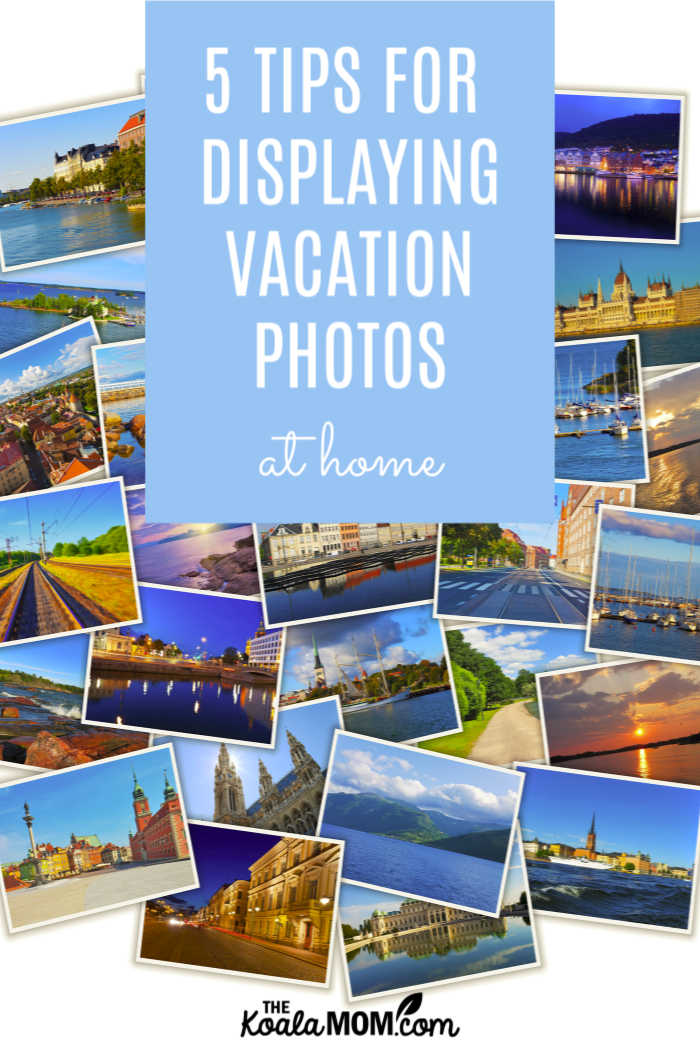 Create a Photo Book
If you have too many photos and you can't decide which ones are best to display, consider creating a photo book. These make great gifts for the person you traveled with (like the Well Gray photo album I made for my mom after camping there with her) or coffee table books (to show off to your guests).
Shutterfly can help you create your photo book. They also have irresistible offers that can make you eligible for free photo prints. Your photo book can be a storybook as well. Arrange the photos chronologically to show what exactly happened during your trip. Make it more special by adding words or photo descriptions.
Print a Big Poster
If you're displaying vacation photos at home while being a minimalist, print a huge poster. Choose the best photo from your recent vacation. Trust your instinct and find one that appeals the most to your emotions. Print it as big as possible without losing the quality of the image. Display it on a blank wall and let the poster do the talking. It does not have to match the décor and other things in the room.
My mom still has the poster I printed for her after we hiked the North Boundary Trail together before I started university. I captured a magical image of Mount Robson and Mount Rearguard reflected in a lake. My local camera shop helped me print the photo in a huge poster. It hangs prominently in her room, a reminder of an amazing mother-daughter trip.
Make a Calendar
A calendar will make your travel memories last all year. You can display the calendar on your own wall or order multiple copies to give to family and friends! My mom and others have made calendars with photos from their travels to share with family members. Choose your favourite 13 photos from your trip to feature in your calendar, or create collages of your photos for each month.
Use Clothespins and Strings
If a gallery wall seems too formal for you, another creative way for displaying vacation photos is to show them off in a clothespin display. If you travel frequently, this makes it easy to update your photos with your latest trip. All you need to do is find a space, lay down some strings, and hang pictures with wooden clothespins. You can make it look more magical and attractive by adding string lights.
Build a Gallery Wall
The problem with photo books is that they can't be easily seen, since they're just lying on a table or sitting on a bookshelf. If you want vacation photos to be more visible, build a photo gallery wall. Simply print photos and display them in clusters. This also gives life to a boring wall.
For your gallery wall, print photos in different sizes. Mind the layout to create a balanced look. Mix and match to add character. Consider printing the photos on canvas for a unique texture. Again, Shutterfly.com can help print your photos on canvas.
Another great idea to add texture to your gallery wall is glass prints. Fracture prints your photos directly on glass for a sleek, modern look. You can mix up sizes and shapes (from square like Instagram to traditional rectangles). Play with what medium your photos look best on, or mix and match canvas, glass prints, and framed photos for a unique gallery.
Don't let your travel photos stay on your smartphone or camera! Consider my suggestions above for displaying vacation photos in your home. Your guests will be envious of all the fun that you had while you were traveling!
What are you favourite ways of displaying vacation photos?