Adding color to your living room can be a fun and easy way to make a big impact. One of the easiest ways to do this is by adding colorful cushions to your furniture. Here are some tips on how to mix and match different colors and styles of cushions in your living room. We will also show you some examples of beautiful living rooms that have used this approach!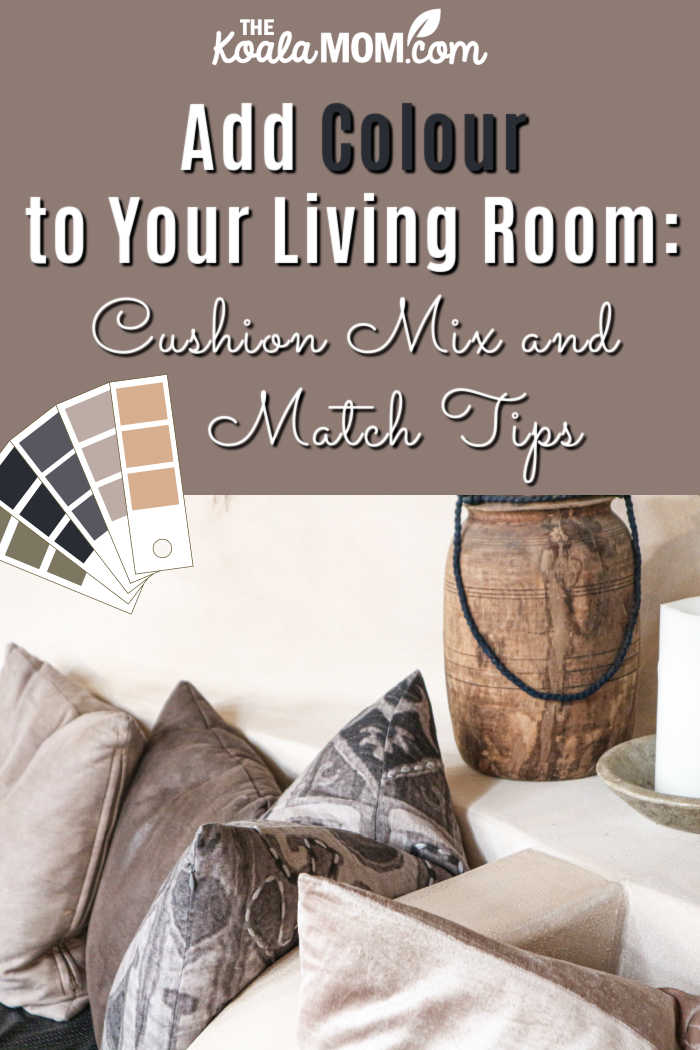 Fun cushion mix and match ideas
To add color and life to your living room, start by mixing and matching different colors and patterns of cushions on your modular sofas, chairs, or window seat. You can even add a pop of color to a neutral room by using brightly colored or patterned cushions. You may want to pick colours preferred by the person who occupies the space most (my teen would want purple!) or change the colours to suit the season (maybe oranges and browns in the fall and greens and reds for Christmas).
Whether it's brown decor ideas or beige furniture, adding a few colorful cushions is an easy way to add personality to your space. You can also use cushions to create a cohesive look in a mismatched room by choosing a color scheme and sticking to it.
Play around with different colors, patterns, and textures
When it comes to adding color to your living room, there are no rules. You can mix and match different colors, patterns, and textures until you find a look that you love. Not sure where to start? Here are a few ideas to get you started:
Try pairing solid-color cushions with patterned ones.
Experiment with different textures, like velvet or suede.
Don't be afraid to mix and match different sizes and shapes of cushions.
Get a few cushions in different shapes—mix round cushions with square cushions.
The key is to have fun and experiment until you find a look that you love.
If you're working with a limited budget, you can always mix and match different colors and patterns to create your own unique style. You can even get creative with how you arrange your cushions – try overlapping them, or grouping them together in threes. And don't forget, you can always use cushions to add a pop of color to your living room without having to completely redecorate.
Create clusters in different parts of the room
Including a few large cushions will add some extra comfort to your room, and you can arrange them however you like. You could create a small cluster on one end of your sofa, or have a few larger ones scattered around the room. Also, if you have a footrest or coffee table, adding a few cushions there can add some extra color and comfort to your space.
Use a pop of color or a bold pattern as an accent cushion
While a solid white or cream sofa is a popular choice for many, it can be a little bland. To add some personality and pizzazz to your space, consider using an accent cushion in a pop of color or bold pattern. This will help to liven up the room and make it more inviting.
If you're not sure where to start, use a color wheel to find complementary colors. For example, if your sofa is white, you could use a green or purple cushion as an accent. Or if your sofa is gray, you could use a yellow or pink cushion.
Make sure  your cushions are comfortable and well-made
One important thing to remember when picking out cushions is comfort. You want to make sure you'll be able to relax on your couch, not fidget because your cushions are too stiff or scratchy. My kids love soft, fuzzy textures, so they gravitate towards that sort of pillow. You could have them help you chose pillows so that there's a few they like and a few you like.
Another thing to keep in mind is durability; well-made cushions will last longer and look better over time than cheaply made ones. It's worth spending a little extra to get cushions that will last.
You'll also want to pay attention to washability. Pillows that are well-used around the living room are bound to get dirty, whether it's just from being tossed about by the kids or an accidental coffee spill while you're enjoying your morning quiet time. Try to check pillow labels when purchasing them to ensure that the covers can be easily removed and washed.
Ask for some help
Even if you think you have a good eye for color, it can be helpful to ask a friend or family member for their opinion before you commit to anything. It's always better to get a second opinion before making any big changes!
Choose a starting point
Once you have an idea of what colors you want to use, it's time to start picking out your cushions. A great way to narrow down your choices is to choose one cushion as your starting point, and build the rest of your collection around it.
You can even make your own throw pillows and cushions! This can be a budget-friendly way to achieve the look and style you want in your living room. Another option is to thrift your pillows. Our local thrift stores always have a huge selection of pillows; it may just take some extra time to find the colours or textures you want.
When it comes to adding color to your living room, there are endless possibilities. But one easy way to do it is with cushions! You can mix and match different colors, patterns, and textures to create a unique look that reflects your personal style. And best of all, you can change up your cushion mix any time you want to give your living room a fresh new look.