Earlier this year we took a field trip to Chipmunk Caves near Chilliwack, BC. A 30-minute hike brought us from the parking area to a small set of caves overlooking the Chilliwack River. The kids had tons of fun exploring the caves and wading in the river.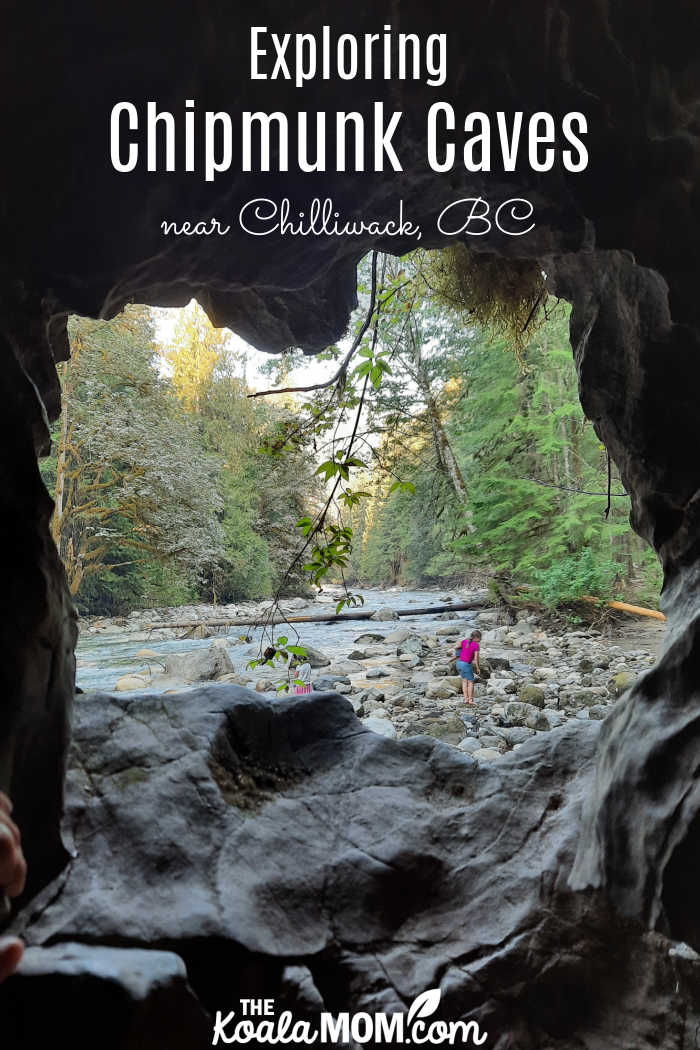 This post contains affiliate links; as an Amazon associate, I earn from qualifying purchases.
Getting There
AllTrails says, "Get to know this 2.1-km out-and-back trail near Chilliwack, British Columbia. Generally considered an easy route, it takes an average of 33 min to complete. This trail is great for hiking, and it's unlikely you'll encounter many other people while exploring." I have the AllTrails app on my phone and found their "navigate" button helpful for finding our way there.
Chipmunk Caves are located near Chilliwack Lake and Lindemann Lake about two hours away from Vancouver. If you are planning to visit the area, I'd suggest doing both hikes (which are relatively short) or planning some time to hang out at the campground's day use area. We drove out just for the Chipmunk Caves Hike, rather late on a Friday afternoon, and packed a supper to eat in the truck on the way.
From Vancouver, take Highway 1 towards Chilliwack. Then you'll turn right onto No. 3 Road through Yarrow. At the roundabout just over the Chilliwack River, stay right to continue onto Chilliwack River Road. This long, fairly straight road follows the Chilliwack River and you'll want to keep an eye out for the little turn-off for the caves. (It may be helpful to take an odometer reading.)
We had no cell service at the Chipmunk Caves, so download any maps or directions before leaving home. The trailhead is just a little parking area at a gate with a sign high on a tree that says, "CAVE PARKING ANY TIME."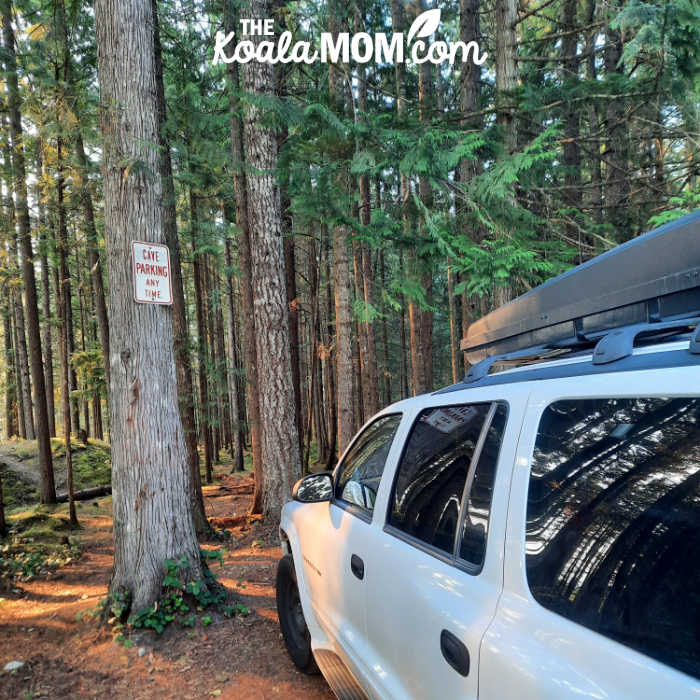 What To Bring
Although hiking this trail was a very spontaneous, last-minute idea, I managed to be fairly prepared for it. Each of the kids had a backpack with their own water bottle and snack. I also found enough flashlights and headlamps (and batteries!) for each of us. The older girls had their hiking boots and the younger kids wore their running shoes. Lily carried my DSLR to take pictures of the hike (several of these are hers).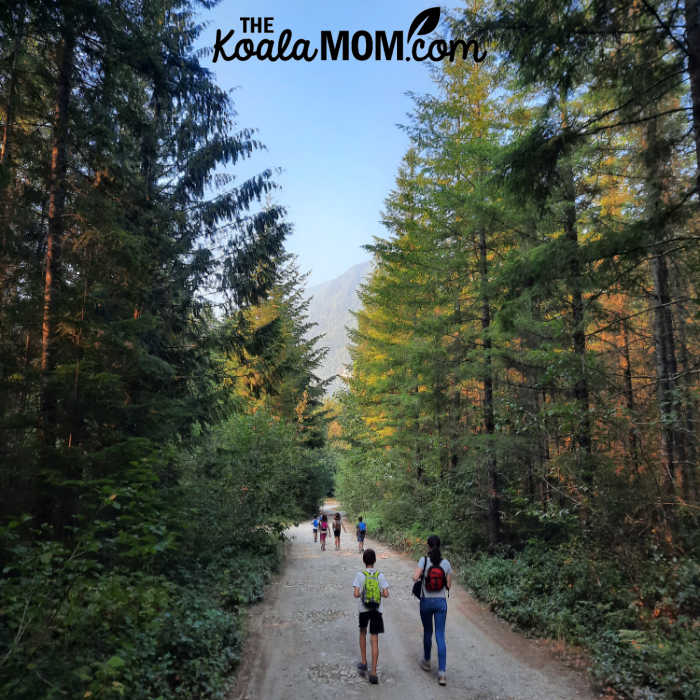 We also brought some friends. I looked up these caves because Pearl was doing a unit study on caves in her Bookshark science. One of the suggested field trips to accompany her reading and experiment was to go caving. I googled caves in BC and came up with a fairly long list, but most of them are located on Vancouver Island or interior BC. The only caves close enough to us were Chipmunk Caves.
As soon as I saw that it was a reasonable drive and an easy hike, I popped into a local homeschool chat to see if any other families wanted to join us. One mom said they were available, and we made plans to meet later in the day. My kids always love hiking with friends. For this hike, we had two moms and eleven kids ages one to fourteen. All of our kids are fairly experienced hikers who've done a lot of daytrips around the lower mainland.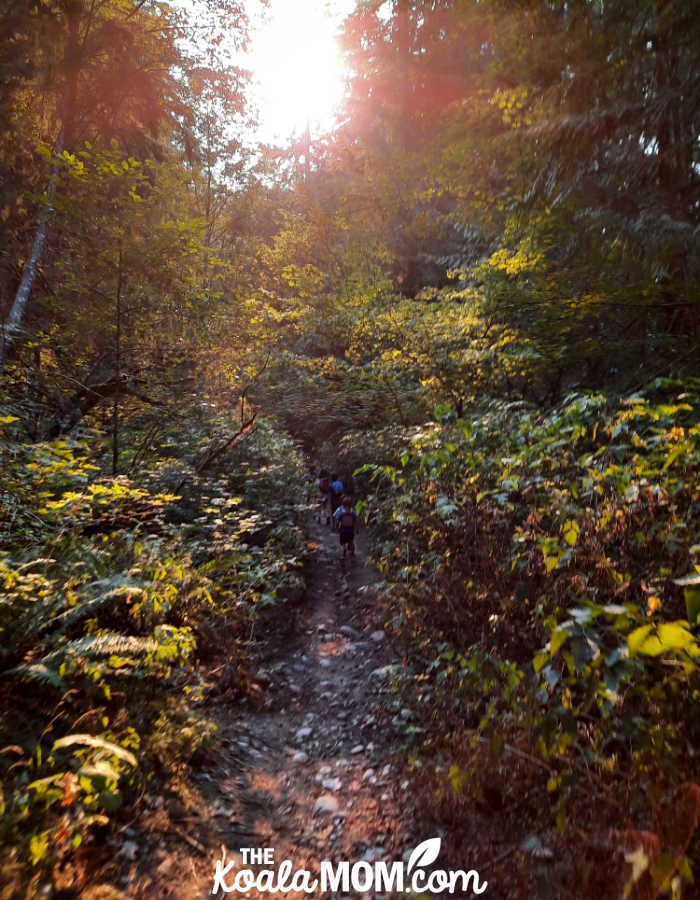 Hiking to the Chipmunk Caves
The trail starts out along an access road which was flat and easy to follow. I had a screenshot of the AllTrails map on my phone, so we were able to avoid a couple side trails and keep following the road roughly straight ahead to the Chilliwack River. There, the trail turned left and became a foot trail that followed the river for a short distance.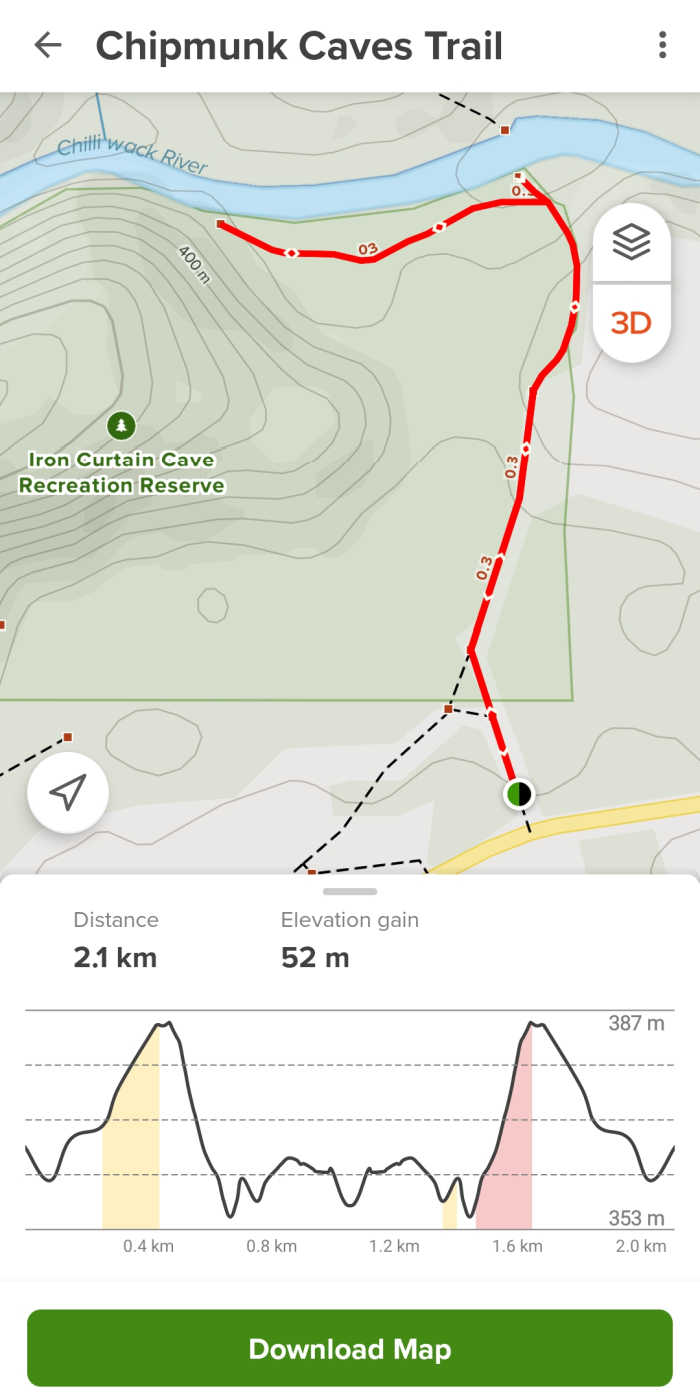 At this point, the kids were so excited that they were running ahead, so I ended up running after them while my friend remained behind with the younger kids.
The trail reached a small tributary stream running into the Chilliwack River and just on the other side of the stream were the caves. The trail had until then been flat and easy, but here the river bank was quite steep and high above the river, allowing for the caves to form. There were some old wooden stairs up to one set of caves, but the stairs were broken and missing in some places.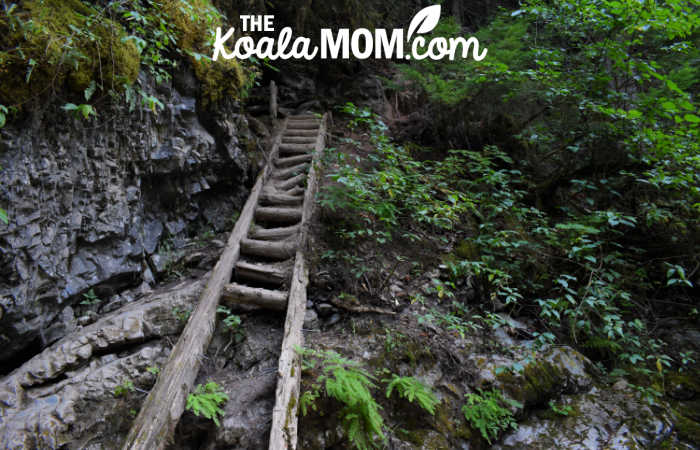 There were quite a few places where the kids could scramble up and explore the caves. They didn't really need their flashlights or headlamps as the caves were pretty open and large, but they had fun shining their lights into dark corners anyway. Two "chimney" areas of the cave were fun to look through with the flashlights, and a few of the kids tried sliding through them.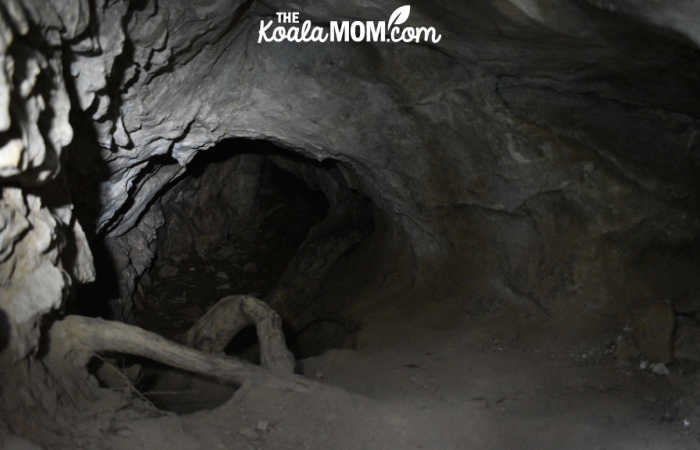 At the top of the stairs is one entrance to the cave. From there, the narrow trail continues along the riverbank to a second cave entrance and then up past that entrance. We didn't follow it much further past the second cave, as I couldn't see where it went, and it didn't seem very safe for the younger kids. In a few places, the trail was starting to erode so we had to be very careful there.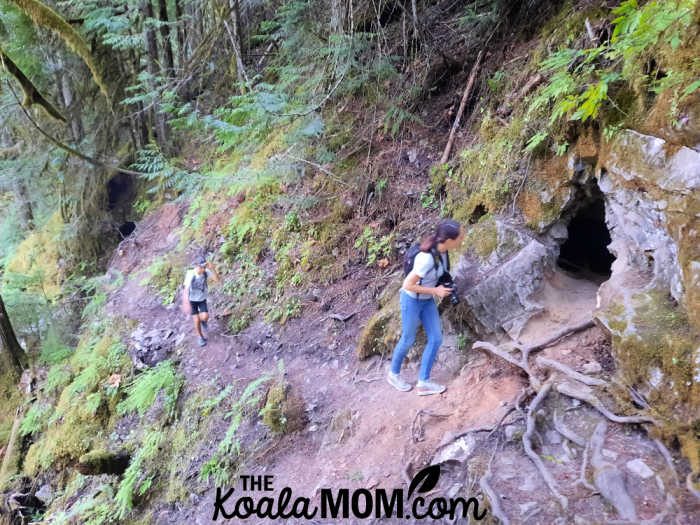 The kids had a lot of fun climbing all around the area, whether inside the Chipmunk Caves or out. They enjoy this sort of exploring and there were plenty of rocks and roots to hang onto as they checked for new entrances to the caves. As I mentioned, my kids and their friends are experienced hikers, so I wasn't too worried about them as they explored. I reminded the kids to drink some water, but they were having too much fun to stop for snacks.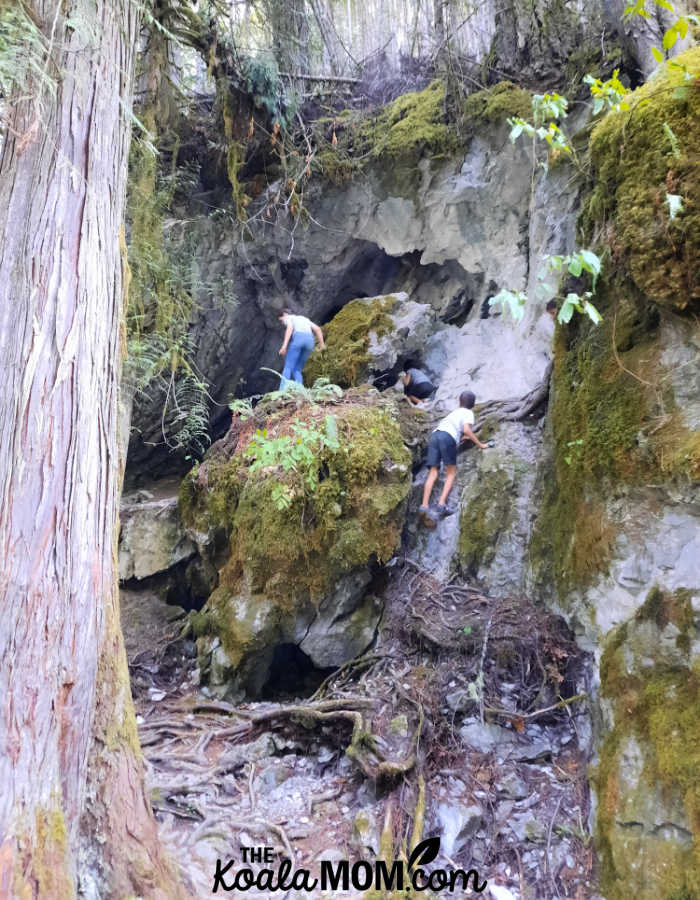 The main cave was big enough that all eleven kids could sit in it and hang out together. There were smaller areas of the cave, if they wanted to scoot back into little nooks and crannies, but there wasn't anything too dark or dangerous there. I did remind them to watch their heads as nobody was wearing hats or helmets. It was easy enough to climb up to that cave from the little stream.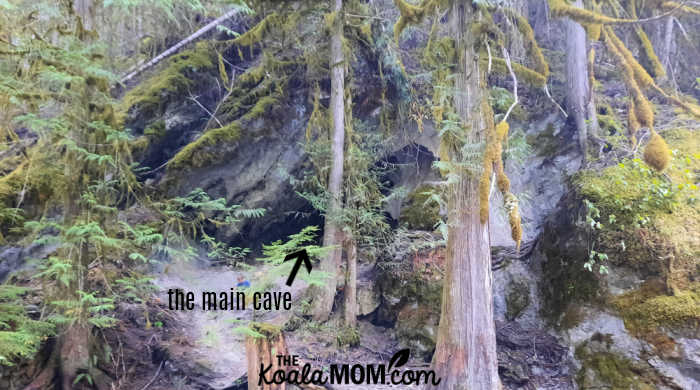 A tunnel (big enough for me to scoot through) connected that cave to the trail at the top of the broken steps. So it was easy enough to explore the caves without using the steps. Another cave was further down the trail from the top of the steps; several of the kids piled into it at the same time, but it was narrower and didn't go very far into the riverbank.
Below the trail, just above the Chilliwack River, was a third smaller cave with an old rope hanging in it. Maybe someone had used it to climb further into the cave, but we didn't trust the rope and didn't follow it.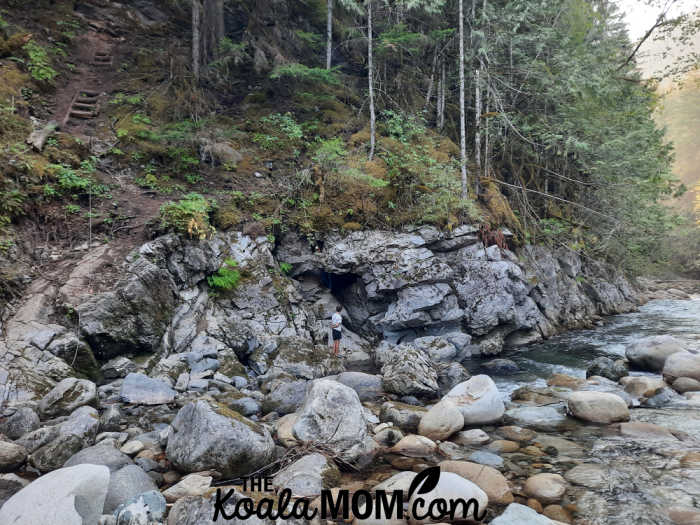 Overall, the kids had a lot of fun clambering around the rocks and trees, finding caves and holes in the riverbank. They probably would have spent several hours there, but we were losing daylight, so we called them back and hiked back to our vehicles. We drove home with a lovely sunset.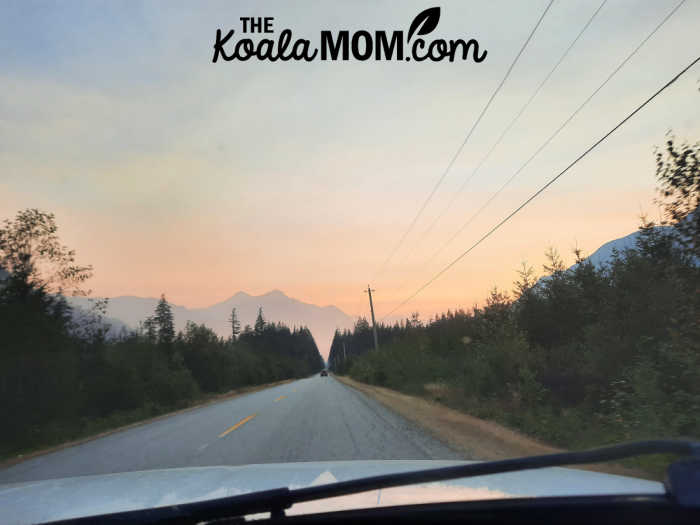 Looking for more hikes your kids will enjoy around the lower mainland? Check out my list of Family-Friendly Hikes around Vancouver!