For Valentine's Day this year, I thought I'd make a list of truly romantic country songs—the songs that talk about the ups and downs of real love, of loving for the long-term and not the short-term, of sticking it out and falling deeper in love with each other.
I grew up listening to country music and still like the sound of guitar strumming. These days, however, I don't turn on the country radio very often. It seems like many of the songs are about break-ups and angry exes and one night stands. Even on a CD of love songs my husband bought me back when we were dating, many of the songs were about unrequited love or lost love. That's not very inspiring or encouraging for married couples.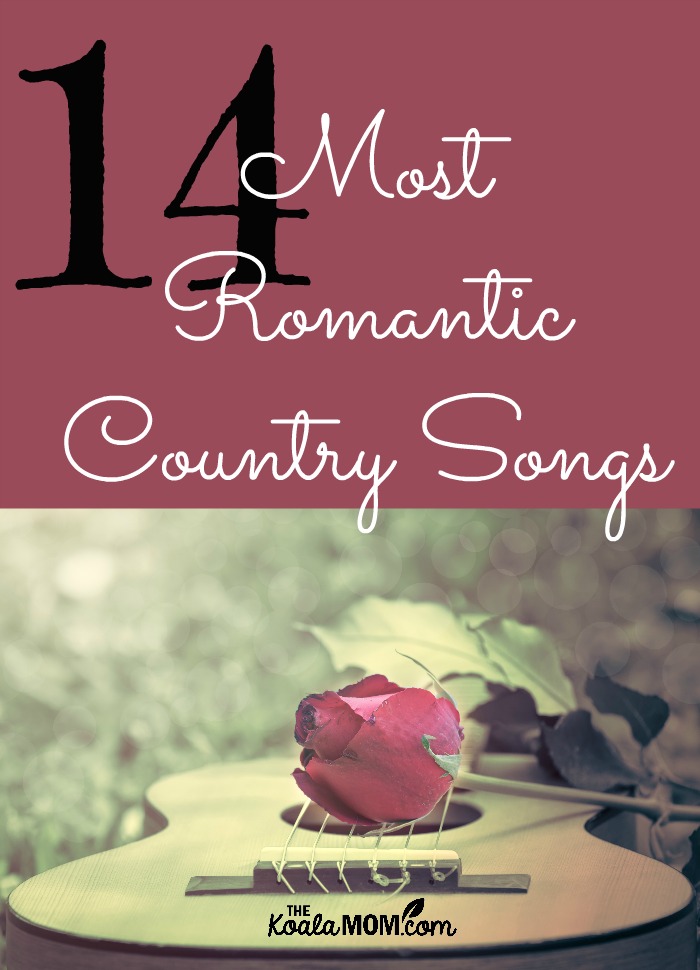 Here, in no particular order, are my 14 most romantic country songs—no lost wives, girlfriends or dogs among them.
Lord knows we've had our share of fights
Our sleepless nights, our ups and downs.
We've had plenty and then some of "baby I'm gones" and turnarounds.
Sometimes I swear it might be easier to throw in the towel.
Someday we're gonna look back
Say look at us now.
She likes it when I sing her old silly songs
And throwin' words where they don't belong
Sometimes we laugh 'til we almost cry
Doin' what she likes
I'm gonna love you forever, forever and ever, amen
As long as old men sit and talk about the weather
As long as old women sit and talk about old men
4. Josh Turner—"Your Man"
Baby lock the door and turn the lights down low
Put some music on that's soft and slow
Baby we ain't got no place to go
I hope you understand
Remember when we vowed the vows and walked the walk
Gave our hearts, made the start, it was hard
We lived and learned, life threw curves
There was joy, there was hurt
Remember when
These times are troubled and these times are good
And they're always gonna be, they rise and they fall
We take 'em all the way that we should
Together you and me forsaking them all
Through the years
When everything went wrong
Together we were strong
I know that I belonged
Right here with you
Through the years
I never had a doubt
We'd always work things out
I've learned what love's about
By loving you
Through the years
Looks like we made it
Look how far we've come, my baby
We mighta took the long way
We knew we'd get there someday
9. John Michael Montgomery—"I Swear"
I'll stand beside you through the years
You'll only cry those happy tears
And though I'll make mistakes
I'll never break your heart
10. Blake Shelton—"Austin"
She heard but she couldn't believe
What kind of man would hang on that long
What kind of love that must be
I keep a close watch on this heart of mine
I keep my eyes wide open all the time
I keep the ends out for the tie that binds
Because you're mine, I walk the line
I cross my heart and promise to
Give all I've got to give to make all your dreams come true.
In all the world you'll never find a love as true as mine.
 13. Brad Paisley—"Then"
We'll look back someday
At this moment that we're in
And I'll look at you and say
And I thought I loved you then
Cause I'm keeping you
Forever and for always
We will be together all of our days
Want to wake up every
Morning to your sweet face, always
Set up a YouTube playlist (check out the links in the song titles) and plan a romantic evening with your spouse. Make some sweet treats for him or grab a bottle of her favourite wine. Put the kids to bed and dance in the living room. Bring the music in your vehicle and go for a drive together. Celebrate each other and your love this Valentine's Day.
Do you and your husband have a special song? What are your favourite romantic country songs?