St. Therese of Lisieux is one of the world's most popular saints, and with good reason. This precocious girl who entered the convent when she was only a teenager and wrote her memories before her death in her early twenties also inspired many of us with her childlike faith. Now, children can learn more about St. Therese and be inspired by her life through a beautiful graphic novel: Therese of Lisieux: Loving Is Giving Everything Away.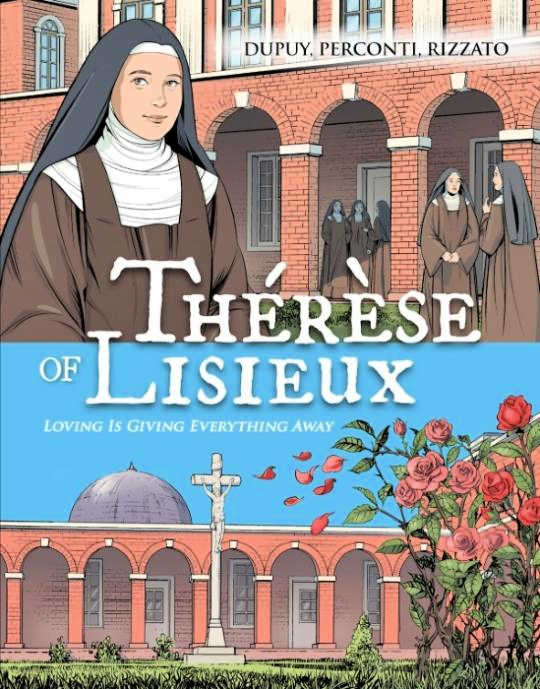 I received this novel courtesy of the publisher; all opinions expressed are my own. This post contains affiliate links; as an Amazon associate, I earn from qualifying purchases.
Beautiful Illustrations Tell the Story
The cover illustration gives a glimpse of the level of detail in this beautiful graphic novel. It wasn't a paperback-sized book as I expected, but rather more like a hardcover children's picture book. The story begins in Bayeux in March 1898, when Therese's older sister presents the local bishop with her memoirs. On the next page, we see Therese kneeling in prayer, then getting up to begin writing about her life, as per her sister's request.
Childhood of a Saint
Therese of Lisieux shows her childhood in a loving, close-knit family. Questions of faith are woven through the stories. Therese's father gives her alms to share with the poor and she hears her sister plan to enter the convent. One of my favourite pages is the miracle of Therese's recovery from an illness. The picture of the Mary statue which smiled at her practically glows from the page.
I think children can connect with the ups and downs of Therese's life. Other girls at her school judge and exclude her; she loses her mother at a young age; she gets sick. Her family goes on a pilgrimage to Rome and Therese's deep faith is shown in her prayers and desire to follow her sister into the convent. Here, she puts up with criticism of her work and a bickering older nun, and yet also shows joy at being where she is.
Do you recall the horse we had to go under when we were little because he blocked our way? Well, to approach Jesus, it's the same thing! You have to be small! The Beloved needs neither our brilliant works nor our beautiful thoughts. He cherishes simplicity. ~ Therese to her sister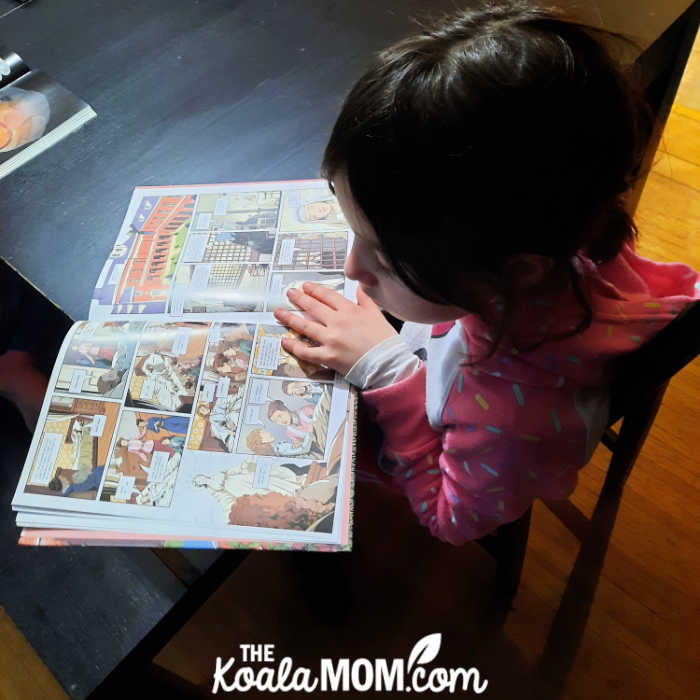 Faith Lessons from St. Therese of Lisieux
Therese of Lisieux also shows the power of prayer. From her small home, Therese prays for a condemned criminal, and sees him repent before his execution. From the convent, she prays for a seminarian, and later meets the priest, who shares how her prayers affected his vocation.
At the end of the graphic novel, a page of photos shows Therese as she actually was in real life. These photos clearly inspired the drawings, which capture Therese's beauty and emotions with great detail. This is truly a book where the pictures tell as much of a story as the words do, making it accessible for beginning readers who wish to learn more about this amazing saint.
Therese's "Little Way" consists of trust and love. This path of abandonment in Jesus' arms requires an open heart that lets itself be won over by the joy of the spirit of childhood. In this absolute trust in the love of the One who can do everything, St. Therese went through the trials of life and pursued her missionary desire to love Jesus and make people love him. ~ Father Olivier Ruffray, introduction
Therese of Lisieux is a beautiful novel that draws children deeper into the life of an inspiring, relatable saint. It would be a perfect First Holy Communion or Easter gift for your child, grandchild or godchild. This graphic novel is available from Sophia Institute Press, Amazon, and your favourite Catholic bookstores.
If you love St. Therese of Lisieux as much as we do, you may also want to read The Lacemaker, a novel for moms about Therese's mother, St. Zelie, or pick up All You Holy Women, Pray for Us, a beautiful board book for younger children. The whole family can learn about St. Therese together!