One of the hard parts of being a mom to a busy preschooler is keeping him busy in productive rather than destructive ways. Left to his own devices, he tends to empty the toothpaste tube into the sink or redecorate the walls with pencil. Thankfully, the Lovevery play kits help redirect his energy into creative exploration. Joey enjoyed his Problem Solver play kit so much that I couldn't wait to order the Analyst for him.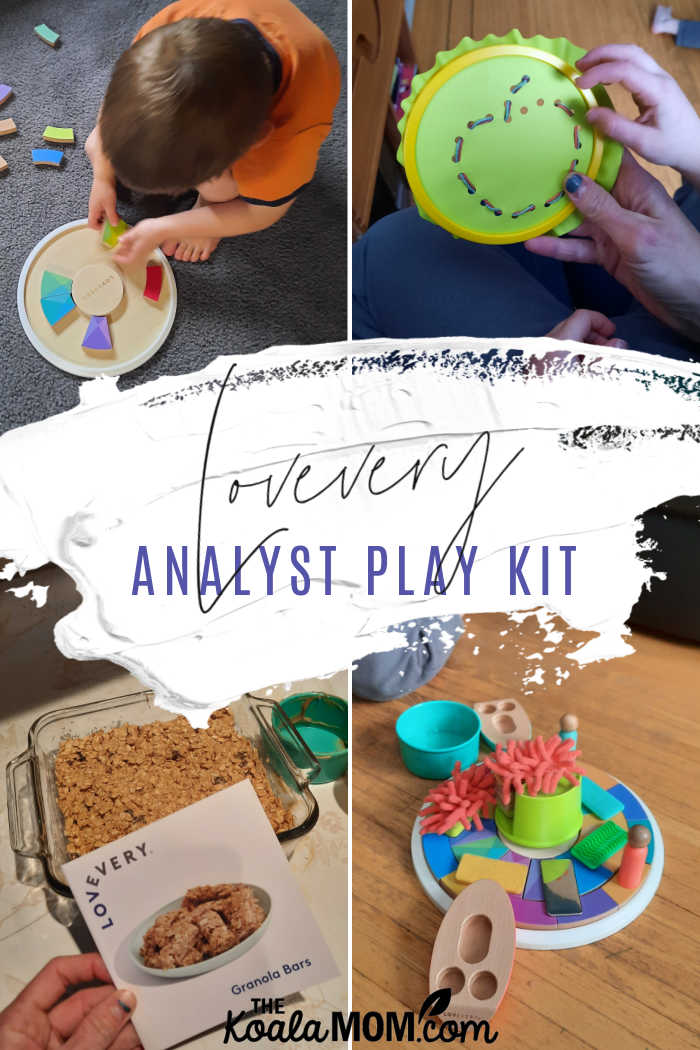 I received this play kit for review courtesy of Lovevery; all opinions expressed are my own. This post contains affiliate links; as a Lovevery affiliate, I earn from qualifying purchases.
What's in the Analyst Play Kit?
The Analyst play kit is targeted for kids ages 46 to 48 months and arrived just before Joey's fourth birthday. It includes:
sensory box
colour matching puzzle
first sewing kit and sewing guide
pattern match boats and cards set
stackable fraction cups
3 recipe cards
play guide
and a book about fractions and cooking.
Because our children are developing their own set of interests, it can take longer to build a particular set of skills. One child might spend a lot of their time on puzzles, while another prefers to jump, run, and roughhouse, or play family with a stroller. Children get better at what they practice, so some skills may come faster than others. It all part of becoming who they're going to be. ~ The Analyst play guide
One thing I've noticed about great toys is that they encourage creative play and appeal to a wide range of ages. Once again, Joey's older sisters were happy to help him explore his new toys. They want to get out this play kit just as often as he does. And while the play kit offered some suggestions for how to play with the toys, the kids had their own ideas. The little boats soon set sail on their own adventures, outfitted with supplies from the sensory box.
Pattern Match Boats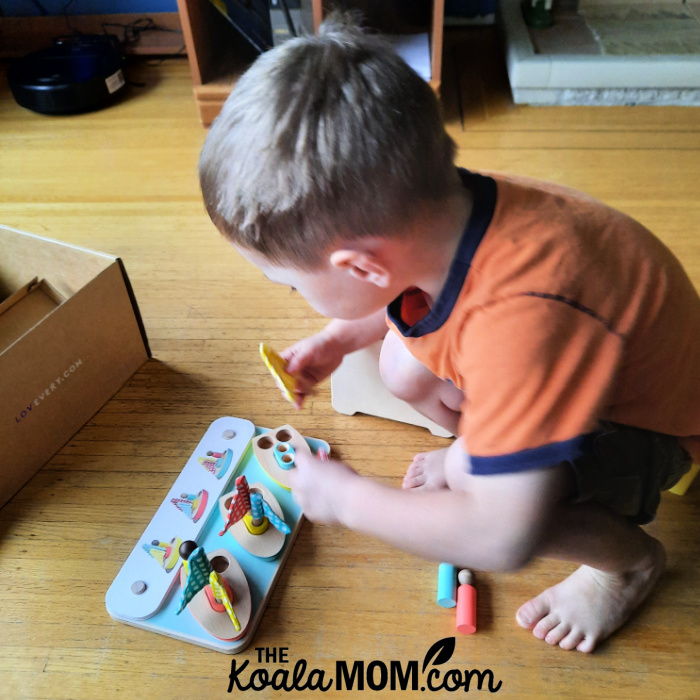 The pattern match boats can be used as a 3D puzzle or for creative play. In the puzzle, the child chooses one of the cards to place at the top of the board, and places the three boats on pegs below the cards. He then attempts to place the flags and peg dolls in the boat to match the pattern on the cards. There are several cards, so kids who like puzzles can change the card once they get a match correct.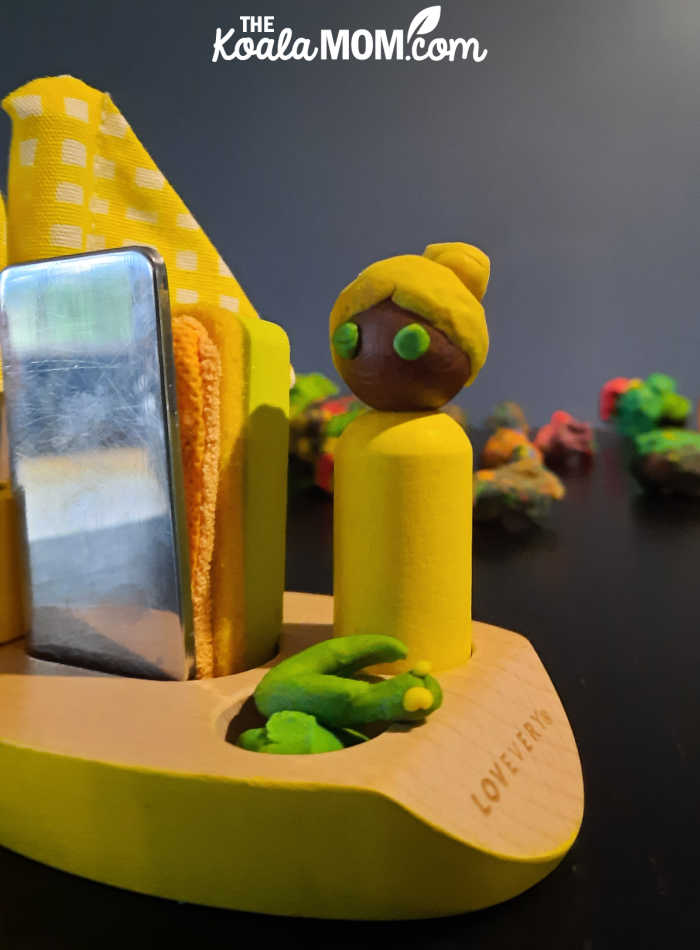 More often, though, Joey and Pearl outfit their peg dolls with supplies from the sensory bin and set sail across the ocean of their imaginations. They even used plasticine to give their peg dolls hair, faces, and pet lizards for the trip. Sometimes, they match colours (e.g., Joey might have the blue boat and peg doll and accessories, while Pearl gets the yellow ones) and sometimes they mix it up.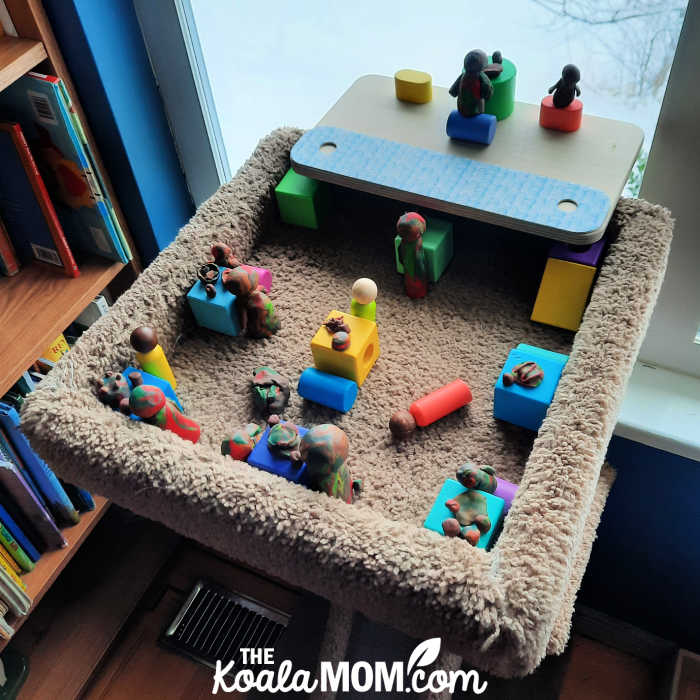 I have had fun listening to the adventures of the peg dolls in their wooden boats. Sometimes they go camping, crossing the lake of the living room to beach their boats upon the mantle and set up their tents. At other times, they've visited the cat tree restaurant to dine one burgers, waffles, and other favourite fare. Here they are joined by some plasticine friends and tables made from the Lovevery Wooden Block set.
Fraction Cups & Recipes
One of Joey's favourite things to do is help me bake. A great way to turn around a bad day and redirect some negative energy is to suggest we make cookies or muffins. Joey was thus delighted to have his own set of stacking cups in the Analyst play kit. These cups show the differences between one, half, quarter and third.
The first recipe we tried from the recipe book was for granola bars. Granola bars are one of Joey's favourite snacks so he couldn't wait to mix them up himself. This is also the recipe featured in the story in Quarter, Half and Whole. In this story, a little boy makes granola bars with his dad. Bright, fun photographs accompany the rhyming story about mixing together the ingredients and eating the snack afterwards.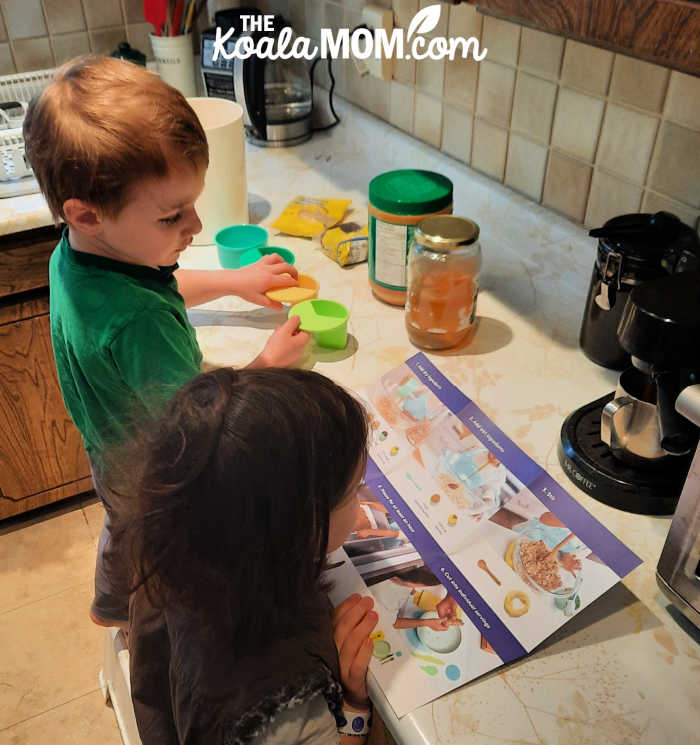 Each recipe is printed on a sturdy, fold-out recipe card. One side lists the ingredients and equipment needed and offers tips for parents. Inside, the recipe card has step-by-step instructions with photographs showing what to do. Pearl read the steps aloud while I helped Joey measure, pour and mix the ingredients together.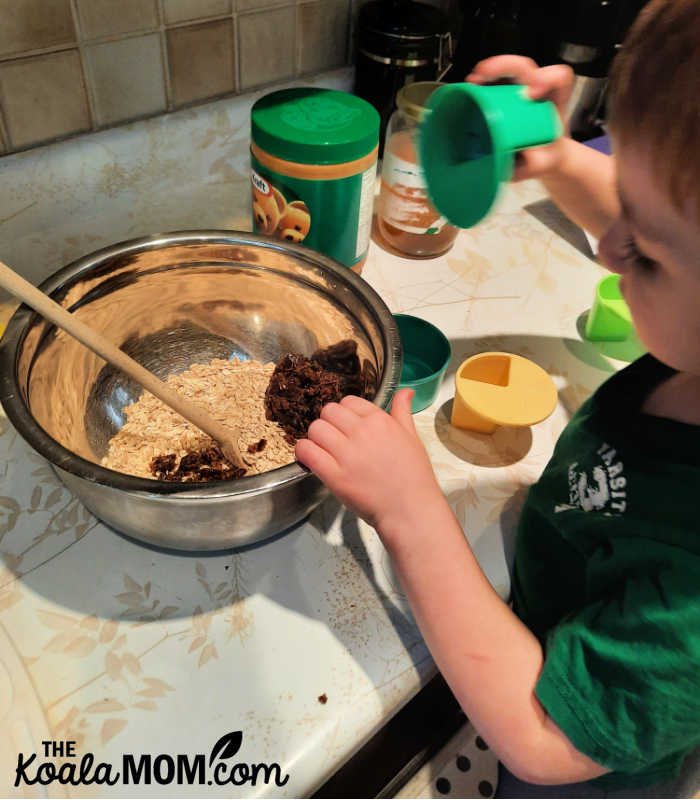 Joey needed a little help stirring the granola bars together once we'd added the peanut butter and honey. He was really pleased to use his measuring cups for the recipe. Granola bars are a very forgiving, flexible recipe to follow for first-time cooks and bakers. We stuck to the recipe this time, but I could see changing it a little bit next time we make it—perhaps using nuts or chocolate chips instead of dates.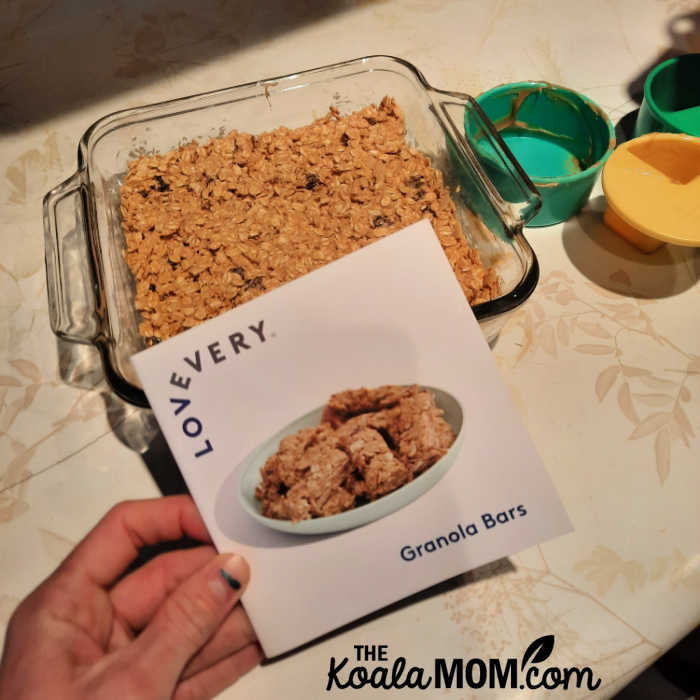 Baking is a great way to introduce kids to fractions. The fun tips and recipes included in this play kit make fractions interesting and matter-of-fact for preschoolers, rather than scary and daunting. I can see how playing with these cups now will help set Joey (and Pearl!) up for a better understanding of these concepts when they begin learning about them in math (in about grade 2 in our curriculum, I believe).
First Sewing Kit
Fine motor skills are important for preschoolers. This allows them to move from playing with bigger, chunkier toys to doing things like holding a pencil and writing as they head towards school. Drawing, colouring and cutting are great ways to practice fine motor skills; so is sewing. The Analyst play kit includes a preschooler-friendly first sewing kit with a fat needle, strong thread, sewing frame, and pre-punched patterns.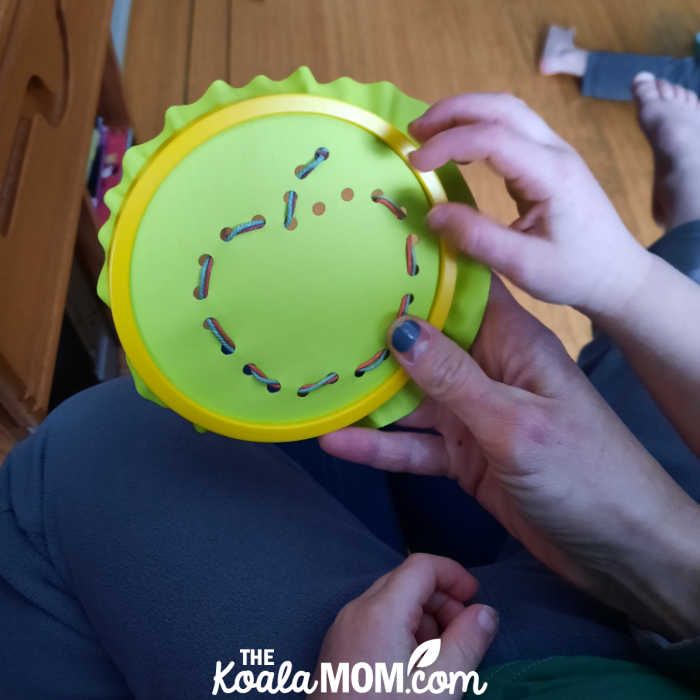 Pearl and Jade wanted to try this out as soon as Joey opened his play kit. They stitched away at each pattern independently once I'd helped them thread the needle. It was a little later that Joey wanted to try sewing for himself. There's plenty of thread included in the kit, but I've had the kids unstitch each pattern after it's sewn and simply reuse the same thread we currently have on the needle.
I held the frame for Joey and helped remind him which side to insert the needle on (to avoid tangling it around the frame). He really enjoyed poking the needle through the fabric and seeing the pattern he was making with the tread. One of the patterns is an apple, another a flower, and a third a spiral. A little instruction books includes some other patterns that can be sewn on these patterns.
As I really enjoy sewing myself, it was a lot of fun to introduce my younger kids to sewing in a safe, fun way. We've had other lacing kits that use shoelaces and don't have needles. This kit takes the notion of sewing a bit further by making it look just like the way I sew with a needle and thread. The needle is large and dull, perfect for small fingers, and the holes in the fabric make it easy for children to learn how to poke it in and out as they sew their design.
Colour Matching Puzzle
The Analyst play kit includes a wooden puzzle, just like the Problem Solver did. This wooden puzzle involves colours rather than shapes, inviting children to create a colour wheel. Colours are something Joey is fairly keen about; green is his favourite, as he frequently lets us know around suppertime when he wants the green cup instead of the yellow one.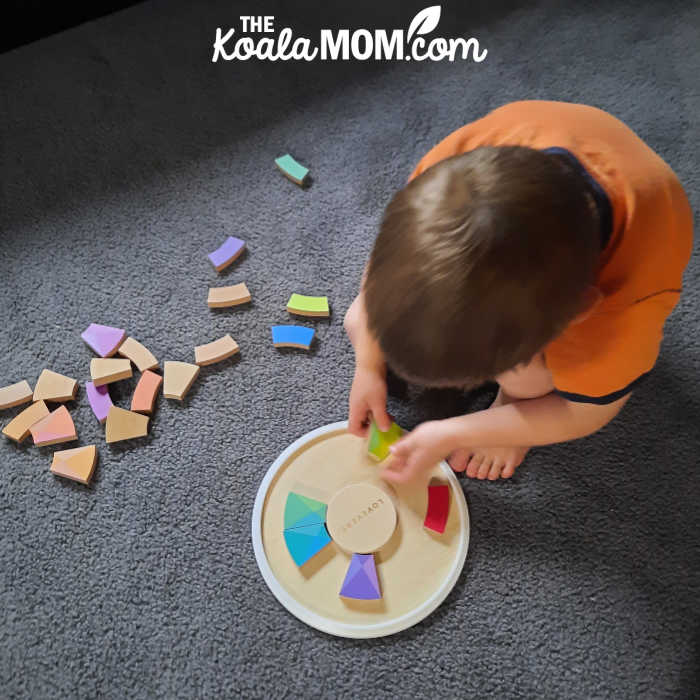 One time, I tried to put the colour match puzzle away quickly, just matching the outside and inside shapes without bothering to match the colours. Joey quickly corrected me; purple cannot go beside green. It was fun to watch him finish the puzzle. Sometimes I think he shows little interest in typical preschool topics like numbers, letters, shapes and colours, and then he surprises me by something like this.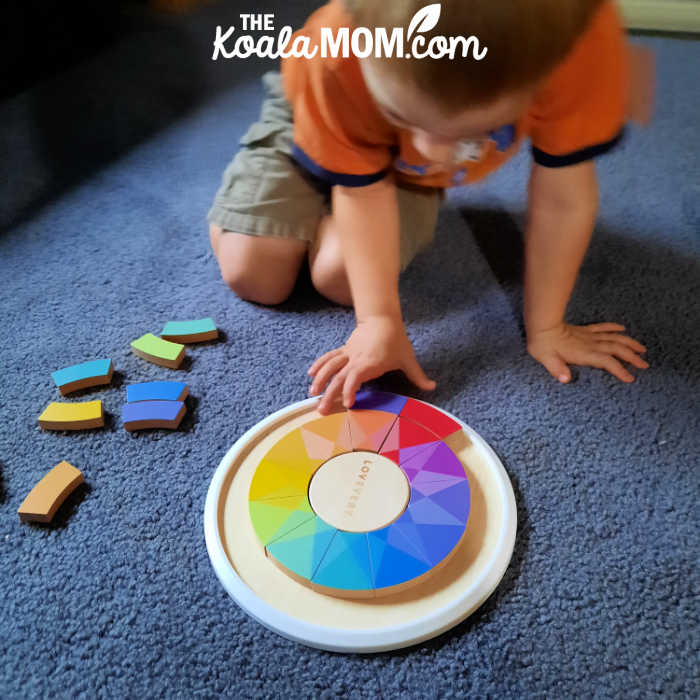 Final Thoughts on the Analyst Play Kit
Once again, Lovevery has put together a high-quality, thoughtful, educational, fun play kit for preschoolers. The toys in this kit are brightly coloured and engaging, offering hours of structured and unstructured play for kids of a variety of ages. Joey has enjoyed the puzzles and activities recommended and has also had fun coming up with his own games to play with his older sisters.
I love how the toys in this box are targeted to a variety of ages and foster fun, independent play while also providing learning opportunities for my children. The play guide explains some of the milestones your child may hit during this time and some of the ways that this play kit meets their learning needs. However, the learning activities are so fun that Joey and his sisters think they are playing when they open the box and get out the toys.
If you have preschoolers in the house, I highly recommend checking out the Lovevery play kits. These are the kind of toys that will last through multiple kids and maybe even get saved for the next generation to play with.
If you have younger toddlers, check out the Babbler Play Kit and Organic Cotton Tunnel for one-year-olds, reviewed by C.H., a friend of mine and a seasoned mom of 6 children.