TKM contributor and seasoned mama C.H. recently reviewed Lovevery's Babbler Play Kit and Organic Cotton Tunnel. As I've tried out other Lovevery products with my preschoolers, I was very excited to hear what she thought of the play kits for younger kids. If you have a toddler approaching a first birthday, read on to find out what this toddler thought about his new toys!
What I wish I knew as a first time mom: so many things. LOL.  It is a long list of things I have discovered over the years of transitioning from no children to now 6 beautiful kiddos.
Lovevery has several different play kits for babies under a year right up to 3 years old. The Babbler play kit is meant for babies 13 to 15 months. We were also blessed to be able to receive for review the Organic Cotton Tunnel.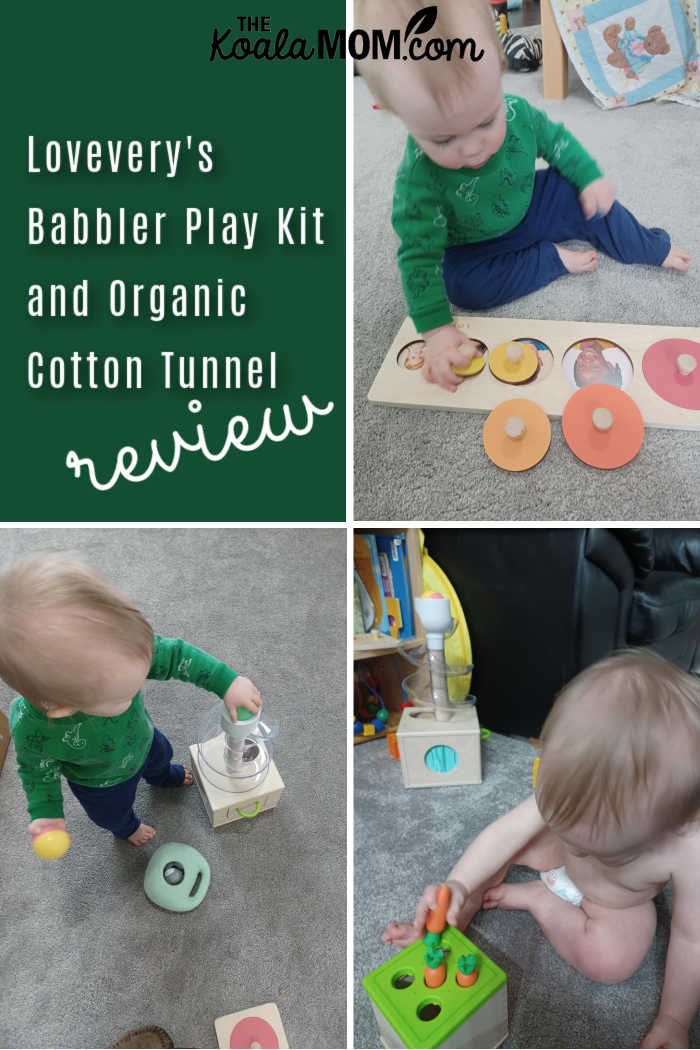 C.H. received this play kit for review courtesy of Lovevery. This post contains affiliate links; as an affiliate, I earn from qualifying purchases.
The Babbler Play Kit includes:
Slide & Seek Ball Run
Flexible Wooden Stacker
Wooden Coin Bank Set
Carrot Lid with Carrots for Coin Bank
Coin Lid and Coins for Coin Bank
Posting Lid for Coin Bank
Bedtime for Zoe board book
Bunnies in a felt throw burrow
Play Guide for Months 13, 14, 15
Circle of Friends Puzzle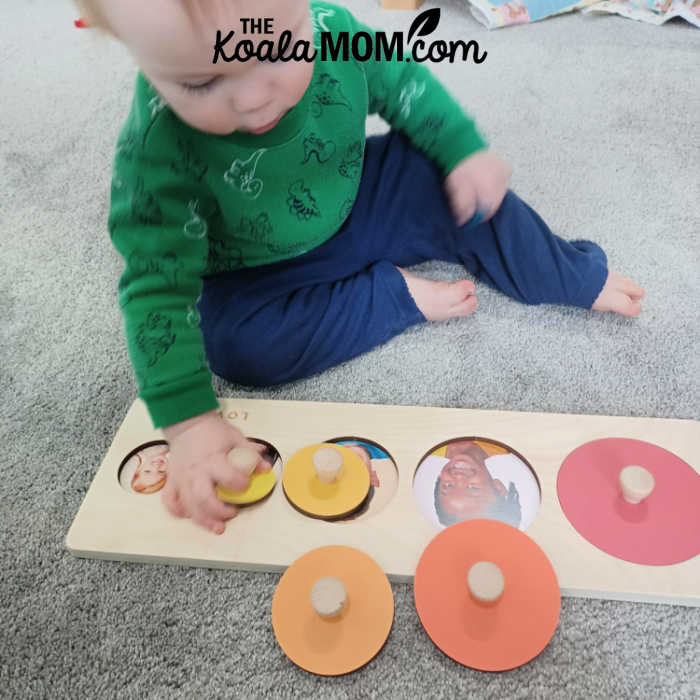 Is a Play Kit Worth the Money?
In the past, when I had seen these types of kits advertised, I thought they looked nice, but too expensive. I am so glad I got this opportunity to try a play kit, as my perspective has totally changed. I didn't realize what I was getting for the price.  I didn't appreciate the quality, nor the amount of use this kit would receive. It is not one toy being shipped; it is a few stages of development being shipped your way, which will replace almost all the toys in the house easily.
As our family has grown and changed, I have discovered that to survive the chaos, there is a mantra so vital to any and every household with children, whether that is one or ten children. It is simply this: Less Is More!
We have at various times had huge toy boxes filled with toys to keep the kids entertained and hopefully distract them from getting into things I didn't want them getting into (like every cupboard and drawer in my kitchen). It is tiring picking up after busy babies and toddlers, even if it is just toys and not constantly reorganizing your cupboards! And that big box of toys inevitably means lost pieces and components and little pieces all over the house to hunt down.
Lovevery seems to have a good solution to this issue with their toy shelf. I love the concept.  They have a shelf in the front so you can display the current favourites, and a chest in the back to store the items you don't want out at that moment. You can alternate them to keep baby entertained at every stage.
Lovevery Toys Hold a Child's Interest
The delightful thing I discovered while observing my son test out the Babbler Play Set and Organic Cotton Play Tunnel is that these toys kept his interest. He has played with them for long periods of time and comes back to them time and time again. We received them about a month ago, and he is still playing with them.
As promised by Lovevery, I see new skills developing, and I see the way he uses the toys evolving as he learns new skills and discovers different ways to use them. A great example of this is the Slide & Seek Ball Run. The first time he played with it, it was all about the balls, which double as shakers we found out—that was the first use my baby thought of.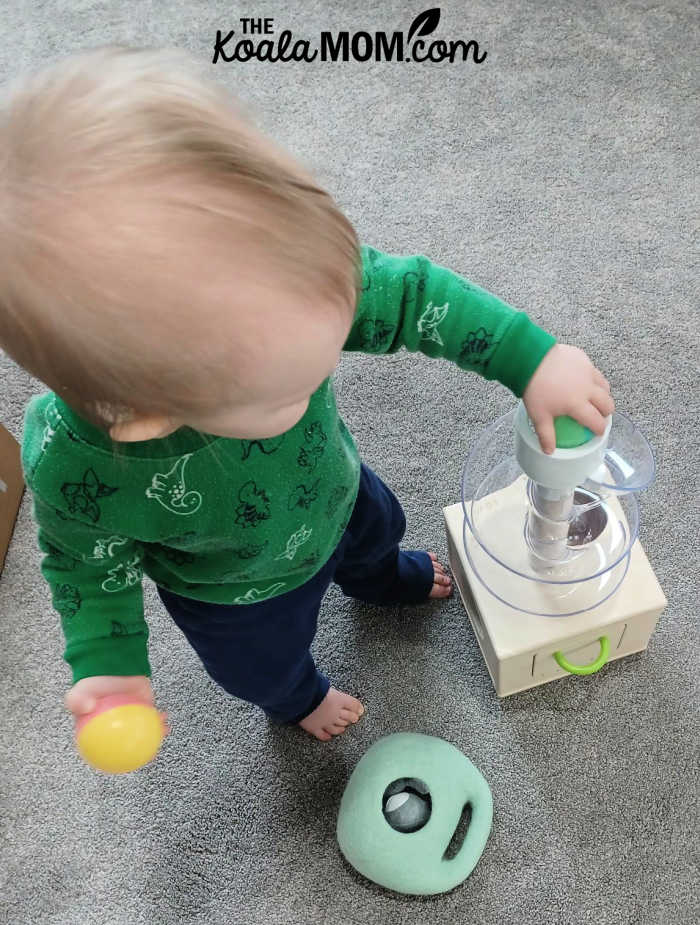 I put one ball on the top and pushed it down, and down the slide and into the box at the bottom it went. I opened the door to show him the balls inside so he could collect them. Instead, he went through the hole on the top where the ball had entered.  Over time playing with this toy, though, I have seen his thought process evolve, and he has mastered removing the ball from every different style of opening on all four sides of the base.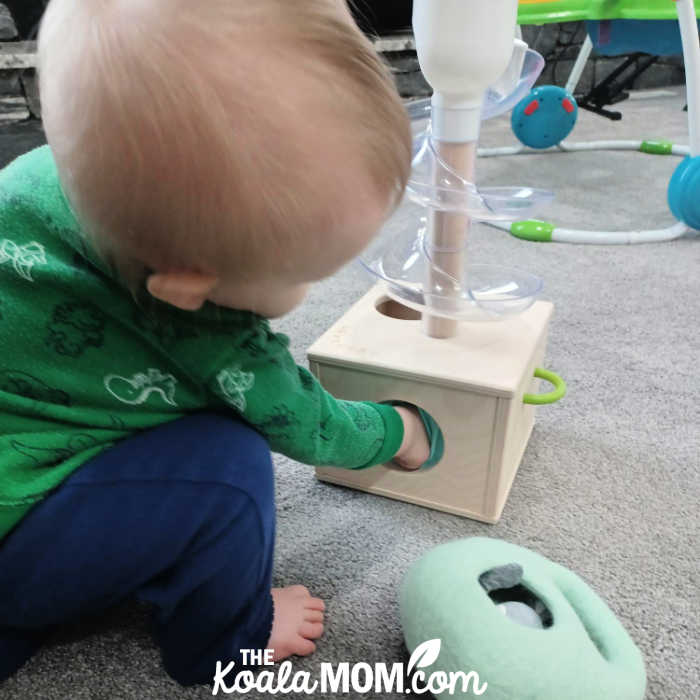 With this item and with the Wooden Coin Bank Set with its alternate lids, and the other gems this kit has to offer, I see the care and careful consideration Lovevery put into their toys. I see my son learning, and developing his thought processes and fine motor skills. These are truly educational toys, and at the same time, among his favourite toys!
At 14 months, he can use the carrot lid for the coin box with the carrots without help, even if the carrots are put in upside down, but the coin slot and the large wooden coins still need a little assistance to line them up so they fit in the slot.  We haven't tried the posting lid yet as he is so happy with the other two and still developing skills, but am sure glad it comes with one.
These toys have a long life span in terms of quality with thick and solid construction, because they continue to adapt to the stage he is at and offer new challenges and ways to explore, but also because he still likes them.  That is the biggest key, he still likes them and uses them!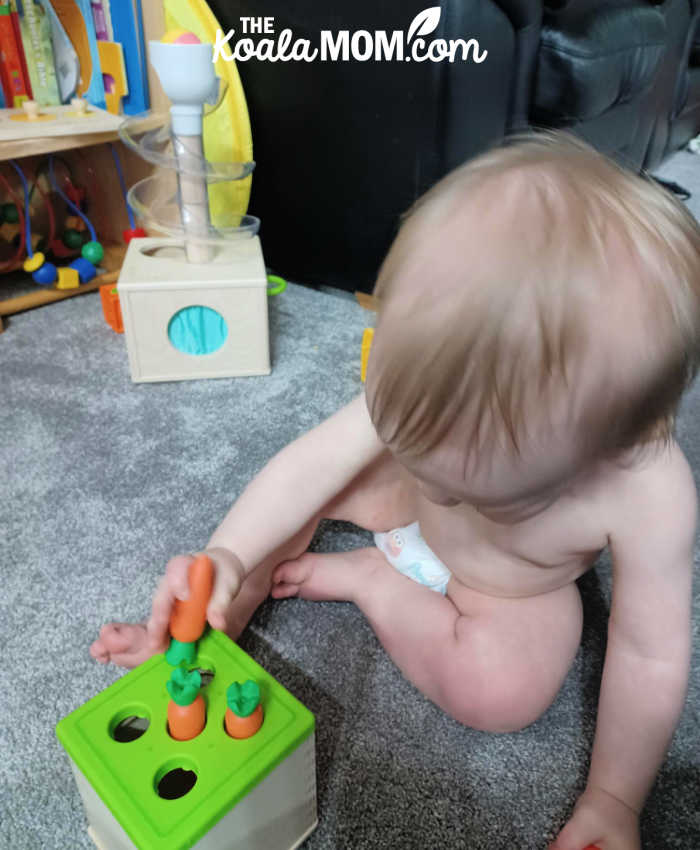 Older Siblings Teach Younger Siblings
The interaction between siblings has been so fun with these toys as they get involved in showing my baby how to use them.
When playing together, they especially like the Organic Cotton Tunnel. All it took to get my littlest boy to brave the tunnel was a smiling face at the other side. This experience quickly turned to giggles and squeals of delight.  When not in use, the carrying pouch with handles makes it so easy to pack up and bring with you if you like to show Grandma or friends the fun. I love that it is a breathable fabric like cotton and the way it holds closed uses cords and buttons rather than Velcro. The quality is really outstanding.
Final Thoughts on Lovevery Play Kits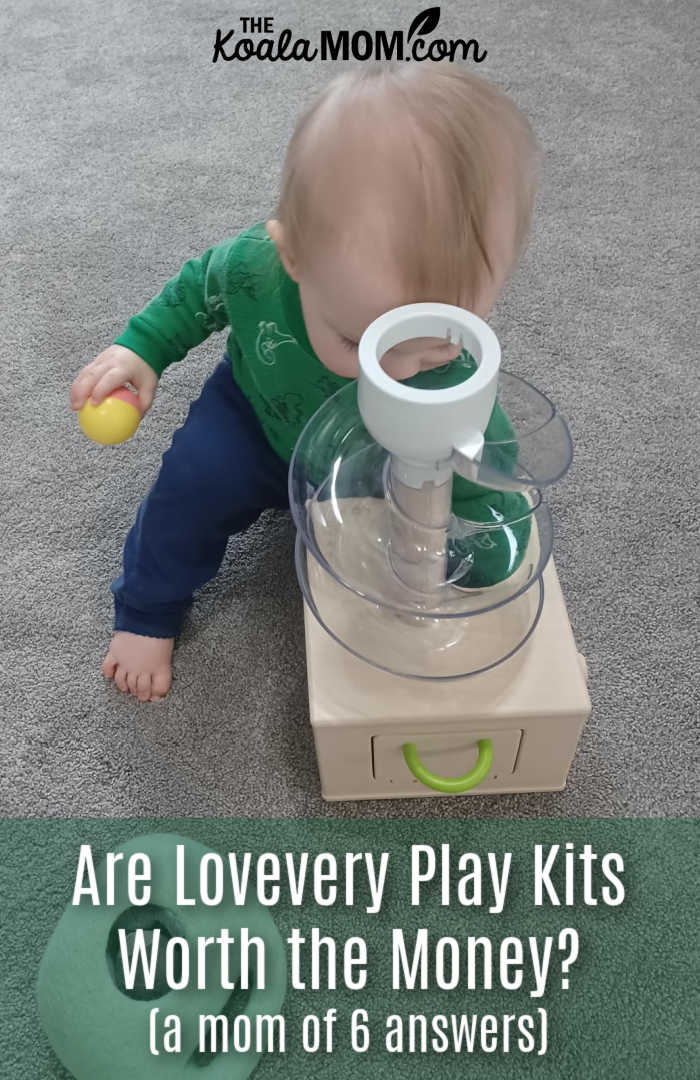 I really have nothing negative to say about the Lovevery Babbler kit and Organic cotton tunnel. The items have sturdy construction, not a long shipping time, were shipped in boxes that keep the items well organized and secure, they even have fun but still calming colours. This has been a very positive experience, and honestly, I think these toys are a good investment. If you bought these for one child, you would be set for the next children, storing them much like the next size clothes, and since there are not 20 for each age group, very manageable storage expectation.
These play kits would be a great Christmas or birthday gift idea. Especially a subscription, as a year's worth of toys rather than one large toy on the day would be ideal.
Check out the Lovevery play kits for older kids: