Teaching Spanish to your kids is now more accessible than ever. There are endless possibilities for homeschoolers to learn a second language, from after-school classes to Spanish immersion activities. And there's good reason to invest in Spanish lessons for your child. The Spanish-speaking population is growing around the world. Projections estimate that by 2060, there'll be close to 754 million Spanish speakers!
Learning Spanish could help your child connect to other Spanish speakers for work, travel, and other reasons.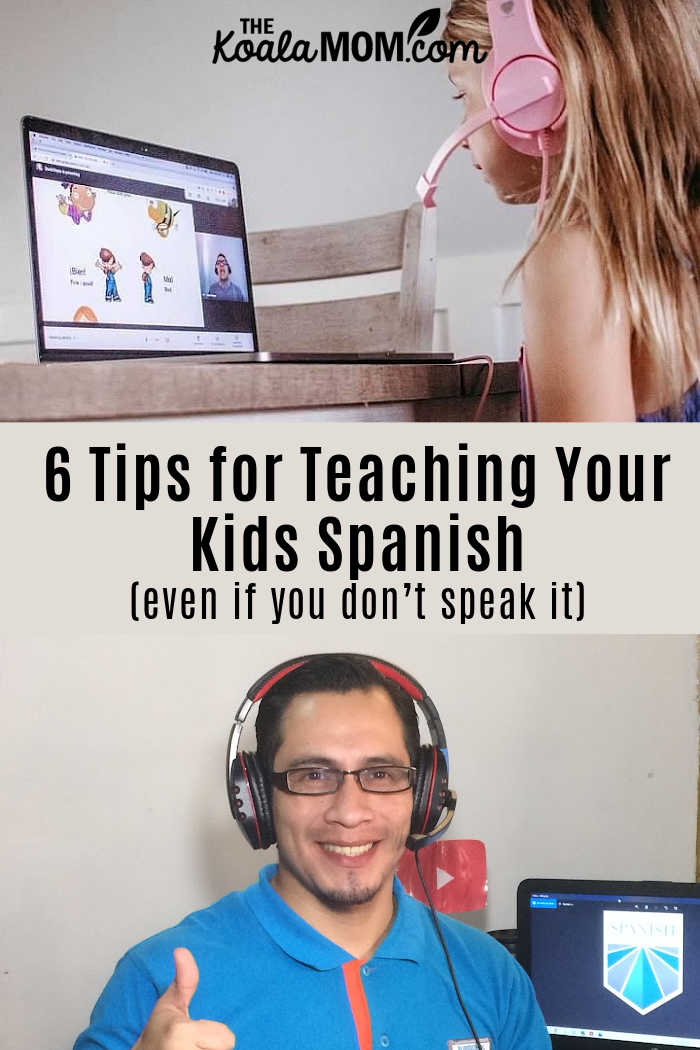 This is a guest post written for theKoalaMom. This post contains affiliate links; as an HSA ambassador, I earn from qualifying purchases.
Plus, kids who learn another language are proven to increase self-awareness. And being bilingual enhances their cognitive and communication skills and expands their understanding of diversity within their community. Discover 15 more impressive reasons to learn Spanish.
Take your child's potential to the next level with this list of tips for teaching Spanish to kids!
Teaching Children with Homeschool Spanish Academy
The key to language learning is immersion. Hands-on activities and engaging Spanish lessons for kids are bound to keep them interested. But where do you get all these awesome resources for teaching Spanish to kids, especially if you don't speak Spanish yourself?
After trying apps, videos, and overwhelming textbooks in the search of the best strategy for language teaching, I finally found Homeschool Spanish Academy. This is hands-down my favourite way to do a second language as a homeschool mom who speaks only English. My 8-year-old thoroughly enjoys her weekly Spanish lessons and is looking for more opportunities to learn Spanish.
Homeschool Spanish Academy (HSA) is an accredited online institution with an effective curriculum to teach Spanish to kids and adults. The live 1-to-1 or 2-to-1 classes are highly flexible and 100% online. (For me as a busy homeschool mom, that means no driving to and from lessons!)
The only thing you need to enroll your child in an HSA program is access to a computer, tablet, or phone with Google Hangouts. This makes language learning incredibly easy for homeschool parents, as it can seamlessly be included into your child's routine.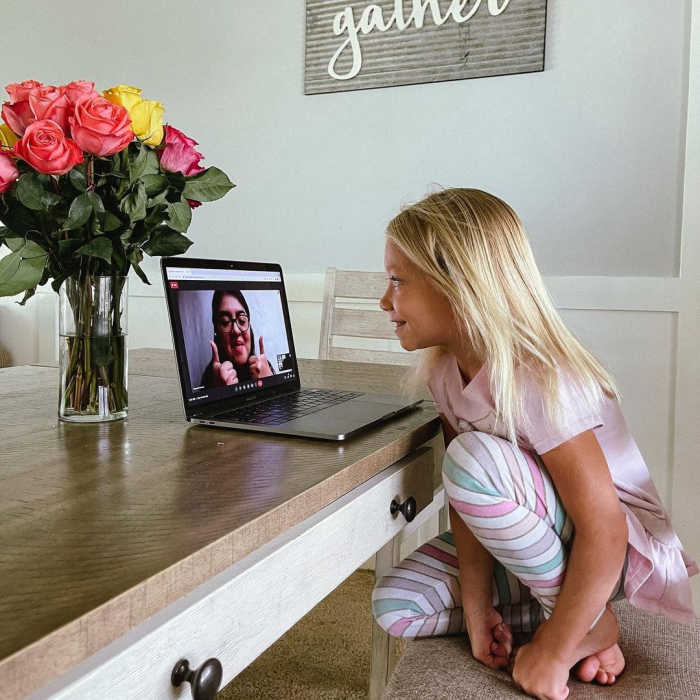 Spanish Lessons for Kids and Toddlers
Once you sign your child or preschooler up for an HSA program, they get access to exclusive lessons, homework, quizzes, and other activities to support their language learning.
HSA's online system also allows you to keep track of the syllabus and grades. Stay abreast of your child's progress with an updated report card (50% exams, 40% quizzes, and 10% homework).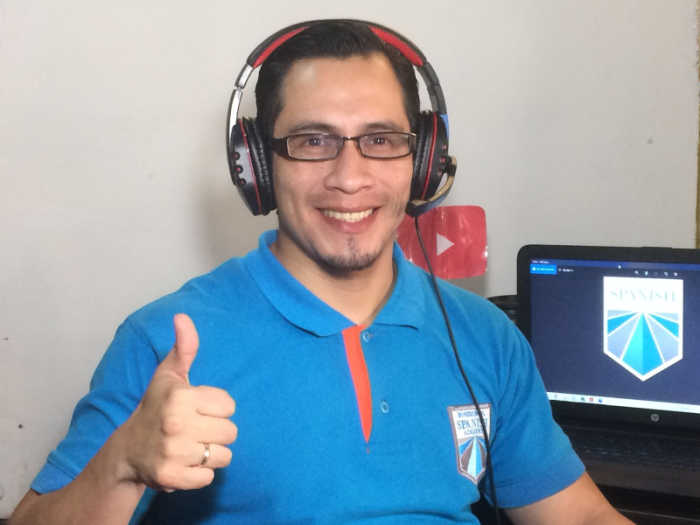 To learn more, read what this mom has to say about My Stepson's Experience Learning Spanish With HSA.
6 Tips for Teaching your Kids Spanish
1. Choose the Right Program for Your Infant, Toddler, or Teen
With every age group, courses cover more grammar and vocabulary. The preschool Spanish program for ages 5 to 6 is designed for teaching the foundations of pronunciation, greetings, basic conversation, numbers, colors, objects, and pictures. At this age, kids soak up words and phrases like sponges with rote memorization.
The programs for elementary and middle school focus on teaching children ages 6 to 13 a more expansive vocabulary that prepares them for conversation with confidence. Kids get opportunities to build sentences and use Spanish as part of their daily life. Get ready for them to ask you in Spanish to pass the bread  during supper.
The high school program targets ages 13 to 18 and is the stepping stone for kids to master Spanish grammar. This program is accredited and provides credit for college admissions. Many colleges look for second language experience when considering applicants. And if your child has previous experience with a second language, they can take upper level language courses at college and even access other opportunities, such as studying abroad.
See also: How to Choose the Best Spanish Curriculum.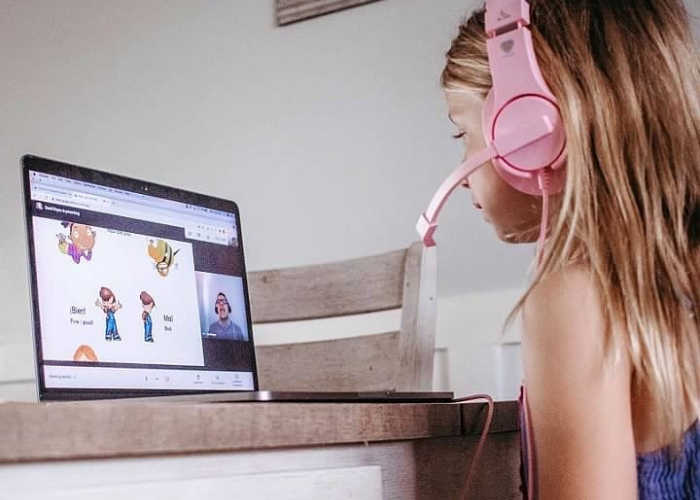 2. Adapt it to Your Existing Schedule
HSA classes are available Monday through Friday with limited availability for Saturday mornings. It's super easy to book classes. I simply login to my HSA account with my calendar beside me, find my daughter's teacher, click on the dates and times I want, and presto! her lessons are booked.
HSA doesn't demand your child to spend hours and hours studying. They recommend 25-minute classes for preschoolers and 50-minute classes for older age groups.
Classes can be bought in bundles of 15, 30, or 60 online lessons. HSA's scheduling system also gives you one full year to use the classes you have purchased, allowing you to plan ahead in case of any disruption.
3. Converse with Native Speakers
The certified teachers at HSA are native Spanish-speakers from Guatemala. Conversing with a native speaker brings fantastic benefits for your child's listening and pronunciation. Some kids are even able to develop a native accent just by engaging in conversation.
While in conversation, your child also begins to understand social scenarios while analyzing them in a different language. My daughter has shared geography trivia and other Spanish facts she's learned from her teacher.
Learn more about How HSA Brings Native Spanish Home.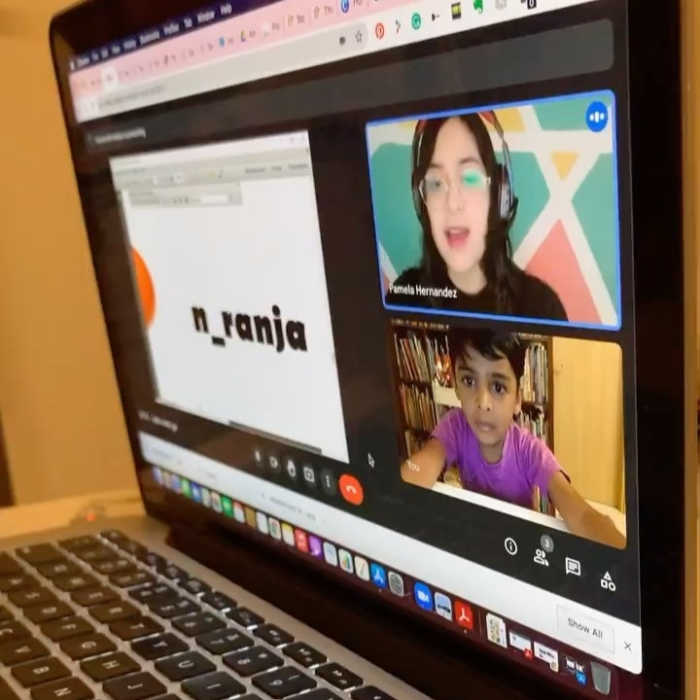 4. Don't Spend a Fortune
Homeschool already requires you to invest money on large amounts of supplies. HSA supports homeschool parents like you with comfortable and accessible prices. They offer class packages that won't put a hole in your wallet.
The packages are highly competitive. A 60-class package of 25-minute classes equates to $6.65 per class for a single student, while a 60-class package of 50-minute classes costs $9.98 per class. These wonderful classes can be paid for in installments of five or 10 payments.
Although no individual classes are available, you can always sign up for a free trial class for a taste. It's worth mentioning that after your trial experience, the chances of you becoming a customer are quite high.
5. Include Culture
Teaching your child Spanish means teaching them about world cultures. The teachers at HSA are from Guatemala and provide top-notch cultural insights. They can talk with students about traditions, food, folk tales, music, art, and awesome places in their home country.
Researching Spanish-speaking countries and showing your children about diversity keeps them engaged and may pique their interest for exploring the world in the future.
Get inspiration to homeschool your child in a different culture from Our Homeschool Spanish Learning Experience in Rural America.
6. Get Creative
On top of engaging and amusing Spanish lessons, enrolling in HSA's programs gives you access to tons of creative resources. Their ingenious team creates complete lesson packs with games, books, videos, crafts, and fun activities for language learning.
HSA's blog is incredibly supportive for homeschool parents. It has tons of relevant information in the form of curated lists, grammar lessons, reading, and more.
These ingenious strategies are designed to move language learning out of the box and make it engaging. It increases your child's motivation, because they learn as they have fun.
Want to try out our FREE Elementary Bundle?
Learn Spanish With Your Child
Teaching Spanish to kids comes easy with the support of Homeschool Spanish Academy.
Discover if this is the right track for you and your family by signing up for a free trial class. HSA offers unbeatable programs for kids and adults to more than 24,000 students per month. Check out their affordable pricing packages and choose the one that best suits your homeschool needs and budget.