As a work-at-home mom, I love meeting fellow WAHMs and seeing their creativity and passion for their business as well as their family. Madeleine Karako is a mom of two who also runs an Etsy shop, where she creates adorable felt saint dolls and beautiful marbled glasses and mugs. Here, Madeleine shares about the inspiration behind her business, overcoming burnout and depression, how she juggles motherhood and creating, and more.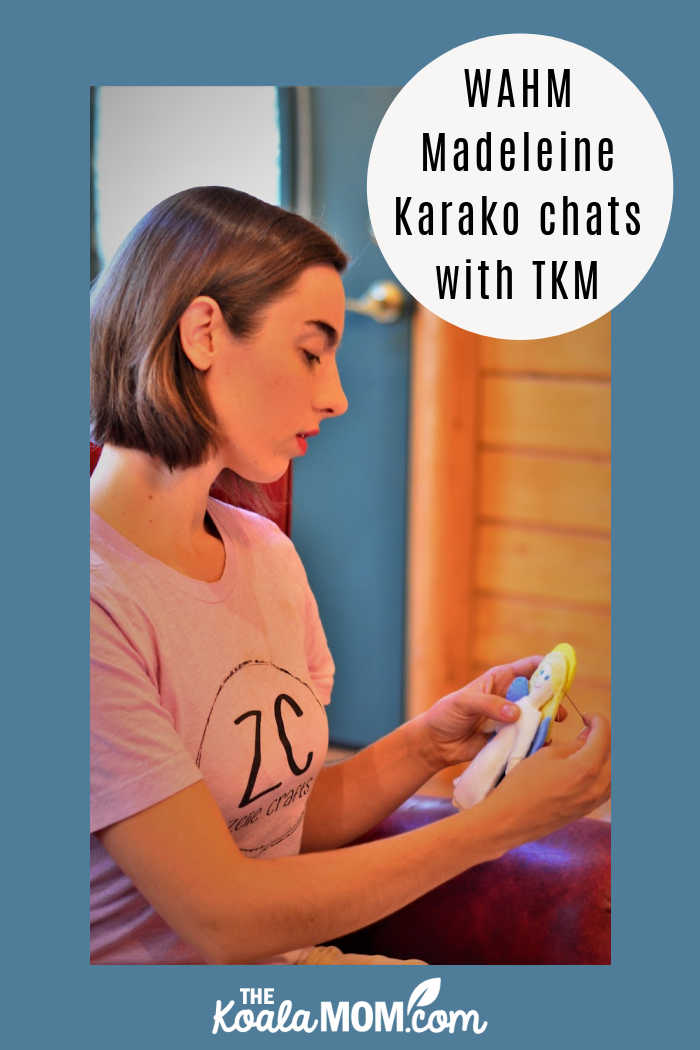 TKM: Tell us a bit about yourself and your family.
Madeleine Karako: I'm a stay-at-home mom with two kids. My eldest daughter is four and my son just turned one. My husband and I have been married for 6 years and have lived in 5 different cities during that time period. I have just begun homeschooling my daughter. It's been a huge learning curve for me, but I'm enjoying it! My husband and I both graduated from the University of Dallas where I got a BA in English. I taught special needs children for almost 2 years before we moved and I had our first child.
TKM: Tell us about your Etsy site.
Madeleine: My Etsy site, Zelie Crafts, is a blend of hand-sewn and hand-marbled items. Most of my products are designed for mothers and their children. I sew felt saint dolls, princess dolls, guardian angels, toddler purses, toddler pillows and children's room decor. I also marble jewelry dishes, drinking glasses, votive candles, coffee mugs and wine glasses.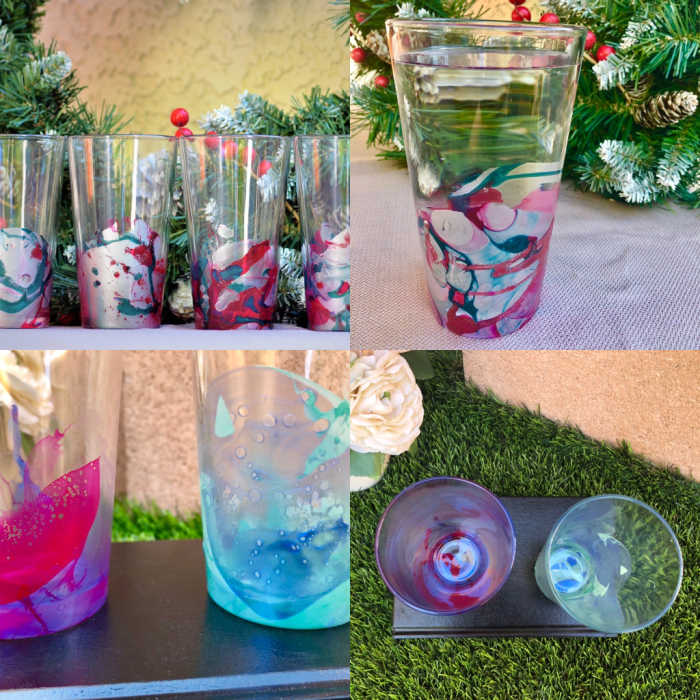 I want my shop to be a place where moms can find special gifts for their children and also treat themselves to something special. Everything at Zelie Crafts is hand-made and can be personalized. Because I hand-make everything, each item is authentically unique and no two items will ever be the same. I love delivering that! If you're looking for something perfect and machine-made, you won't find it at Zelie Crafts.
TKM: What inspired you to start this work-at-home business?
Madeleine Karako: Two people inspired me to start my work-at-home business. The first person is Saint Zelie Martin, the mother of St. Therese of Lisieux. I read a book about her and instantly felt an immediate connection. As I sought out her letters and diary entries, I learned that she and I have been through several similar trials. Due to health complications, Zelie could not nurse the majority of her children.
She endured the loss of four children in their infancy, as well as the loss of another child in childhood. I too was unable to nurse my son due to health complications and endured two miscarriages prior to the birth of my two children. Saint Zelie never lost her faith in God during her trials and wrote that she could never survive her sorrows without God's support.
Saint Zelie also owned her own lace business and sewed the lace herself for the majority of her adult life. She provided for her family to the extent that her husband retired his watch shop in order to help her run the lace business. I used to think that a stay-at-home mom needed to devote every hour and every ounce of attention to her children and that anything else she spent time on was selfish.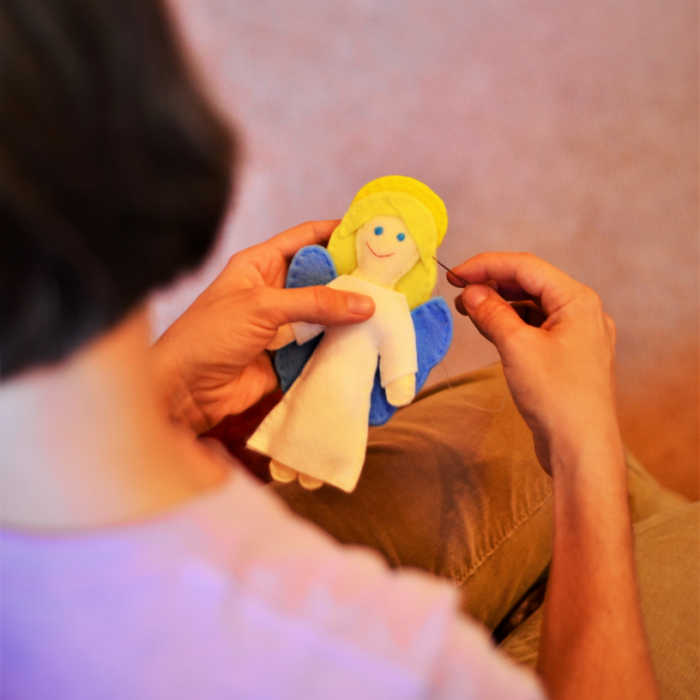 After almost three years of trying to live completely for my children, I was burnt out, depressed and, though it's hard to admit it, angry. Reading about Saint Zelie really opened my eyes and made me realize I could be a good mom and also have accomplishments apart from my motherhood.
The second person who inspired my shop was my midwife for both my children, Rebekah Knapp. She tragically died in a car accident this year, and it really woke me up. There is no time like the present. Fortunately for Rebekah, even though she was under 40 when she died, she had already lived a life worthy of 20 people.
She brought over 1,000 babies into the world and served her community selflessly because she believed it was her mission from God. Sometimes all she accepted for payment was produce and chicken eggs because she wanted to give the nearby Amish community a chance to have a healthy, safe birth. Following in her footsteps, I'm NOT on a mission to make a huge profit. My purpose is to bring more joy and courage into the world.
Making my products brings joy and courage into my family and I want to share that joy and courage with the people that buy them.
TKM: What tips would you share with other WAHMs?
Madeleine: Don't compare yourself to anyone. Your kids are your kids and every kid is different, so every parent lifestyle and parenting technique will be different. You have to do what works best for you and your family and then let go of the rest of it. Trust those mamma instincts and get rid of the desire to compare yourself. It doesn't bring joy and joy is what kids need.
TKM: What has been your biggest success as an Etsy seller?
Madeleine Karako: The possibility that my product might make someone's life just a little bit brighter is really thrilling. Recently a mother who I hardly know lost her baby who had trisomy 18. I sent her one of my hand-made infant-loss keepsakes with the Saint Zelie quote, "We shall find our little ones again up above." It meant the world that I could provide a small bit of comfort to someone hurting from that kind of grief.
I've also been sending felt saint dolls to friends of mine who are pregnant. It was so fulfilling to help out other moms! Pregnancy is no joke and it's the little things that can lift a mom up. These are powerful motivators, certainly not dollars and cents.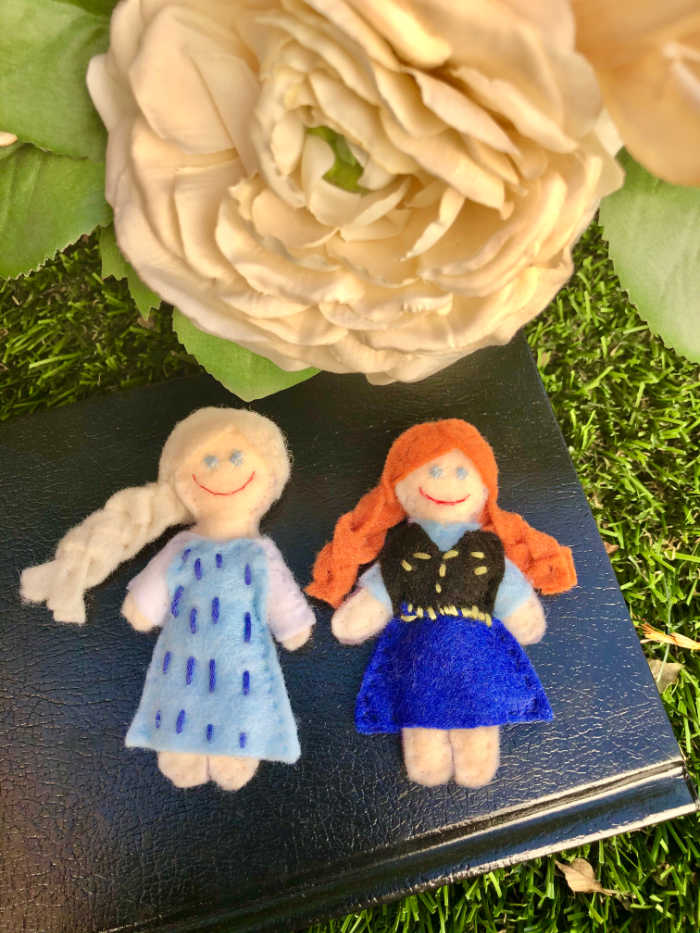 TKM: What has been your biggest challenge as a WAHM?
Madeleine: I have two littles at home so my biggest challenge is lack of sleep. My 1-year- old still doesn't consistently sleep through the night so most days my head is a little foggy. My four-year-old has been waking up before 5:30 for about 2 years, so getting work done in the morning doesn't happen. I often sew felt saint dolls standing up in 10 minute increments, periodically putting my work down to keep my son alive—he loves to climb EVERYTHING. Naptime and after bedtime is when I get the majority of my work done.
TKM: How do you balance work and motherhood?
Madeleine: I'm definitely still figuring that out. It's my biggest challenge and I learn a little more each day. I usually try to engage my daughter in my work if I can, even if it means I don't get my work done as quickly as I'd like. In a world of screens and electronics, I want my kids to see me crafting inspired gifts and doing something I love that also provides for our family. If it stops being something I love, something that helps me love my kids, then there's no point.
TKM: Are your husband or kids involved with your business?
Madeleine Karako: My daughter and my husband are my greatest helpers. My 4 year old daughter always provides feedback (a mix between positive and negative). She is super honest. If she doesn't like it, I often work hard to change it in order to pass her approval. She holds me to a high standard and I love it.
My husband helps me out a lot with errand-type tasks. He'll drop off an order to ship or go to laminate and print out some saint cards, etc. He also watches the kids for me for a few hours on the weekends so I can get work done without too much distraction.
My son helps with his constant smiles and giggles.
To see more of Madeleine's beautiful creations, drop by Zelie Crafts on Etsy.