From the early days of the Church, objects touched to holy men and women have been linked to the miraculous, such as described in Acts: "when face cloths or aprons that touched his skin were applied to the sick, their diseases left them and the evil spirits came out of them" (Acts 19:12). Treasures: Visible and Invisible is a collection of eight short stories by different Catholic authors that explores this theme of holy relics.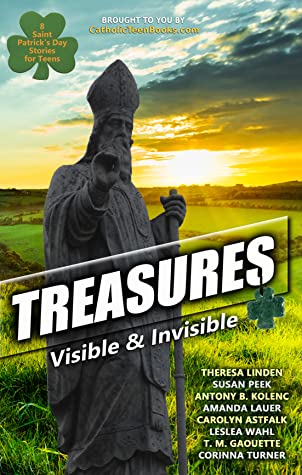 A teen boy sets out to save a friend from pagan druids, but maybe he's the one who needs saving.
Between a baffling scripture verse and a visit from Heaven, a young monk is in for the surprise of his life.
A young girl seeks a mysterious treasure that holds the key to granting a nun's dying wish.
Honora is desperate—then a peculiar clover and a mysterious young man change everything.
William's weekend job is a little gift from heaven, but now his family needs a real miracle.
When threatened by mobsters, Grace receives help from a surprising source.
Alone and afraid, a young girl finds friendship in a stranger. But could this boy be trouble?
Kyle was determined to save the precious relic – but now his whole family is in danger.
Treasures: Visible & Invisible plot summary
Each short story in this anthology is written by a different author. The stories are set in different time periods, from 4th century Ireland for the first story to futuristic England for the last story. The common thread between the stories is a relic associated with St. Patrick.
The first short story is about St. Patrick by Theresa Linden. I've read several variations of his story now, but I still enjoyed Theresa's descriptions of the life and conversion of this famous saint. A few stories later, I was delighted to meet a familiar face: Lucy, a secondary character in Shadow in the Dark. When a dying sister makes a strange request of Lucy, Lucy has to solve a mystery about that sister and one of the monks at the abbey.
Each of the stories is well-written and stands on its own, if you just want to pick up the anthology and jump in anywhere. Read as a whole, it's fun to trace the path of this relic through history, through its encounters with different people in different places.
Advance Reviews for Treasures: Visible & Invisible
In a world where today's young adults are constantly surrounded by media that is trying desperately to tear them down, it is a blessing to have books like this that reaffirms our Catholic faith.  Not only does each author give us a great story to read, they also challenge us to think about things like: the hardships of people in our ancient church, putting Grandma first on our social calendars, praying to God when in the midst of fear and suffering, staying strong in our faith while looking death in the face, listening to unlikely friends who lead us on the path to Christ, and ultimately realizing there is sacredness in the relics of our church. ~ Beth Ruggiero, Litbythetree.com
I invite teens, and readers of all ages, to stand on the craggy wind-swept cliff of your imagination, and experience the collection of stories called Treasures: Visible and Invisible created by the talented team of authors from Catholic Teen Books. With a shamrock as our touchstone, this book takes us on a journey through an expanse of time from ancient to modern. Be inspired by the holy greatness of heroism rooted in the spiritual treasures of the Emerald Isle. ~ Cathy Gilmore, VirtueHeroes.com
We thoroughly enjoyed this cleverly written book about the intercession of St. Patrick throughout the ages. The combination of dynamic characters and intriguing stories kept us hooked from start to finish. A valuable addition to your St. Patrick's Day bookshelf!  ~ Jennifer & Kate Waldyke, co-hosts of Catholic Mom and Daughter
This is the third collection from the authors of Catholic Teen Books. It was an inspiring read. Some stories are of miracles and others about change. My first thought was wow! What an amazing collection of stories around Saint Patrick! I am aware that not everyone likes short stories, but I love them, and this collection is amazing! Short stories are a different art form than novels, and not all novelists have mastered the craft. For a short story to be good, the writing needs to be tighter, cleaner, and crisper. And each of the 8 in this collection is extremely well written. ~Steven R. McEvoy, BookReviewsAndMore.ca
What a gift to Catholic teens and their families! Each piece in this collection of stories revolving around St Patrick is a beautiful portrayal of the faith. These are wholesome, engaging, and inspiring tales from a variety of genres that will both entertain and spiritually nourish every reader who picks up this book. ~ Katie Fitzgerald, ReadAtHomeMom.com
Curious? Check out the book trailer for more about each story!
More about the Authors
THERESA LINDEN is the author of award-winning Catholic fiction, including the Chasing Liberty dystopian trilogy. One of her great joys is to bring elements of faith to life through a story. She has more than a dozen published books, three of which won awards from the Catholic Press Association. Her short stories appear in several anthologies. Her articles and interviews can be found on various radio shows and in magazines. A wife, homeschooling mom, and Secular Franciscan, she resides in northeast Ohio with her husband and children. You can learn more about her at www.TheresaLinden.com.
SUSAN PEEK is a wife, mother, grandmother, Third Order Franciscan, and bestselling Catholic novelist. Her passion is writing stories of little-known saints and heroes. All her young adult novels have been awarded the coveted Catholic Writers Guild Seal of Approval and are implemented into Catholic school curricula not only across the nation, but in Canada, Australia, and New Zealand as well. Susan lives in northeastern Kansas, where she can usually be found with her nose in a book, researching obscure saints to write about. Visit her at www.SusanPeekAuthor.com.
ANTONY BARONE KOLENC is the author of The Harwood Mysteries, an exciting historical-fiction series for youth published by Loyola Press. He retired as a Lieutenant Colonel from the U.S. Air Force Judge Advocate General's Corps after 21 years of military service. A law professor who's had his works published in numerous journals and magazines, Kolenc now speaks at legal, writing, and home-education events. He and his wife, Alisa, are the parents of five children, and have been blessed with three wonderful grandchildren. To learn more about The Harwood Mysteries and its author, visit www.antonykolenc.com.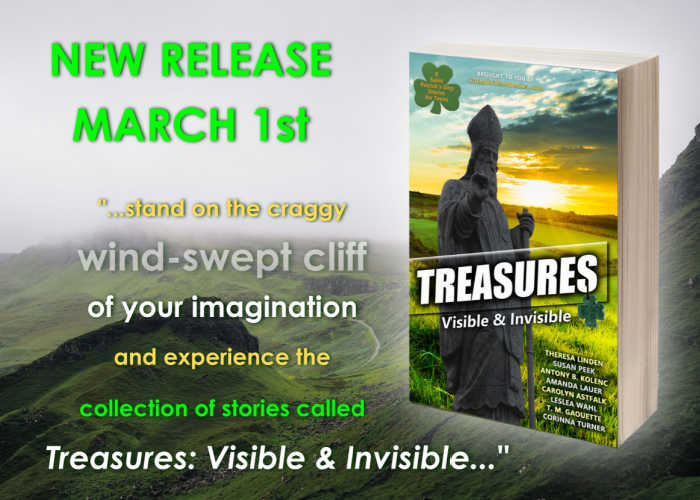 AMANDA LAUER loves writing books—particularly Young Adult Historic Fiction—that portray the Church in a positive light and depict God's children endeavoring to become the best version of themselves every day. A journalist and proofreader by trade, Amanda embarked on her novelist career with the award-winning and best-selling Heaven Intended Civil War series. Currently Amanda has several more books in the process of being published. In addition to writing novels, Amanda works in the film industry writing and copy-editing screenplays. To learn more about Amanda, who's lucky and blessed to be living in a world such as heaven intended, visit her web site: www.AmandaLauer.com.
CAROLYN ASTFALK writes from the sweetest place on Earth, Hershey, Pennsylvania, where she lives with her husband and four children. In addition to her contemporary Catholic romances (sometimes referred to as Theology of the Body fiction), including the young adult coming-of-age story Rightfully Ours, she is a Catholicmom.com contributor. She is a member of the Catholic Writers Guild and Pennwriters. When she is not washing dishes, doing laundry, or reading, you can find her blogging about books, faith, and family life at www.CarolynAstfalk.com.
LESLEA WAHL is the author of the award-winning Catholic teen mysteries The Perfect Blindside, An Unexpected Role, Where You Lead, and eXtreme Blindside. Leslea's journey to become an author came through a search for value-based fiction for her own children. She now not only writes for teens but also has become a reviewer of Catholic teen fiction to help other families discover faith-based books. Leslea lives in beautiful Colorado with her husband and children. The furry, four-legged members of her family often make cameo appearances in her novels. Leslea has always loved mysteries and hopes to encourage teens to grow in their faith through these fun adventures. For more information about her faith-filled Young Adult mysteries, please visit www.LesleaWahl.com.
T. M. GAOUETTE is the author of the Faith & Kung Fu series for young adults, as well as The Destiny of Sunshine Ranch. Born in Africa, raised in London, England, Gaouette now lives on a small farm in New England with her husband, where she homeschools their four children, raises goats, and writes fiction for teens and young adults. A former contributor for Project Inspired, Gaouette's desire is to instill the love of God into the hearts of her readers. You can find out more at www.TMGaouette.com.
CORINNA TURNER is the author of the I Am Margaret and unSPARKed series for young adults. She has just released The Boy Who Knew (Carlo Acutis) the first book in her new Friends in High Places series about friendship with the saints. Corinna Turner is a Lay Dominican with an MA in English from Oxford University, and lives in the UK. She has been writing since she was fourteen and likes strong protagonists with plenty of integrity. She used to have a Giant African Land Snail called Peter with a 6½" long shell—which is legal in the UK!—but now makes do with a cactus and a campervan. You can find out more at www.IAmMargaret.com.
Enter to WIN a fantastic Treasures: Visible & Invisible prize pack (US winners only)!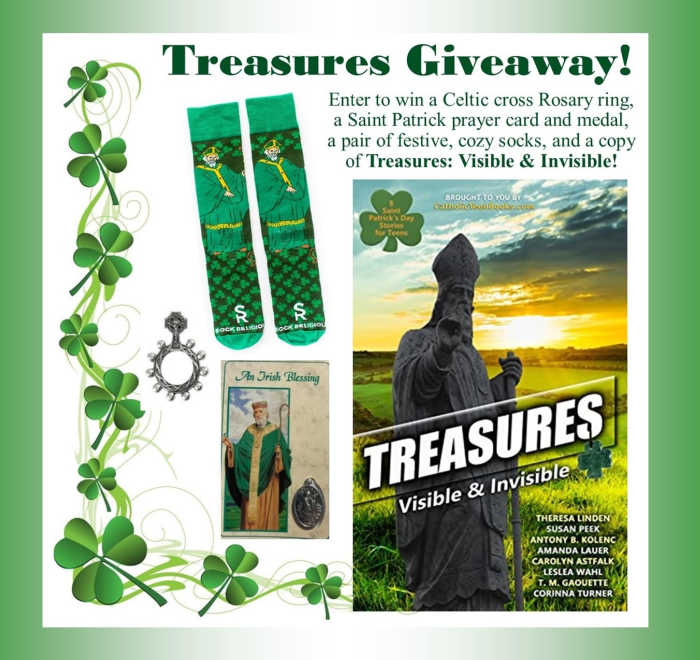 Drop by Goodreads to find out more about the book and add it to your reading list. Treasures: Visible & Invisible is available on Amazon. Visit Catholic Teen Books to learn more about the authors of each short story and their other books. You can also follow along on the BLOG TOUR for Treasures: Visible & Invisible by heading to author Leslea Wahl's blog next on March 6th. Happy reading!