I am rather a neat freak (as I've confessed before). I like my home tidy and organized, and I like my daily routine to look similar. However, as a mom of five kids, balancing multiple hats, that's not always easy. And finding time to pray and read my Bible? Too often I leave that until later and it doesn't get done. This month, my Hope Planner has been helping me to start each day with a prayer and a plan. This weekly schedule planner is both beautiful and practical—here's why I love it and why I think you will too!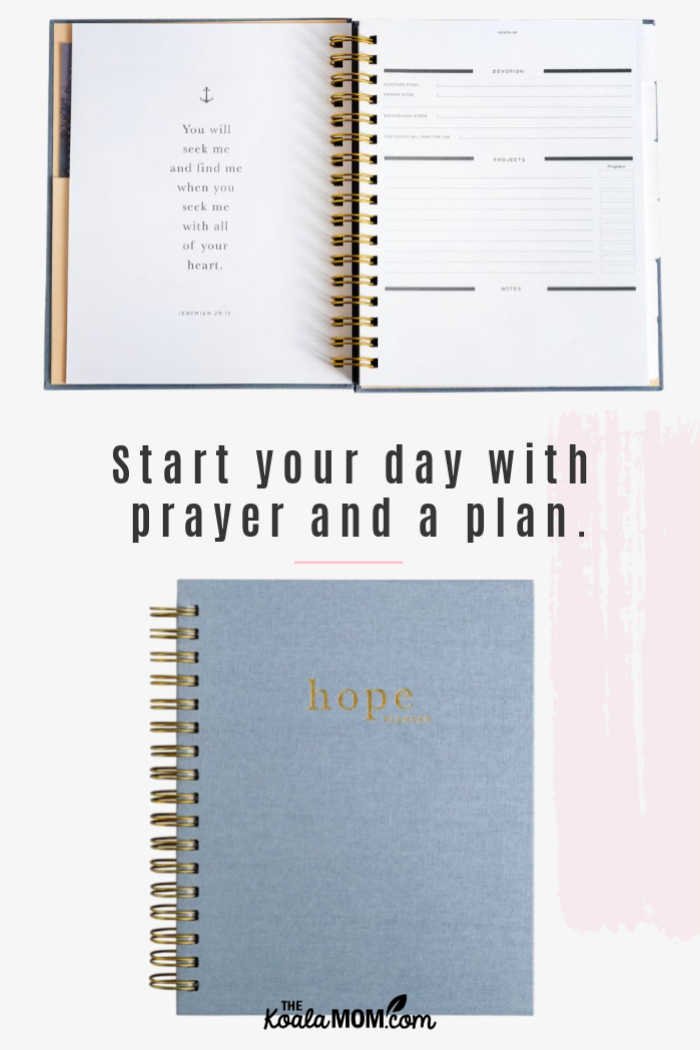 I received this planner for review courtesy of Hope Fuel; all opinions expressed are my own.
The Hope Planner Overview
I started using my daily Hope Planner in November. Yes, that's one thing I like about this planner—you can start it anytime!!! Weekdays are written in but you get to fill in the dates. Gold month stickers are provided to put on your tabs. So my Hope Planner goes from November until April.
Every morning, I sit down with my planner while I drink my breakfast smoothie. I look up a daily Scripture reading, either in an app on my phone (for the Gospel) or my Bible (for the Psalm). I choose what to make for supper, write down any appointments or activities during the day, and think about what I can reasonably accomplish for my to-do list.
This planner is not only beautiful, it's also easy to use. There is space for everything I want to keep track of (water intake, appointments, to-do list, meal planning) and also the things I usually forget (prayer and Scripture reading).
Heather Vreeland, creator of the Hope Planner, explains in the first pages of the planner how it sprang from her own needs. As she saw how this planner helped her stay on track, she realized it could help other Christian women as well. And she was right! The Hope Planner has both the format and the flexibility to help me plan my day, week and month.
Unlike a traditional planner, its primary purpose is to help you make a place for Bible study and prayer in your daily life. Because it is your trust in God's direction that is the ultimate peacekeeper in our lives. There is no amount of organization that will keep you, your family, and your ambitions together like the glue of God's grace. ~ Heather
The Hope Planner cover is a soft blue fabric. It has gold letters and gold coil binding (which lets it lay flat on your desk for easy reference). It's so pretty it encourages use! There's a Bible verse for each month and a page at the very end for you to write down anything that's going to happen in the next 6 months (which you can transfer to your next planner when you buy it!).
Big-Picture Planning
Each month begins with a page to do some big-picture planning. You can record a Scripture study, memory verse, and encouraging words for the month—perhaps choose a book of the Bible to read this month or a saint quote to reflect on. There's also a line for "This month I will make time for…", letting you choose something specific—a virtue, goal, or habit—to focus on this month. Then there's a list of projects you'd like to accomplish, and a space for notes.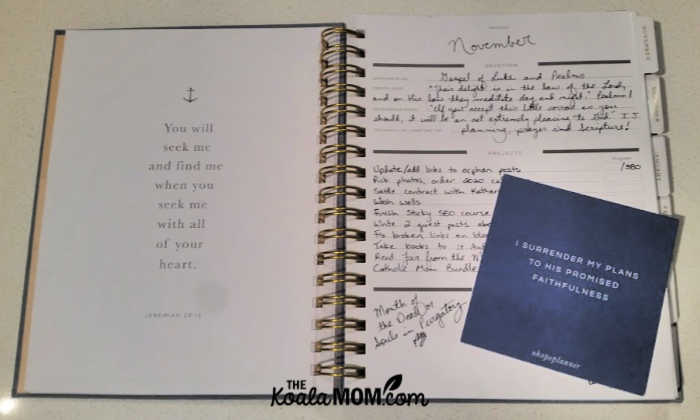 The next two pages are a monthly calendar, where you can jot down all your activities for the month. There's also space for a prayer list on the side. This is handy, as I often offer to pray for friends or family but without writing it down, my good intentions don't happen.
Weekly Schedule Planner
Sundays also have two days, giving you space to plan the week ahead. There's more space here for your prayer (divided into "praise and thanksgiving" and "prayer") and no daily schedule. One page is for "scribble," where you can jot down things to remember this week, lists, plans, etc. I usually sit down on Sundays or Saturdays to do my homeschool planning for the next week, so it was easy to add my daily planner and consider what's happening in the upcoming week beyond schoolwork.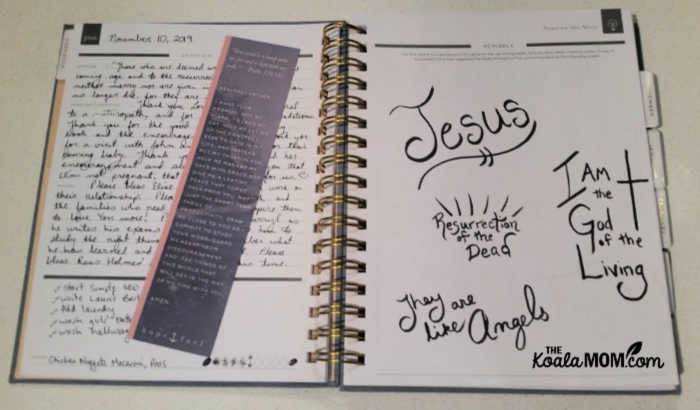 Mondays through Fridays each have one page for the day. This page includes a space for Devotion and a space for Do. Under Devotion, there are a few lines for a Scripture verse and a few lines for Prayer. I find both of these to be just enough space to record a Bible verse I want to reflect more on from my daily reading, and my prayer intentions for the day. Putting these together also helps me pray about things brought up in my Bible reading.
Under Do, there's a small calendar and space for your to-do lists. The bottom of the page includes room to write your dinner plan (yes, I like to think about this in the morning!) as well as space to record your daily medications, water intake, and exercise.
Overall, I'm very happy with my daily Hope Planner. I've tried other weekly schedule planners in the past, but I've never really stuck with them for very long. I've found this planner the easiest to use and the best suited for my needs.
To find out more about the Hope Planner, or to order your own, drop by the website. It's also now available in a weekly edition.
Do you use a weekly schedule planner? Do you think the Hope Planner would help you organize your day and devotions?