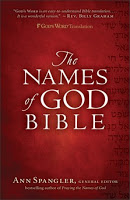 Names are the first thing we learn about someone when we meet them. 
In the Bible, God introduced himself to us with a variety of names.  Most Bibles, however, simply translate God's name as "God" or "Lord."  In
The Names of God Bible
, Ann Spangler (best-selling author of
Praying the Names of God
) leaves God's names in their original Hebrew and includes explanations so  readers can learn more about God's character from his names.  She explains, "God's name is associated with his glory, power, holiness, protection, trust, and love.  … God's name is his reputation."
One name that caught my attention was used only once in Scriptures.  In Genesis 16, Sarah gave her maid Hagar to her husband Abraham to have a son by Hagar, but when Hagar got pregnant, Sarah resented and mistreated her.  One day, Hagar ran away and had an encounter with God in which he blessed her and her unborn son.  In response, "Hagar named Yahweh, who had been speaking to her, 'You are El Roi.'  She said, 'This is the place where I watched the one who watches over me.'"  (Genesis 16:13).  El Roi, or God Who Watches Over Me, made me think of the way I watch my daughters to make sure they don't get hurt.  God has an entire world to take care of, yet he is the God Who Watches Over Me.  Amazing.
I was familiar with some of God's Hebrew names from Amy Grant's song "El Shaddai," but The Names of God Bible revealed so much more of God to me.  Spangler says, "The equation of name with character is nowhere more evident than in the names and titles attributed to God in Scripture. … By revealing his name, God was inviting his people into relationship with him.  But this was a risky venture, because they could choose to live in ways that either honored his name or dishonored it."  In this Bible, readers can follow each name through Scripture and see how it is used or how God's relationship with his people changes through their history.
In some places, however, I got confused.  The Psalms include a lot of references to God; for example, Psalm 71:3 says, "Indeed, you are my rock and my Metsuda."  I had to flip back to the introduction to Psalms to see what Metsuda meant (Fortress) but then I wondered why Spangler didn't also leave "Rock" in the original Hebrew as a title of God.  Both "rock" and "fortress" seemed like metaphors for God, rather than names or titles.  Perhaps someone who has read Spangler's book would be familiar with these names and find it easier to read; I found myself using this as a study Bible to follow one name and learn more about God through that name.
I wondered how other translations handled these names, especially when I noticed that some names have multiple English translations.  For example, Spangler translates Yahweh Tsebaoth as Lord Almighty, The Lord of Armies, or The Lord of Hosts.  The Common English Bible translates this name as Lord of heavenly forces; in 2 Samuel 7:25-27, David prays, "Now, Lord God, confirm forever the promise you have made about your servant and his dynasty.  Do just as you have promised so that your name will be great forever when people say, 'The Lord of heavenly forces is Israel's God!' May your servant David's household be established before you, because you, Lord of heavenly forces, Israel's God, have revealed to your servant that you will build a dynasty for him" (CEB, emphasis added).
The Names of God Bible provides readers like me who know nothing about Hebrew a glimpse into the ways that God revealed himself to his people in all the richness of their language.  Each name reveals a different facet of God's character as he interacts with his people and shows himself to them or is given names by them, as Hagar does.  I found this was a beautiful and profound way to approach my daily Scripture reading.
Bible has been provided courtesy of Baker Publishing Group and Graf-Martin Communications, Inc. Available at your favourite bookseller from Revell, a division of Baker Publishing Group. This post contains affiliate links; as an Amazon Associate, I earn from qualifying purchases.