Having gone through the process of house hunting last year, I enjoyed this post from Sarah. One piece of advice we received from friends was to buy your home for its location. You can improve various things in your home, but you can't improve the location. We love the location of our home, and I've enjoyed painting and updating things inside. If you're looking for some DIY home improvement ideas for beginners, read on!
House hunting can be extremely daunting, especially if you are on a tight budget. What if I told you there are countless ways to change the appearance of your dream home? If you don't like the bathroom, you can add a few quick shelves and a fancy towel holder that would make a big difference. As long as the plumbing is done to perfection, the nitty-gritty details should not scare you off. Let's have a look at a few other options for you.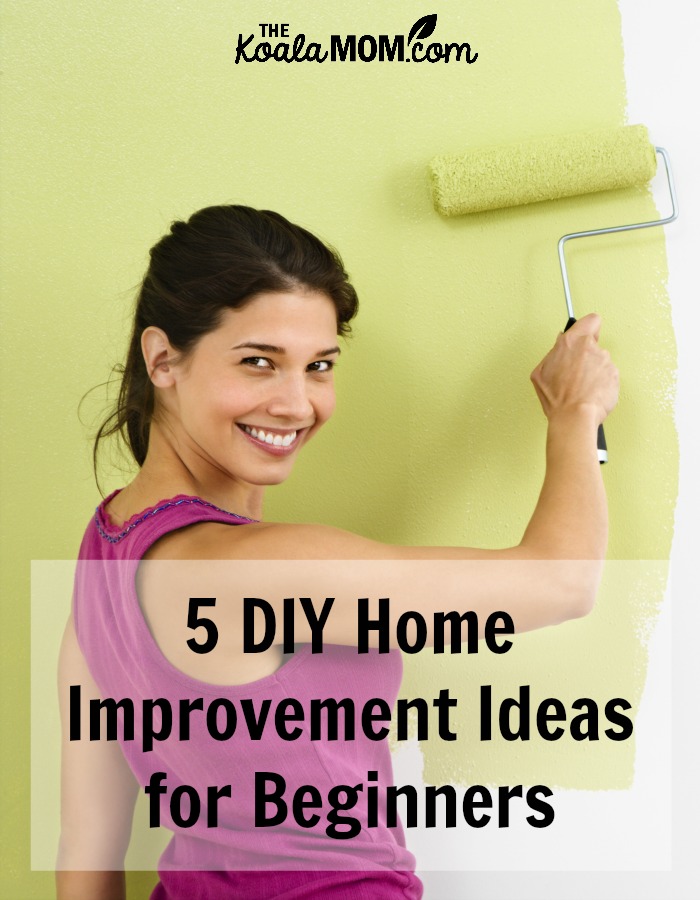 Painting
Painting can be a little scary for first timers. What drives you is the desire to change that dull color of your house. And if you plan everything, it can be a piece of cake.
You will need a painting roller, roller pan, painting brush, and paint. First of all, clean the walls. Next, start painting from the ceiling downwards. When the first coat dries, repeat with a second coat. This ensures a shiny and bright appearance. And that's all.
Framing Mirrors
You should never make assumptions that mirrors are only meant for admiration. A mirror can open up a small room to look bigger. It also reflects light, therefore giving your home a bright look.
You can revamp your mirror by framing it with a decorative frame. You can also embed the mirror with wooden frames. For that extra appeal, stick on a few lovely stickers. Finally, shred your old CDS and glue them around the mirror depending on the shape that will fascinate you.
Carpeting
Stepping on a cold floor can be so irritating especially during winter. So why not carpet your floor?
To achieve this like a professional, you need to measure the size of the carpet according to the dimension of the room. Remember to leave an allowance. Head on to your nearest retailer with these dimensions and get a quality carpet with bound edges. Lastly, vacuum your carpet and enjoy.
If your house is relatively small, you could opt to make these carpets from scratch. Buy a tapestry with your dimensions, a crochet needle, and yarn. A few YouTube videos will make you an expert in no time.
Changing Door Hardware
Besides the exterior of the house, the door is the first thing your visitors will notice. Because of that, you have to maintain your doors at all times. You shouldn't entertain that quack sound of hinges or loose locks.
If you invest in a good drill, you can quickly repair the loose locks by fastening them. For the hinges, you have to use the hammer to drive them back to their position. Lastly, after repairing you could re-paint the door to complement the new fabulous look.
Landscaping
When your house has an appealing look, you can easily market it whenever you intend to sell. The lawns speak volumes in the real estate market. Start by planting flowers along the pavement. Paint the flower vessels with different prints and then plant some more flowers in them.
Finally, you need to plant grass. Don't forget to include a few herbs that will eventually grow into short bushy trees. For better results, use plenty of farmyard manure and water frequently.
The Bottom Line
From the above project ideas, you can attest that there are many DIY home improvement projects you can do as a beginner and ultimately enhance the look of your home. And obviously, these will save you a few coins that you would have incurred with the services of various professionals. Don't be afraid to take the first step in your home improvement project.
What are your favourite DIY home improvement ideas? Have you done any of these projects in your home?
Sarah is the editor of thediyhammer.com. Inspired to be creative from an early age, she is always coming up with her own DIY projects, big or small, and draws inspiration from other imaginative minds. She is always encouraging others to be more innovative, especially when it comes to home improvement.