For the last several years when we've driven past Cultus Lake Adventure Park, the girls have asked, "What's that? Can we go there?" And we've answered, "Maybe when you're bigger." There's nothing like being told "when you're bigger!" to make a kid anticipate something!
You see, my husband and I had the idea that amusement parks were just for "bigger" kids. Babies and toddlers couldn't go on rides, so we'd have to wait until the kids had grown up a bit before we could go to places like Cultus Lake Adventure Park. However, like its sister park, Cultus Lake Waterpark, the Adventure Park is fun and accessible for the whole family!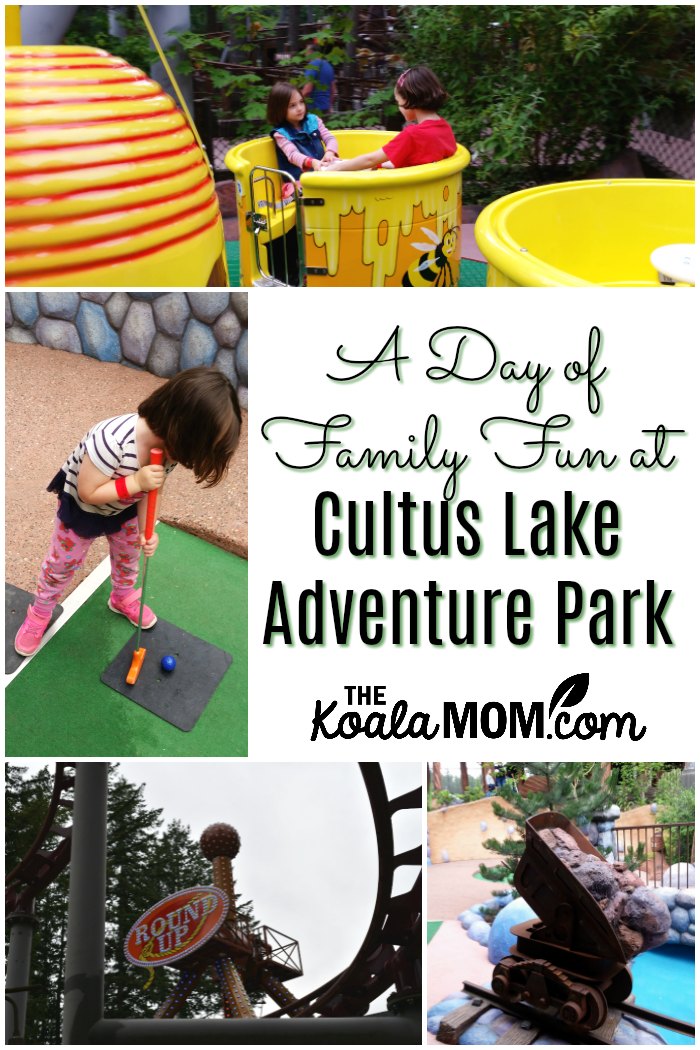 We recently had the chance to check out the Adventure Park with our Kidsworld passes. Our passes got each of us a wristband for unlimited rides and mini golf. Now we can't wait to go back again!
At Cultus Lake Adventure Park
Parking for the day is $10 (and not included in your wristband). One thing I liked was that the parking lot is right beside the Adventure Park (if it's not super busy—then there's overflow parking). I was able to pop in and out of the park to grab things from our van so I didn't have to pack a heavy bag around. There are also lockers inside the park.
While there were other parents there with strollers, I wouldn't recommend it. The park is well-designed and compact, and includes stairs up to several rides. I found it easier to get around without the stroller.
Giggle Ridge Adventure Golf
We started our day with the mini golf. We've only played mini golf a few times before, but the girls love it.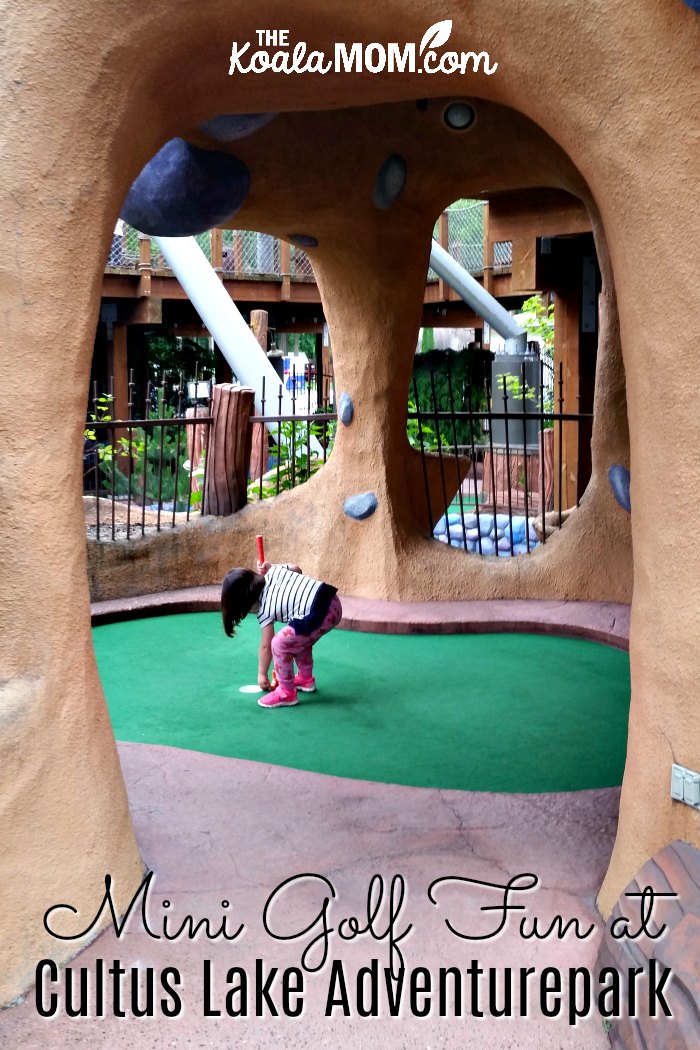 They each got to pick their favourite colour of ball. There were kid-sized golf clubs for the girls and even a toddler-sized golf club for Joey.
He had fun carrying his club and ball around after his sisters. He didn't actually golf, though he did carefully put his ball down on the black starting pads, like he saw his sisters do. Then he picked up his ball to trot after them down the course.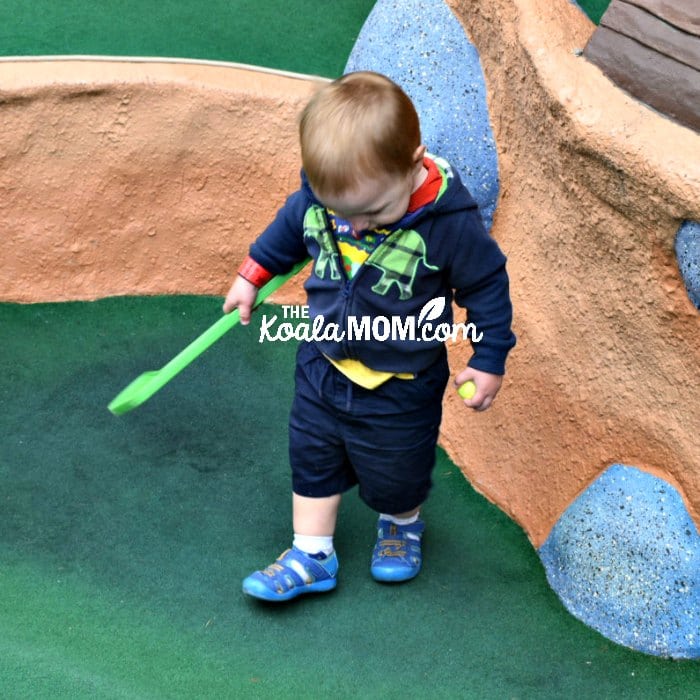 Sunshine grabbed a score card and pencil and attempted to keep score, but that didn't last long. Her sisters weren't great at counting their strokes. I took a club and ball but didn't get a chance to golf much, as I was chasing Pearl and Joey. Then I gave my ball to another boy who lost his in the "river."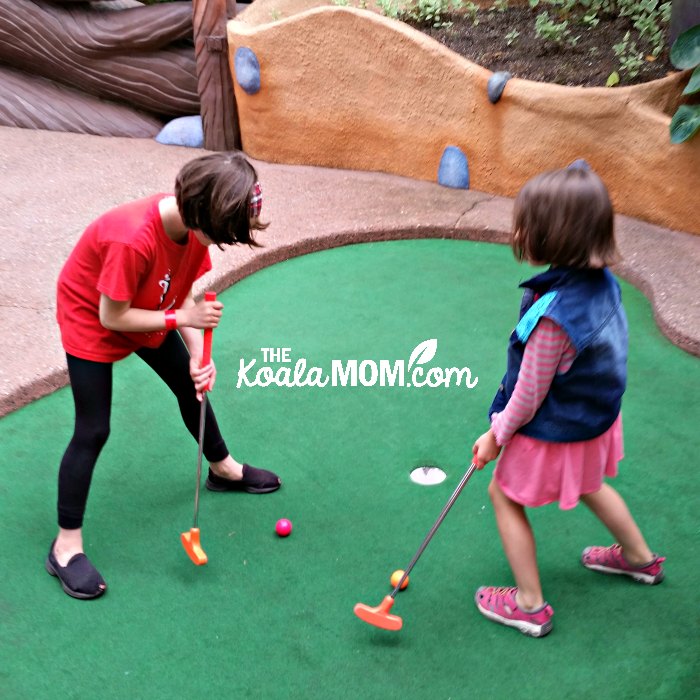 It was fun to wander the mini golf course, which twists up and down and around and through tunnels in the adventurepark. Joey thought it was great fun to run along the paths (and there weren't many places he could go astray, which was great!).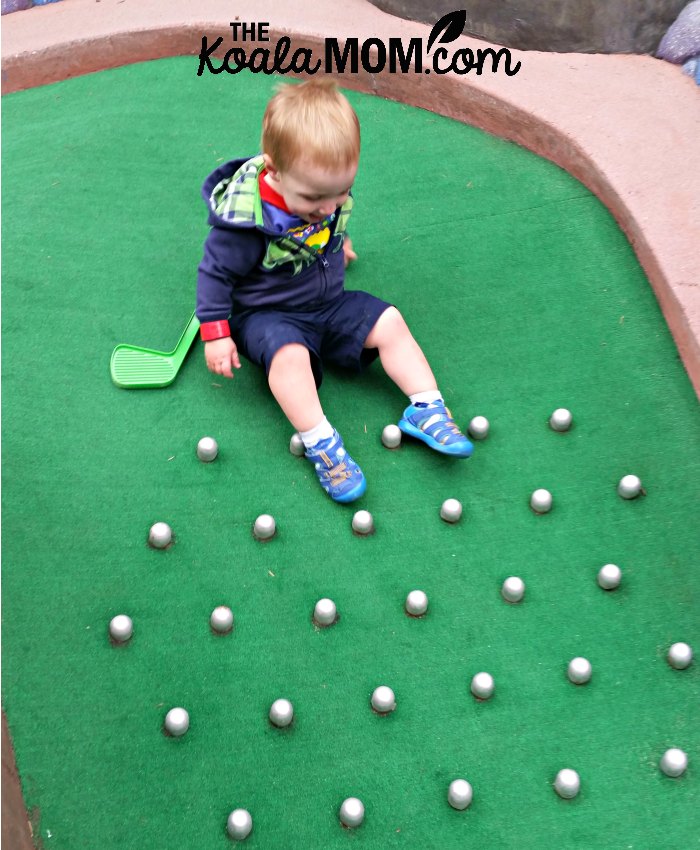 Mini golf is included with your Adventure Park wristband. You can also drop by just for the mini golf, for $12 each.
The Adventure Park Rides!
After we finished golfing, we split up to go on the rides. Sunshine and Lily set off together in search of fun, while I took the younger three kids on the Wagon Wheel (aka ferris wheel).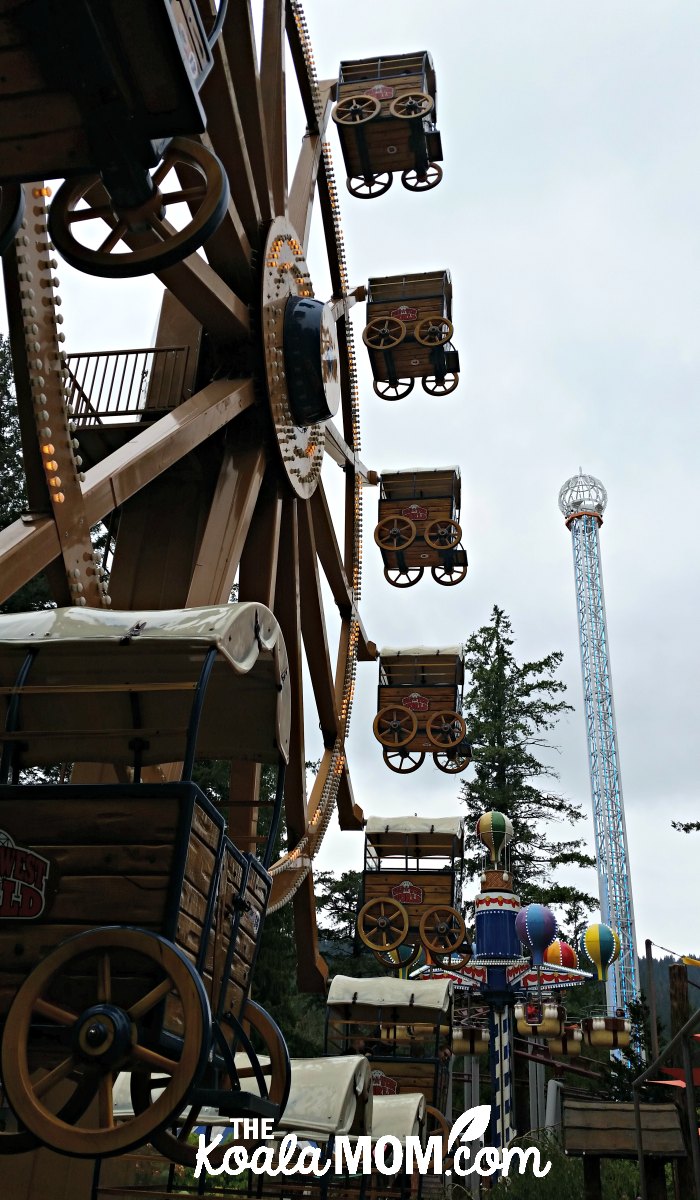 We weren't super impressed; it went around twice and spent more time stopped than moving. Joey enjoyed the first time around and then got bored. Jade was a bit worried about the height, so a slow ride was a good start for her.
Next, we went on the Balloon Adventure, which had caught Jade's eye soon after we arrived at the park. I wasn't sure at first that she was tall enough to ride. Then I studied our map some more and realized she could. The four of us piled into one balloon basket, with one other group riding in a basket on the opposite side.
Up and around we went—well, not too much "around," as spinning doesn't agree with me, to Jade's disappointment. On later rides, I let her ride with a friend and spin all she wanted.
Then we went to ride Ribbit. Pearl had to sit in a frog by herself, while I rode behind Pearl and Joey. I was happy for the seat belts in all the rides, but Joey stayed seated and hung on most of the time. When the frogs stopped, he didn't want to get off! We had to go around to the lineup and ride again.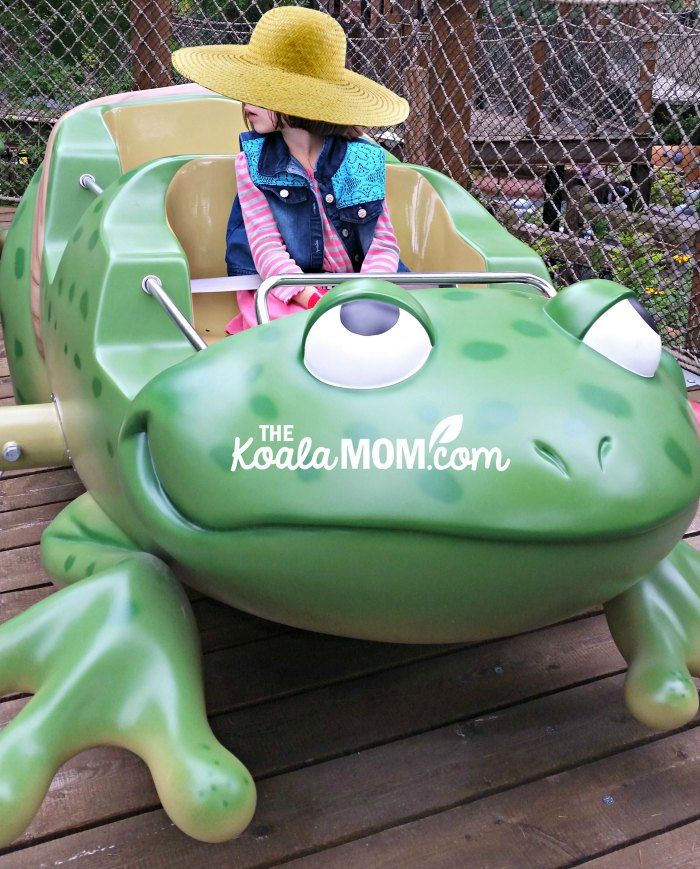 Sunshine tried nearly all of the rides except for Round Up 360 (which goes upside down). Lily didn't like any fast or high rides, so she and Sunshine soon disagreed about where to go. Sunshine found a friend to ride with and I let Jade go on a few rides with Lily.
As 7 pm approached, Joey was getting grumpy and I was thinking of the hour-long drive home. I had Pearl and Joey with me, but the other girls were somewhere in the park. Before I could worry too much about how to find them, Sunshine ran up to tell me she was going on the Runaway Mine Train and that her sisters were on the carousel.
I told her to meet me at Honeypots after her ride. Joey, Pearl and I went around on Ribbit one last time. Then we went down to the Carousel, where Lily and Jade were just finishing their ride. I told them to meet us at Honeypots. We got to spin twice before Sunshine got there (the Runaway Mine Train was probably the most popular ride there). Then we said goodbye and headed home.
Favourite Ride of the Day
Joey (age 18 months): Ribbit
Pearl: (age 3 years): Classic Carousel
Jade (age 6 years): Honey Pots
Lily (age 9 years): Blastin' Barrels
Sunshine (age 11 years): Runaway Mine Train
The Wilderness Trail
Another fun part of the Adventure Park was the Wilderness Trail. This was like a maze with ropes courses, tunnels, river, bridges, and gold panning. The kids had fun running through it, hiding in the caves, and splashing in the water. Sunshine wanted to try the gem panning, but that wasn't included in our wristbands.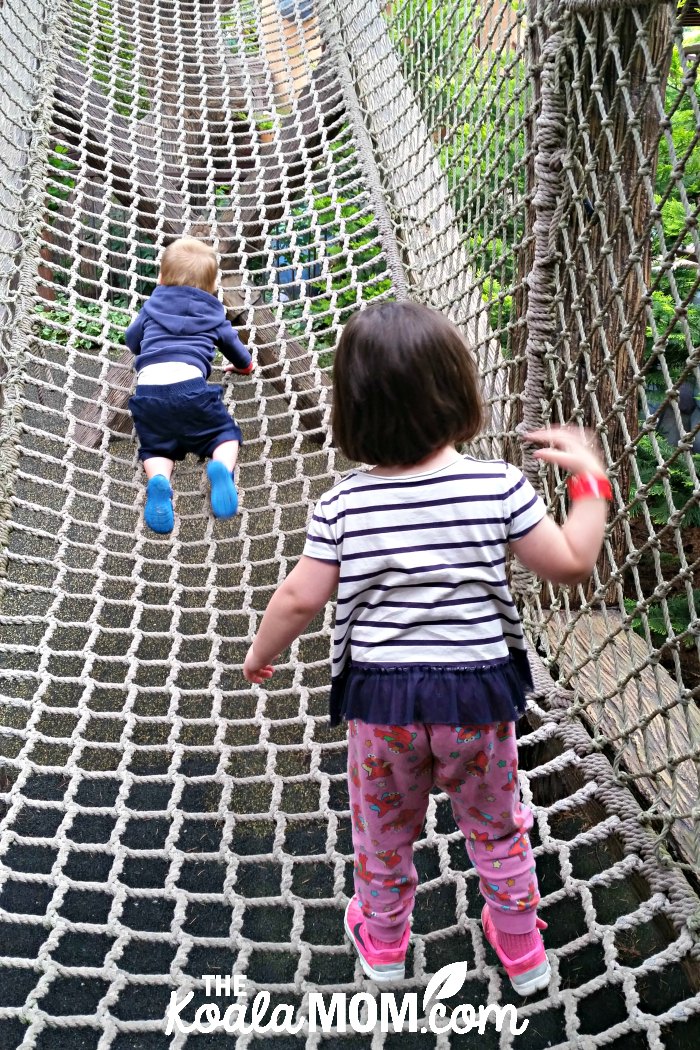 Family-Friendly Fun at Cultus Lake Adventure Park
The Adventure Park really is family-friendly fun, with something to do for the whole family! If, like me, you've thought that amusement parks aren't for little kids, here's a list of what my kids could do…
Joey (under 36″) could go on six rides with me and wander the Mini Golf and Wilderness Trail with me.
Pearl (just over 36″) could go on two rides (Ribbit and Honey Pots) by herself, eight more rides with me, play Mini Golf, and explore the Wilderness Trail.
Jade (just over 42″) could go on nine rides by herself, two more rides with me, play Mini Golf and explore the Wilderness Trail.
Sunshine and Lily (over 48″) could go on any of the rides they wanted. Which ones they actually went on depended more on their personality than their height…
Measure your kids before going to the park to get an idea which rides they can do. You'll also want to consider their personalities. For example, Lily and Jade are my cautious kids. Lily doesn't like heights. She did try the Runaway Mine Train but decided it was too fast and tried to dissuade Jade.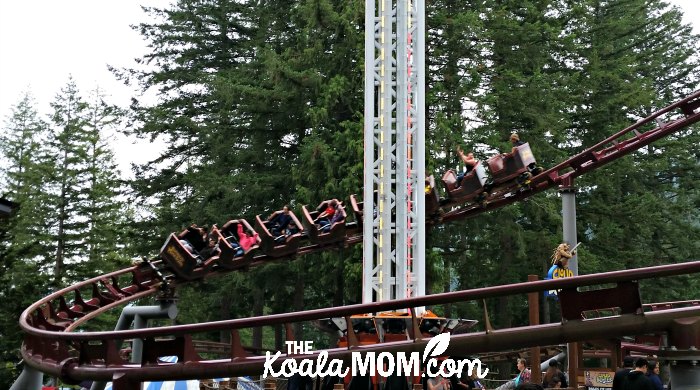 I didn't get a chance to take Jade on the Runaway Mine Train, but I did get Lily to watch Joey in the Wilderness Trail for me for five minutes while I took Jade on Blastin' Barrels. She was unsure about it (which is why I went with her first), but she loved it!!! She and Lily rode it several more times together.
Pearl and Joey are both pretty fearless and would have done any of the rides, I'm sure… they just need to grow a bit!
What's your favourite ride at the Cultus Lake Adventure Park?