Some of my favourite childhood memories include cooking in the kitchen with my mom and brothers. Mom always enlisted our help with two of our favourite meals: tacos and pizza. Now that I'm a mom, I find myself repeating that tradition with my girls—and adding another favourite: sushi.
These three meals are easy to make and provide a great way to get your kids involved in the kitchen. It's also easy to customize these meals for picky eaters and family preference. Finally, you'll build your own great memories while working together!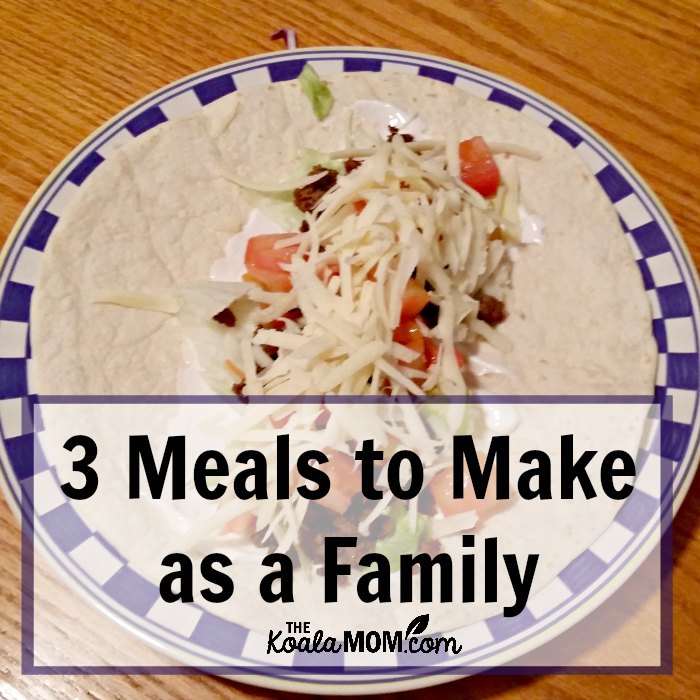 Taco Tuesday
My mom made tortillas from scratch for our tacos. They're actually quite easy to make, if you like rolling out dough. My job as a child was to fry the tortillas—20 seconds per side. Now, I usually buy tortillas on sale and keep them in the freezer until we have taco night.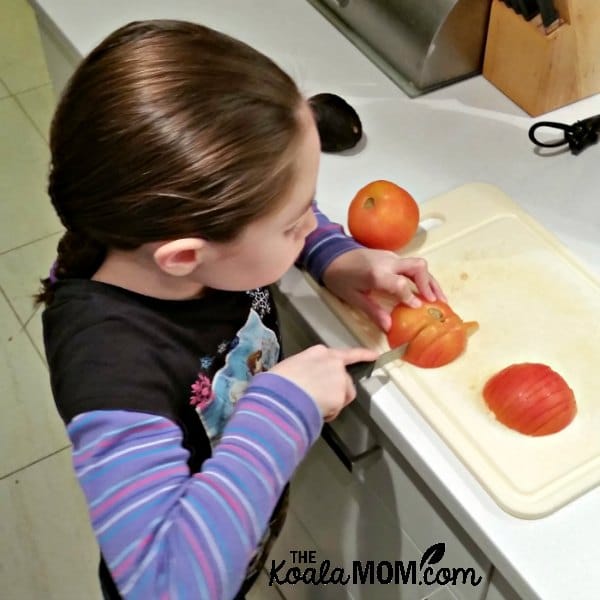 Taco meat was my younger brother's responsibility. I like to pull the meat out in the morning to let it thaw, so it's easier to fry at supper time. However, if we're running late or I haven't had time to think about supper until late afternoon, it's also easy to fry hamburger from frozen. Use pre-packaged taco seasoning or make your own and adjust to suit your family's taste.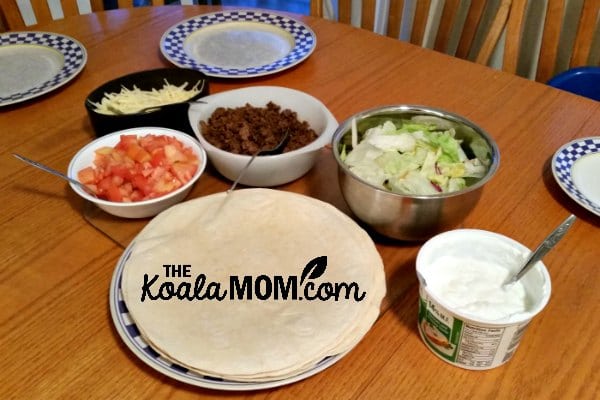 Taco toppings are up to you. Our family likes avocado, tomato, lettuce, and shredded cheese, as well as salsa and sour cream. I've seen other families add cucumbers and peppers as well. These veggies are all easy to slice for little helpers.
Any leftovers can be turned into taco salad for another night. (Not that we often have this problem!)
Prep the Pizza
My mom also made her pizza dough from scratch. Making your own pizza dough makes it easy to accommodate special diets, whether you're trying to go gluten-free or just make it healthier by sneaking in whole wheat flour. You can also make smaller pizzas so the kids can each have an individual pizza.
Another easy way to do pizza crusts is to buy flatbread or pita bread. Again, you can keep these in the freezer for busy nights when you need an easy meal. Just add some toppings and cheese, pop them in the oven until hot, and serve!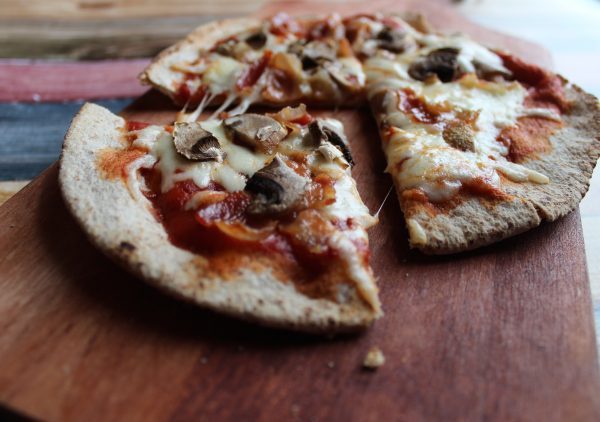 Kids can help choose and chop or prep their toppings. This is great for picky eaters as they are more likely to eat something they've helped make. Or they can customize their pizza to their tastes.
If you need more ideas, check out these recipes for inspiration.
Serve Some Sushi
Sushi is Sunshine's favourite meal, whether we're eating out or staying in. Like tacos and pizza, this meal only has one cooked component (the rice) and lots of chopping, making it perfect for a team effort. It's also easy to customize for picky eaters (such as those who don't like raw fish).
When we're making sushi, I usually do the rice. While it's cooking, I can oversee the girls' preparation of the fillings. Again, this is a bit of anything goes and what was on sale at the store. We usually make some variation of California rolls, though I also do veggie rolls or chicken teriyaki rolls for Lily.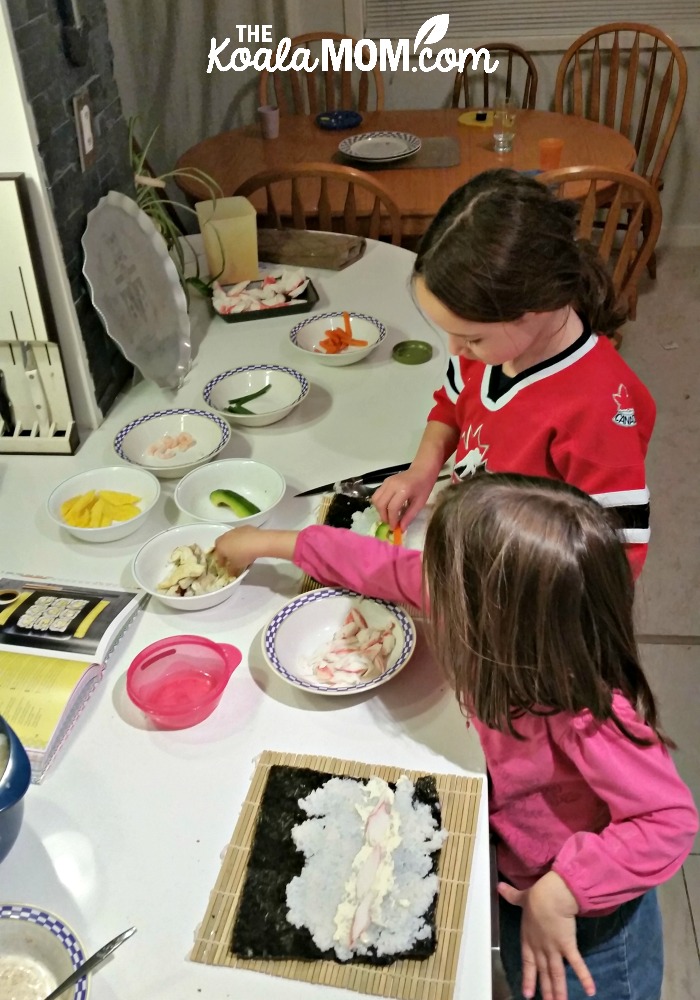 Once the rice is ready, we're ready to start rolling. I give each of the girls a piece of seaweed and spread rice on it for them. They can then add their toppings. Sunshine (my oldest) can spread her own rice and roll her sushi up. I help the younger girls roll their sushi once they're happy with their toppings. Then I slice it and we can start eating!
A sushi kit and a sushi cookbook have been handy for learning how to do this. While sushi is easy, it does take some practice. And like pizza, once you've mastered the basics, you can branch out and try other recipes!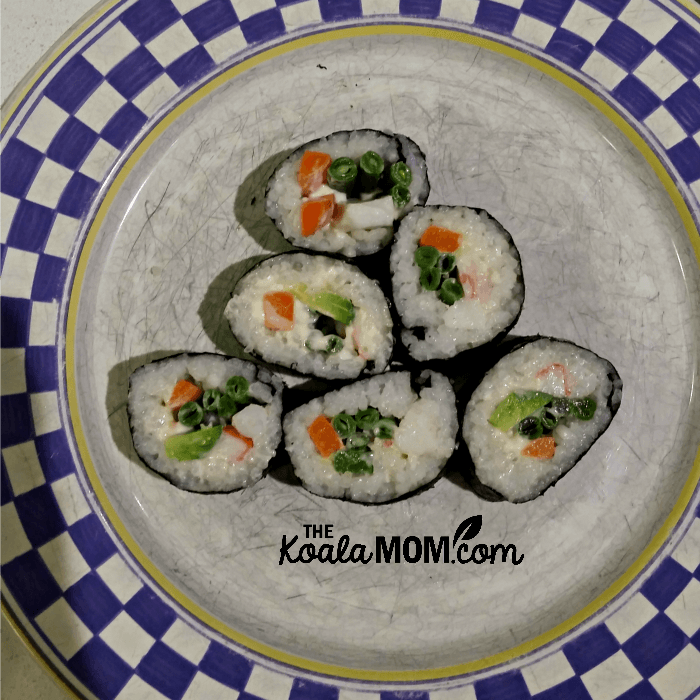 Do you cook together as a family? What meals would you suggest for making with kids?